Monday: 10 a.m. to 1 p.m. & 2 p.m. to 5.30 p.m.
Tuesday: 10 a.m. to 1 p.m. & 2 p.m. to 5.30 p.m.
Wednesday: 12.30 p.m. to 5.00 p.m. & 6.pm to 8 p.m.
Thursday: 10 a.m. to 1 p.m. & 2 p.m. to 5.30 p.m.
Friday: 10 a.m. to 1 p.m. & 2 p.m. to 5 p.m.
Phone: (051) 640591
Email: carricklibrary@tipperarycoco.ie

Monthly: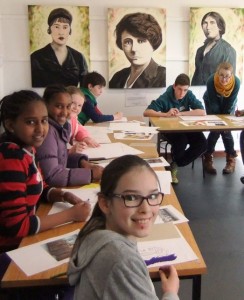 Evening Adult Book Club – 1st Wed of the month @ 7pm
Afternoon Adult Book Club – 2nd Tues of the month @ 2.30pm
Scrabble – Every Monday 11am-1pm
Art Group – Every Tues  10am -12pm
Literary Group – Every Wed 2.30pm – 4pm
Women's Discussion Group – Every Thurs 11am – 1pm
Knitters – Every Thurs  2.30pm – 4.30pm
Free WiFi if your laptop or phone is WiFi enabled.

5 Desktop PC's for Adults and 2 PC's for Juveniles.

Installed on each PC is Microsoft Office and Open Office.

The PC's can read USB memory sticks, CDs, DVDs and most memory cards from your digital camera or smartphone.

It is possible to print in both colour and in black and white.

Search for old news articles on our PCs using the Irish Newspaper Archive database.
Assistive Technology:  We have software that can make reading more accessible for everyone. The software is designed to help people with reading, learning or sight difficulties to enjoy books and reading and it will also make access to the Internet and the PC much easier. If you have any questions on these, just give us a call or ask at the desk to arrange a demonstration.