Monday: 9.30 am to 5 pm
Tuesday: 9.30 am to 5 pm & 6pm – 8pm
Wednesday: 9.30 am to 5 pm
Thursday: 9.30 am to 5 pm
Friday: 9.30 am to 1 pm & 2 pm to 5 pm
Saturday: 10 am to 1 pm & 2 pm to 5 pm
Phone: (062) 63825
E-Mail: cashellibrary@tipperarycoco.ie
 

Kids Book Clubs: Club for 7-9 year olds and another for 10-12 year olds. Meet once a month. New members welcome.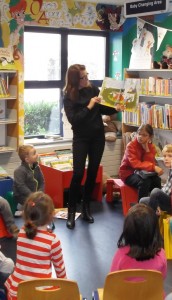 Adult Book Clubs: Two adult book clubs. One group meets on a Wednesday morning and the other on a Tuesday evening. Both groups meet once a month.
Storytime & crafts: Seasonal storytime & crafts at Christmas, Easter, Halloween and other times during the year. Watch this website & local papers for details. Also, storytime can be arranged for groups on request.
Cashel craft circle: Meets every Wednesday at 10:30am in Cashel Library. The craft circle is ideal for anyone who has an interest in any craft form; be it crochet, quilting, knitting or card-making. . All are welcome.
French Conversation Group: Meets every Friday from 2 pm – 3pm, its a great opportunity for French learners of all levels to practice. All are welcome.
Cashel Library has a dedicated space that is used by a variety of community groups. This facility is used as an exhibition space, a meeting room and a performance venue. Examples of those who use this space are:
Artists,

Sculptors,

Photographers,

Schools,

Bridge Group,

Craft Circle,

Bananagrams and Boggle Club,

Author visits,

Book clubs.
There is seating room for 60 people.
10 Adult Desktop PC's and 3 Desktops PC's for Juveniles

Installed on each PC is Microsoft office, Open Office and Read Write Gold.

The PC's can read USB memory sticks, CDs,DVDs and most memory cards from your digital camera or smartphone.

It is possible to print in both colour and in black and white.
Assistive Technology We have software that can make reading more accessible for everyone. The software is designed to help people with reading, learning or sight difficulties to enjoy books and reading and it will also make access to the Internet and the PC much easier. If you have any questions on these, just give us a call or ask at the desk to arrange a demonstration.
Cashel Library
Friar Street
Cashel
Co Tipperary
Eircode : E25 K798
Universal Class is an online education service designed specifically for use by members of public libraries and has a growing catalogue of over 500 courses.

ProQuest is an online service which provides information from the world's top newspapers. Researchers have access to both regional and national news from countries worldwide. Each issue of each newspaper is indexed thoroughly, so researchers have access to not only top news stories, but also the information contained on the various sections of the newspapers. Citations and abstracts are available for all articles saving researchers time.
Vision-net gives you immediate online access to information on every Irish and UK company registered. It provides you with access to the original documents that companies have filed in the Companies Registration Office. You can click on any C.R.O document (filed since 1998) and a scanned image of the actual filed document will appear on your screen which you can then print, view or save.

JSTOR is an interdisciplinary collection of journals and other materials. It contains more than 70 titles, including journals with moving walls between 1 and 5 years and ceased journals from the 18th,19th, and 20th centuries.The content is international in scope, and also provides a rich focus on Ireland.