Monday: 9.30 am to 5 pm
Tuesday: 9.30 am to 5 pm & 6pm – 8pm
Wednesday: 9.30 am to 5 pm
Thursday: 9.30 am to 5 pm
Friday: 9.30 am to 1 pm & 2 pm to 5 pm
Saturday: 10 am to 1 pm & 2 pm to 5 pm
Phone: (062) 63825
E-Mail: cashellibrary@tipperarycoco.ie
 

Kids Book Clubs: Club for 7-9 year olds and another for 10-12 year olds. Meet once a month. New members welcome.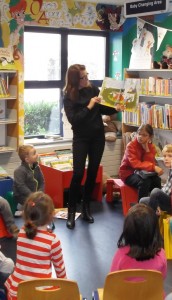 Adult Book Clubs: Two adult book clubs. One group meets on a Wednesday morning and the other on a Tuesday evening. Both groups meet once a month.
Storytime & crafts: Seasonal storytime & crafts at Christmas, Easter, Halloween and other times during the year. Watch this website & local papers for details. Also, storytime can be arranged for groups on request.
Cashel craft circle: Meets every Wednesday at 10:30am in Cashel Library. The craft circle is ideal for anyone who has an interest in any craft form; be it crochet, quilting, knitting or card-making. . All are welcome.
French Conversation Group: Meets every Friday from 2 pm – 3pm, its a great opportunity for French learners of all levels to practice. All are welcome.
Cashel Library has a dedicated space that is used by a variety of community groups. This facility is used as an exhibition space, a meeting room and a performance venue. Examples of those who use this space are:
Artists,

Sculptors,

Photographers,

Schools,

Bridge Group,

Craft Circle,

Bananagrams and Boggle Club,

Author visits,

Book clubs.
There is seating room for 60 people.
10 Adult Desktop PC's and 3 Desktops PC's for Juveniles

Installed on each PC is Microsoft office, Open Office and Read Write Gold.

The PC's can read USB memory sticks, CDs,DVDs and most memory cards from your digital camera or smartphone.

It is possible to print in both colour and in black and white.
Assistive Technology We have software that can make reading more accessible for everyone. The software is designed to help people with reading, learning or sight difficulties to enjoy books and reading and it will also make access to the Internet and the PC much easier. If you have any questions on these, just give us a call or ask at the desk to arrange a demonstration.
Cashel Library
Friar Street
Cashel
Co Tipperary
Eircode : E25 K798