Art Exhibition by Ligi Joy at Templemore Library
July 3, 2017
|
Recurring Event
(See all)
Available to view during normal library opening hours
Free
Event Navigation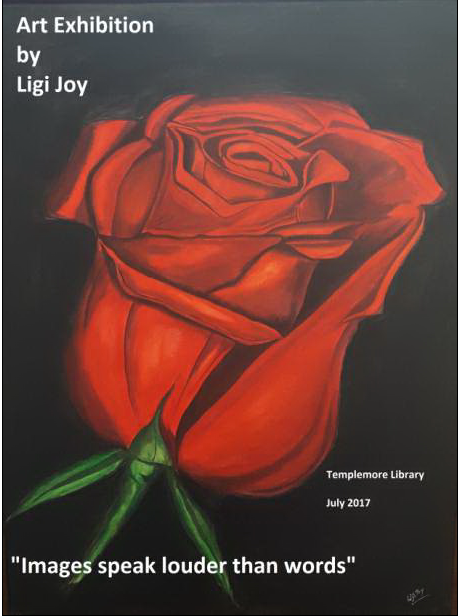 My name is Ligi Joy. I live in Roscrea. I am a native of God's own country, Kerala, India. I started drawing and painting as a toddler and have participated in several competitions, during my school age. I am a nurse by profession. I have not received any formal art training as a child or student. I like to do oil, acrylic, watercolour, glass paintings and multi- media paintings, although, I enjoy different subject matter, my favourites are landscapes and flowers.
 This is my second art exhibition in Ireland. I would like to give a positive contribution from this, to help the poor and diseased people. Because, I believe that, extending one hand to help others is worth more than joining two hands in prayers. I am not able to put in words how much I love colours! Colours are everywhere and we all see the power of colours daily, often unconsciously.
 For me, colours are reflection of life and I believe that "Images speak louder than words".