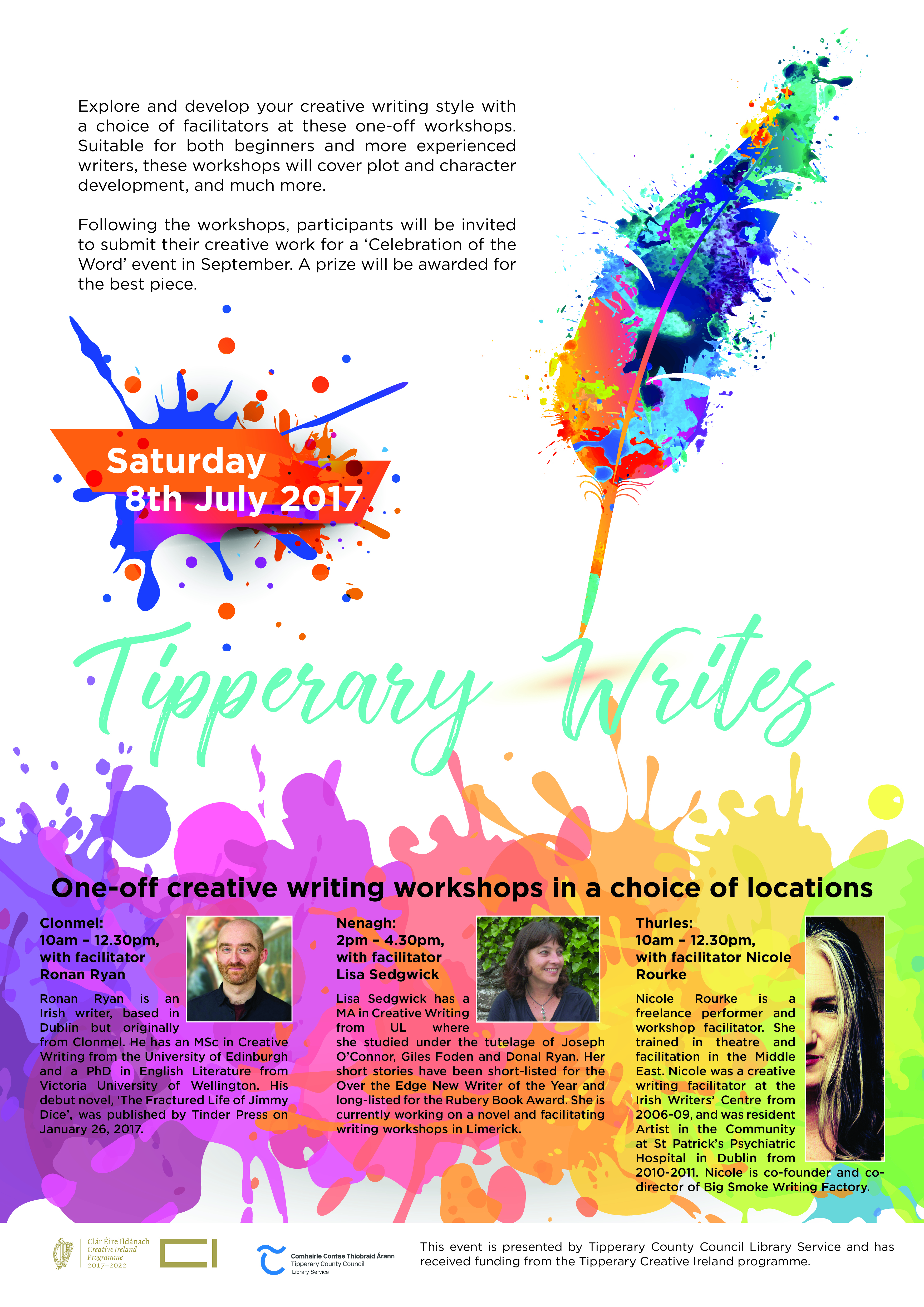 Tipperary Writes
Explore and develop your creative writing style with a choice of facilitators. These workshops will focus on plot and character development, and voice and style, and will be delivered in a hands-on, enjoyable way. They are suitable for both beginners and more experienced writers. Following the workshops, participants will be invited to submit their creative work for a 'Celebration of the Word' event in September. A prize will be awarded for the best piece.
Clonmel Library: 10 a.m. – 12.30 p.m., with facilitator Ronan Ryan
Ronan Ryan is an Irish writer, based in Dublin but originally from Clonmel. He has an MSc in Creative Writing from the University of Edinburgh and a PhD in English Literature from Victoria University of Wellington. His debut novel, 'The Fractured Life of Jimmy Dice', was published by Tinder Press on January 26, 2017.
Clonmel Library phone: 052 6124545
Nenagh Library: 2 p.m. – 4.30 p.m., with facilitator Lisa Sedgwick
Lisa Sedgwick has a MA in Creative Writing from UL where she studied under the tutelage of Joseph O'Connor, Giles Foden and Donal Ryan. Her short stories have been short-listed for the Over the Edge New Writer of the Year and long-listed for the Rubery Book Award. She is currently working on a novel and facilitating writing workshops in Limerick.
Nenagh Library phone: 067 34404
Thurles Library: 10 a.m. – 12.30 p.m., with facilitator Nicole Rourke
Nicole Rourke is a freelance performer and workshop facilitator. She trained in theatre and facilitation in the Middle East. Nicole was a creative writing facilitator at the Irish Writers' Centre from 2006-09, and was resident Artist in the Community at St Patrick's Psychiatric Hospital in Dublin from 2010-2011. Nicole is co-founder and co-director of Big Smoke Writing Factory.
Thurles Library phone: 0761 06 6131
Book today with either Clonmel, Nenagh or Thurles libraries.