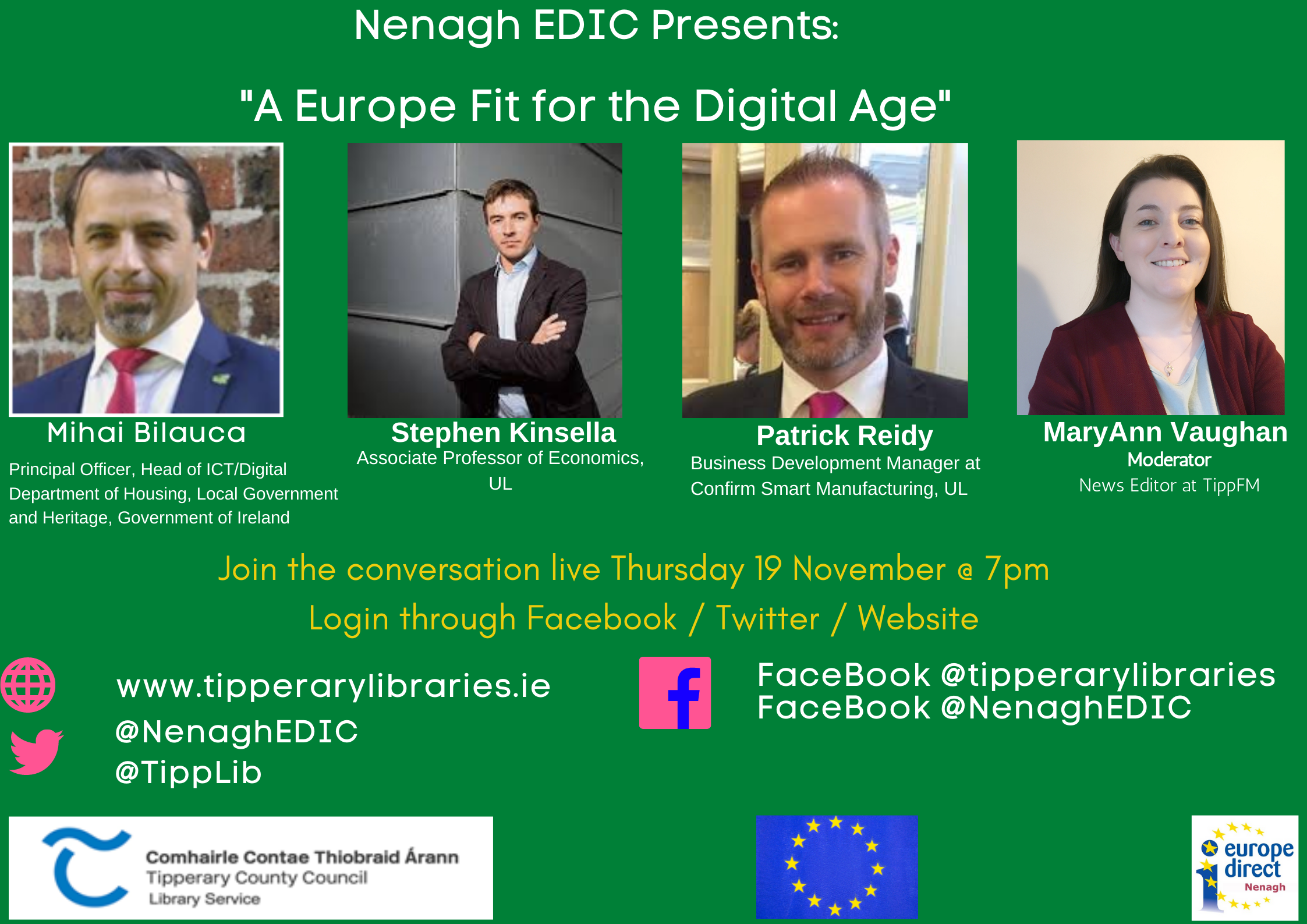 Nenagh EDIC Online Talk
 'A Europe Fit for the Digital Age'
Thursday 19th November at 7pm
The link to this event will be available on our website/Facebook and Twitter.
Do you know:
the importance of digitalisation
what the Digital Economy and Society Index (DESI) is
where the EU is at the moment in leading the way towards an open Digital Economy
how about Ireland's performance in this process of digitalisation.
This talk has the twin aim of informing the members of the general public of the Digital Economy and what it means in our lives and the challenges the EU faces in moving to an open Digital Economy that benefits all of the citizens.
Also allowing stakeholders/interested parties, eg in the business community, the opportunity to offer their opinions and ask relevant questions of the experts.
'We Europeans need to think big' (DIGITALEUROPE's Director General) For Europe to be fit for the Digital Age we need to shape the digital transformation to ensure that everybody can benefit – society, consumer and businesses and ensure that new technologies serve our values.       (Taken from article authored by Cecilia Bonefeld-Dahl Director General of DigitalEurope.)
Biographies of Participants :
Stephen Kinsella
Associate Professor of Economics, UL
Associate Professor of Economics at the University of Limerick, Ireland,  Senior Fellow at the Melbourne School of Government, University of Melbourne, Australia, and Research Associate at the Rhodes Centre for International Finance at Brown University.
My research uses national accounting data to make better models. I am also interested in the economics of small open economies like Ireland, and health systems research.
I am Chief Economics Writer for The Currency.news, and was for 4 years a columnist with the Sunday Business Post. I have written for the Guardian, the New York Times, and the Irish Independent. I have twice won Economic Commentator of the Year for my columns.
Dr. Mihai Bilauca
Principal Officer, Head of ICT/Digital Department of Housing, Local Government and Heritage, Government of Ireland
Dr. Mihai Bilauca has led the development of Limerick's first Digital Strategy which aims to lay the foundation for a Smart Limerick City Region. As a result of this strategic approach Limerick has become in 2018 the first EU Lighthouse Smart City in Ireland. Having worked for Limerick for almost 20 years Mihai is now heading the ICT/Digital Services in the Department of Housing, Local Government and Heritage in the Government of Ireland. Mihai worked in various roles in the ICT Management for UPC Romania, and for Limerick City & County Council in senior roles or heading the ICT, Change Management, Customer Services and Urban Innovation departments.
Mihai is involved in standardization work for Smart Cities & Communities with national and international standardization organisations (NSAI, ISO, CEN/CENELEC, ETSI).
In his spare time Mihai continues his academic research in smart cities, mathematical programming and optimization modelling methods and publishes in ACM and other leading computing science journals and conferences. Mihai received a Doctor of Philosophy (Ph.D.) and a Master of Science (M.Sc.) and from University of Limerick, Ireland and the software engineering degree from "Ștefan cel Mare" University of Suceava, Romania.
Patrick Reidy
Business Development Manager at Confirm Smart Manufacturing, UL
• Currently Business development Manager with the CONFIRM Centre for Smart Manufacturing.
• Prior to joining CONFIRM he worked with a number of Irish SME's and a large UK based plc.
• Previously held management roles in both National and International markets
• In his role with CONFIRM Patrick works with companies across multiple sectors to develop research projects in relation to Industry 4.0 and specific challenges companies are facing around Smart/Advanced manufacturing.
• 'In CONFIRM we are building a community of practice where we encourage & facilitate collaboration between Academia and Industry and also join the dots between companies who may have common challenges in Smart Manufacturing and are open sharing knowledge and building a collective intelligence.'
• Educational background includes an MA in Business Management, PGrad Diploma in Business Administration and a B Tech in Wood Science & Technology all awarded by the University of Limerick.
MaryAnn Vaughan : Moderator
A broadcaster and writer currently working as News Editor at Tipp FM, MaryAnn has formerly worked as a journalist and producer at KCLR, serving Carlow and Kilkenny.
You the Audience:
Question and Answer Session follows, all questions welcome.
Simply click below at 7pm on Thursday 19th November: