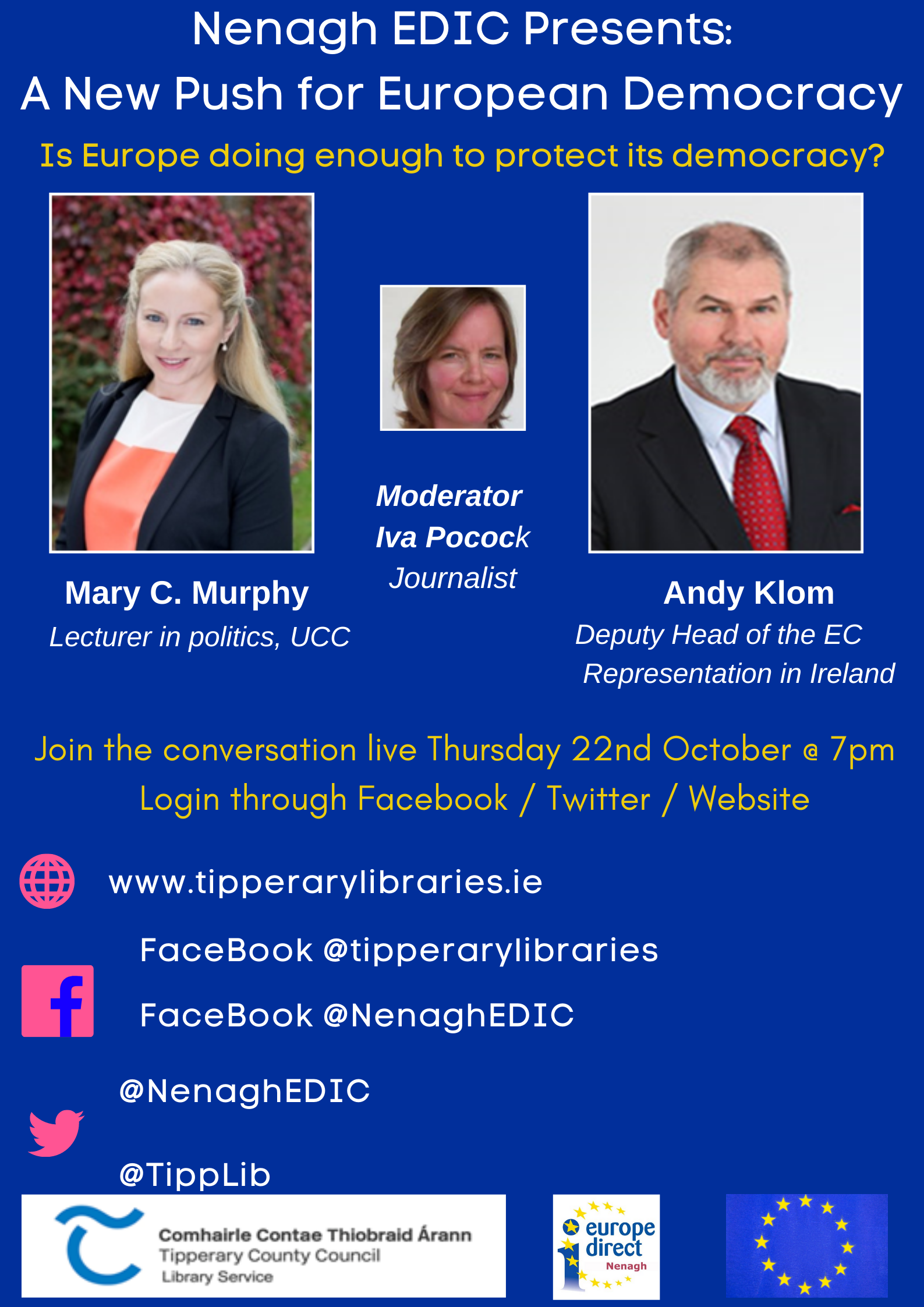 A New Push for European Democracy
    Is Europe doing enough to protect its democracy?
Thursday 22nd October at 7 pm
Nenagh Library will host a live online Talk
Question & Answer session to follow
Nenagh library is the Europe Direct Information Contact (EDIC) for counties Tipperary, Limerick, Cork and Kerry; we serve as a point of contact and information between the European Commission and Irish citizens in this region. As part of our Programme of Events for 2020 we are hosting this live online talk.
 Our Speakers: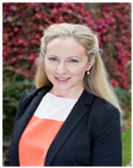 Mary C. Murphy
Lecturer in politics, Department of Government and Politics, UCC
Dr Mary C. Murphy holds a Jean Monnet Chair in European Integration and is a senior lecturer in politics at University College Cork. She is the President of the Irish Association for Contemporary European Studies (IACES), a former Fulbright-Schuman Scholar, and a fellow of the Centre on Constitutional Change at the University of Edinburgh. Mary specialises in the study of the European Union relationship with Ireland, north and south. She has published extensively and most recently is the author of the book, Europe and Northern Ireland's Future: Negotiating Brexit's Unique Case, published by Agenda Publishing in 2018.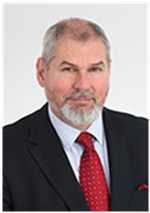 Andy Klom
Deputy Head of the European Commission Representation in Ireland
Andy Klom joined the European Commission Representation in Ireland (based in Dublin) in 2016, where he currently works as the Deputy Head of Representation. Prior to this he worked as the Acting Head of the EC Representation in Marseille (South of France), Head of the EC Representation in the Netherlands, and Head of the EC Representation in Wales.
He also did a special assignment as the Acting Head of the EC Representation in the United Kingdom during the final months before Brexit, in 2019-2020. As the last EC Representative to the UK he managed the closing down the EC's offices in London, Edinburgh, Cardiff and Belfast.
Prior to this work in the EU Member States, Andy spent many years working at the European Commission HQ in Brussels in the area of EU foreign policy, dealing with Latin American affairs.
Andy has been active in the academic field, as Visiting Professor at the Lyndon B. Johnson School of Public Affairs at the University of Texas in Austin, and as Honorary Research Fellow at Cardiff University.
Iva Pocock, Journalist
Iva Pocock holds a bachelor's degree in geography and a masters degree in journalism. She has worked for a number of environmental, development and justice NGOs, both national and international, based in Ireland and Sri Lanka and as a journalist, has written extensively for The Irish Times, among other media covering social and environmental stories.
You the Audience:
Simply click below at 7pm on Thursday 22nd  October:
We would love you to join the question and answer session by posting in the comments section, Mary and Andy will respond live on the night.
No registration needed.