John Kinahan, Neuromuscular Therapist, visited Cloughjordan Library on Thursday the 18th of October at 2.30. John is also an exercise and fitness trainer. He gave a public talk on "Arthritis: Health, Movement and Lifestyle" and answered questions afterwards. This was a Healthy Ireland event and there was no admission fee.
Thanks to Marie Brady for providing the refreshments for this event.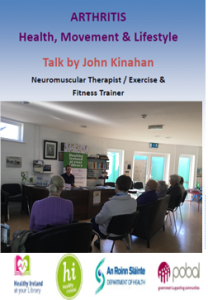 The Healthy Ireland at Your Library programme includes a special books collection, online health resources and talks, discussions and workshops with a focus on physical health, mental health and health literacy.