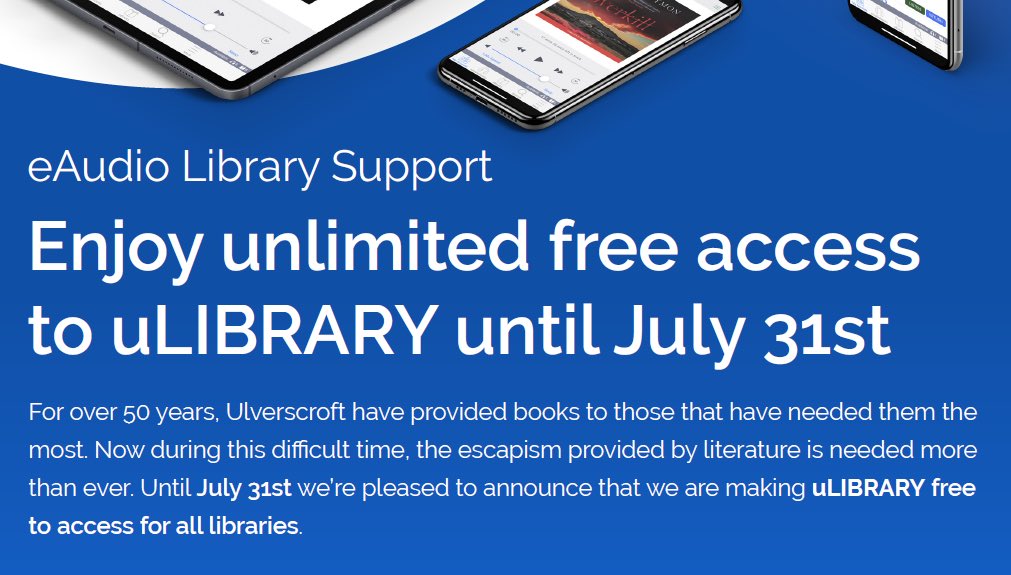 As you will all be aware Tipperary County Council Library Service's branches are closed at the moment, but in recent weeks we have been highlighting the wide and varied range of first class online resources on offer at tipperarylibraries.ie. In the face of the necessary Covid-19 restrictions there have been great additions to these services, including eBooks, eAudioBooks, eNewspapers and online courses. Today we bring news of another welcome development with the opening up of Ulverscroft's online library of over 500 FREE audiobooks until the end of July.
With renowned authors such as C.J. Tudor, Terry Pratchett, Jo Nesbo, Katie Fforde and Phillippa Gregory to choose from we are sure that there will be plenty to interest you and keep you entertained in this wonderful collection of premium audio book titles. You can download these titles to your desktop, tablet and phone, and the Ulverscroft "uLIBRARY" app is available FREE from your chosen app provider: simply search for "uREADER" and download.
You will need to sign up to register for this wonderful offer at ulibrary.net/register , and registration will provide you with the barcode number and password required to unlock a whole host of chart-topping authors and titles.
There's something for everyone here, including children, teens and young adults. Remember, this FREE offer is limited until the end of July so be sure to register soon to get the maximum benefit of this superb opportunity.
Here at Tipperary County Council Library Service we are always on hand to assist you with any queries you might have relative to our online services. Call 0761 06 6100, email libraries@tipperarycoco.ie, webchat at tipperarylibraries.ie and follow us on FaceBook (@tipperarylibraries) and Twitter (@TippLib)
During the battle against Covid-19 you can stay inspired and connected with Tipperary County Council Library Service.