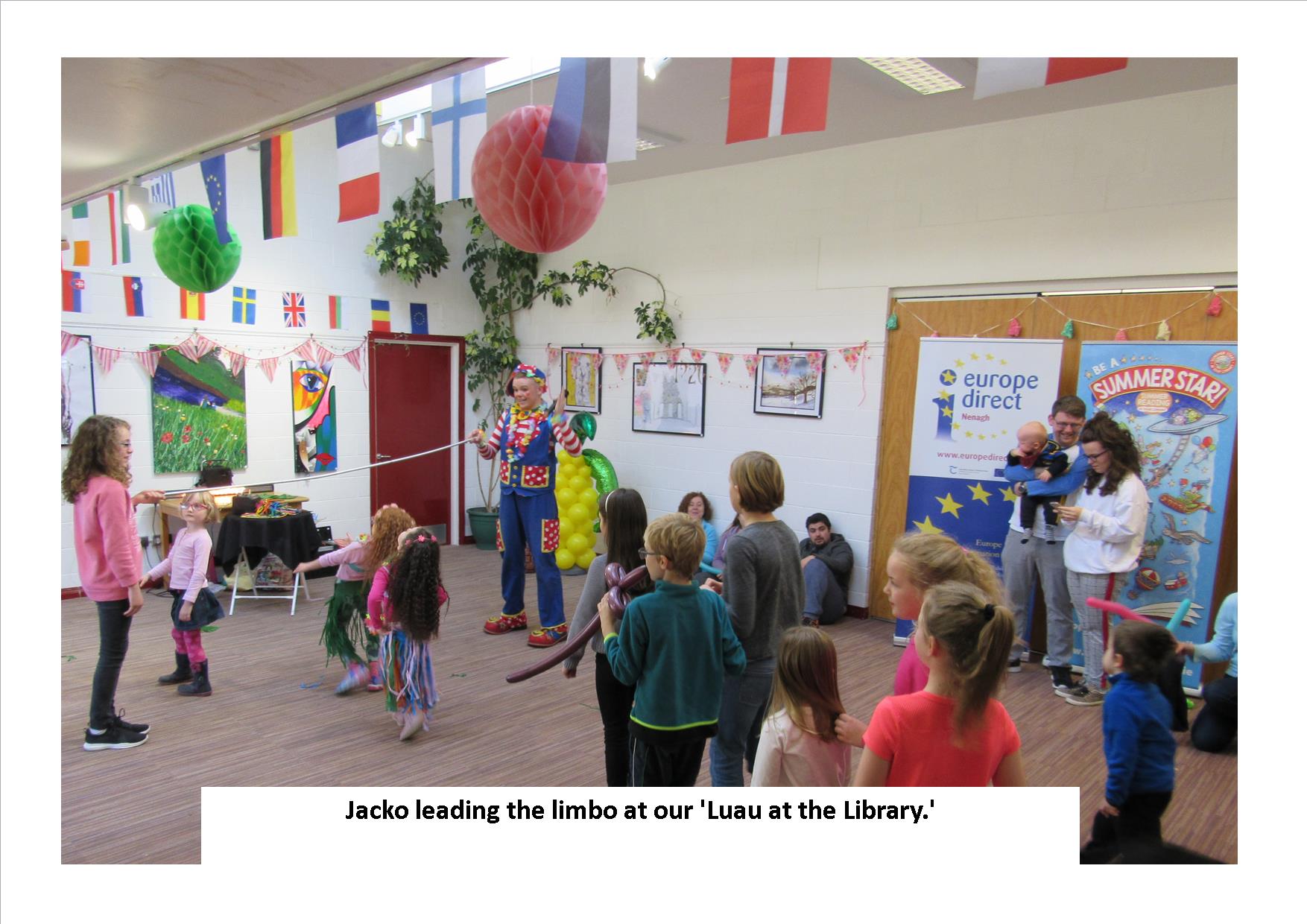 [foogallery id="49671″]
Aloha from the Luau in the Library!
To say thank you to all our Summer Stars who read for us throughout the holidays, and took part in our 'Let's Discover Europe' weekly craft sessions, staff at Nenagh library held their first fabulous 'Luau in the Library' on Saturday last, 29th September, awarding reading certificates (over 300 in all) to all stars on the day. Our free family fun day started early in the morning with truly magnificent Olive Kilgannon (Creative Minds) once again working her magic  and keeping children of all ages busy with crafts and games. Where would we be without her? Staff member Eileen Bourke discovered a newfound talent with the hula hoop which greatly added to the festive vibe while old favourites like 'Guess how many Skittles are in the Jar??' kept all the children guessing. We presented all our castaways with a goodie bag to keep their strength up while Jacko from Giggles Entertainment kept this Hawaiian party going. From disco / limbo dancing to hula hoop competitions and modelling fabulous balloon creations on the side, Jacko went down a treat with both children and adults and helped us say  'sayonara' to our Holiday Reading Adventure until next year.
The Summer Stars Reading Adventure is a national initiative, run through the auspices of Libraries Ireland. As Europe Direct Information Contact (EDIC) for counties Tipperary, Limerick, Cork and Kerry, Nenagh library was delighted to take part in it and recommends the website 'europa: kids corner' for fun quizzes and games https://europa.eu/kids-corner/index_en.htm This website also has a teachers resource section for classroom aids and ideas.