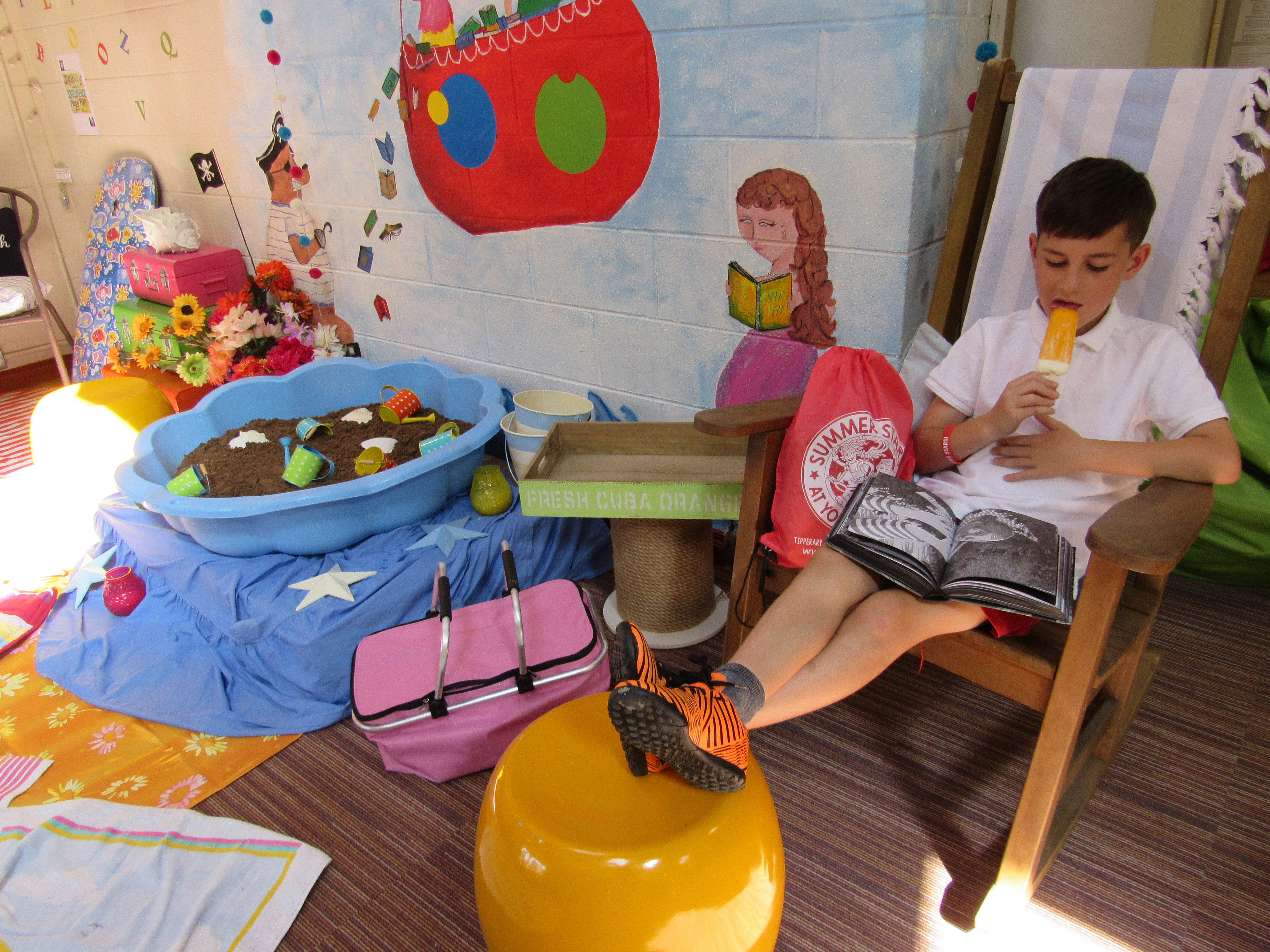 [foogallery id="46751″]
Nenagh Library launched it's Summer Stars Reading Adventure on Thursday last with a visit from second class pupils from Gaelscoil an tAonaigh. This year our theme is 'Castaways….' and the juvenile library has a definite beach vibe to it as we want all children to 'cast away with a good book…' this Summer. With the sun shining on the day, these kids were delighted to get stuck in with an exciting book and a cool ice cream, (and nary a pirate in sight!) Many of them were already veterans of our annual Summer Holiday reading programme and were eager to start this year's adventure, reminding us that we needed to give them their Summer Stars reading card which would track the books that they read. The Summer Stars wrist bands went down a treat as usual and everyone nabbed the coveted Summer Stars book bag before they disappeared.
Remembering the fun they have each year with our Summer Book Bus, the children were delighted to hear that Tipperary Libraries will be taking to the road again this summer, as the Bus returns to Newport. Starting the 11th July and running until 15th August, every Wednesday from 10.30am – 1pm and 2pm – 4pm, the Book Bus will be parked outside the Community Centre in to bring you the biggest and best books yet! As EU Direct point of contact for the region Nenagh library is delighted to be able to inform citizens that the Summer Book Bus in Newport is supported by the North Tipperary Leader Partnership through The Social Inclusion and Community Activation Programme (SICAP), which is co-funded by the European Social Fund. The Book Bus, which also visits 4 other locations in Tipperary, provides an invaluable service to families who may not live in close proximity to one of the county's 12 libraries.
Summer Stars is an exciting reading-based programme which is available free of charge of charge to all children across the country. You can join the reading adventure at any library in Co. Tipperary or at our Summer Book Bus. The Summer Stars Reading Adventure will run during July and August in public libraries all over Ireland. Children are invited to register for the adventure and enjoy reading many books as part of the adventure during this time. All participants will be given a Summer Stars Reading Card to record and track their own progress. There'll be rewards and incentives along the way and a grand finale event at the end for all participants, where they will be presented with their very own personalised Summer Stars certificate. Check out the Summer Stars website at www.summerstars.ie which has lots of online games and activities, as well as a range of animated eBooks. You will find a children's books discussion board and interviews with well-known people about their favourite books. There are also helpful tips for reading and recommended titles by age group for children to read. The books can then be borrowed from your local library – and it's all free!
You'll find plenty of reading inspiration in your library too, where there will be lots of new books to borrow! And download the BorrowBox app for a wide choice of children's eBooks and eAudiobooks. We'll have events for children running in some libraries this summer. Keep an eye on www.tipperarylibraries.ie for the most up-to-date information on your library.