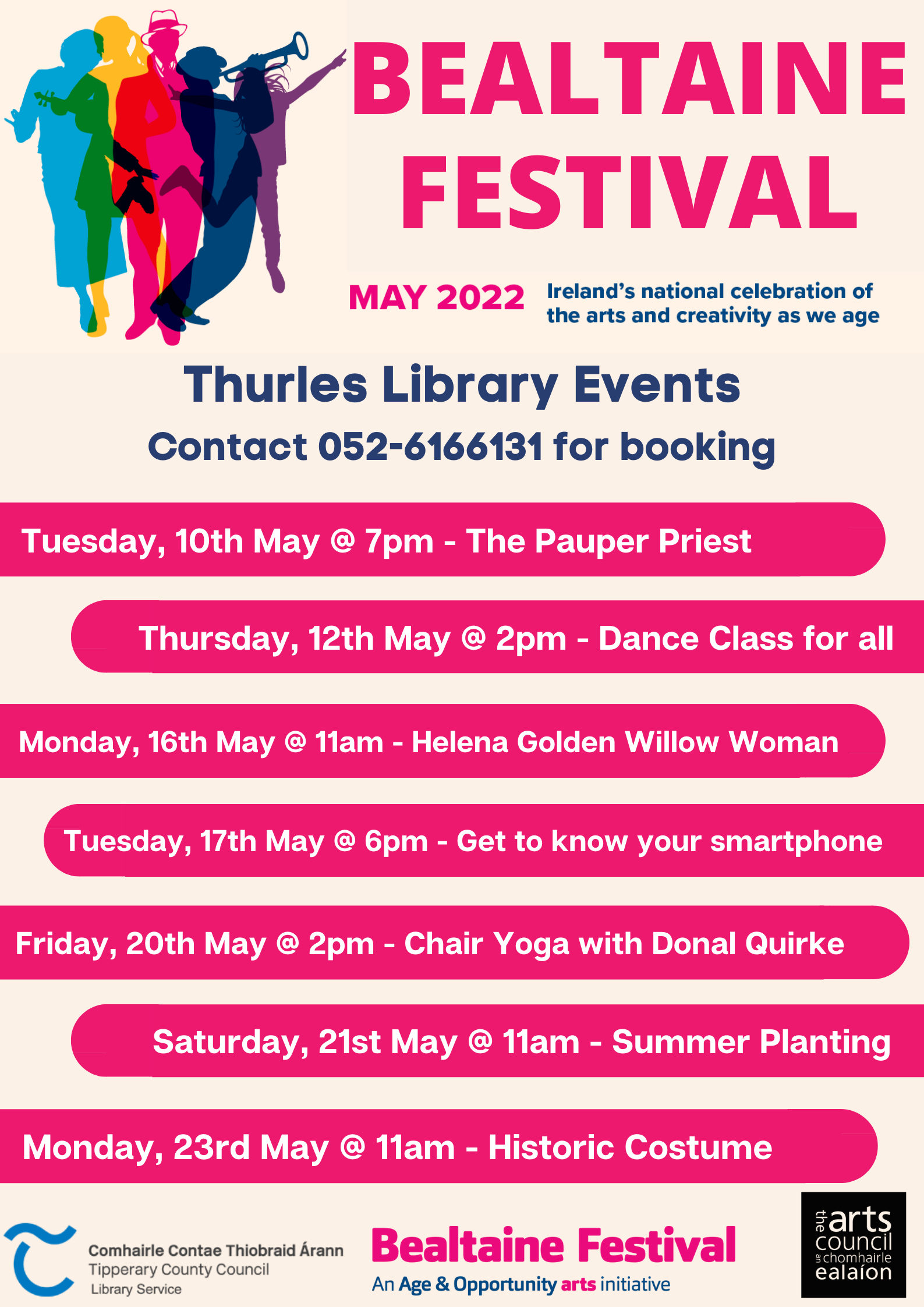 Tuesday 3rd May
10.00 a.m. to 1.00 pm
Age Friendly Tipperary presents "Reminiscing Back in My Day, the Story continues" with a visit to Thurles Library by Jimmy Duggan who collated and narrated the 2021 first volume of stories in the collection. Jimmy will will interview and collect stories for a new volume to be launched during Positive Ageing Week 2022.
Tuesday 10th May
7.00pm -8.00 p.m.
The Pauper Priest, a drama, tells the story of Fr John Barry (1846-1920) was written and is directed by Paul Maher. It is performed by Liam O Maoldhomhnaigh and Bob Russell.
Thursday 12th May
2.00 p.m – 3.00 pm
Dance Class with Dance Instructor Bridget Harte A.I.B.B.D. of-Shallwedance.ie After a warm up, you can try to jitterbug , swing dance, jive, latin, chacha or mambo.
Monday 16th May
11.00 a.m – 12.00 p.m.
Helena Golden Willow Woman will lead a workshop where each participant will weave their own willow vase, learn about willow growing and harvesting and learn the terminology and techniques involved in basketry.
Monday 17th May
6pm – 8pm
A taster workshop to discover what your smartphone can do provided by Tipperary ETB.
Monday 23rd May
11.00 a.m – 12.00 p.m.
Historic Costume workshop with Tara Nelson where its fancy dress time for adults