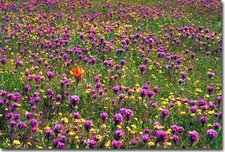 Join the annual Bealtaine Living Earth Festival from 16 to 24 May, celebrate biodiversity with thousands of other participants and find out more about the extraordinary things that are all around us!
Sign up for the full online programme on www.livingearth.ie
Each year in May the Bealtaine Living Earth Festival takes place with more than 40 partners in the South-East of Ireland. Coordinated by Calmast, Waterford Institute of Technology's Science, Technology, Engineering and Maths Engagement Centre, many parks, gardens, groups, organisations and national experts encourage everyone to explore and discover the biodiversity, wild life, botany and the beautiful nature that we have right at our doorstep.
This year, of course, things will be different. In the light of current restrictions, we and our partners would like to use this festival to showcase we all can find within a 5km radius. Join the festival to find out more about extraordinary things in ordinary places!
The festival always includes the UN's International Day for Biological Diversity on 22 May. Recently, the festival also started to celebrate World Bee Day on 20 May with special events.
Starting at 5pm on Saturday 16th May a daily video (virtual tour, live stream, workshop) with a partner organisation will be featured online and a variety of worksheets, facts and activities for all the family is ready to go with each video.
The programme is available on www.livingearth.ie where everyone can also sign up to receive updated on the schedule and further information.
Follow the Bealtaine Living Earth Festival on social media:
Facebook @bealtainebiodiversity
Twitter and Instagram: @calmastWIT #bealtainebiodiversity
The festival receives support from Science Foundation Ireland, Waterford City and County Council, Tipperary County Council Library Services and many local partners.