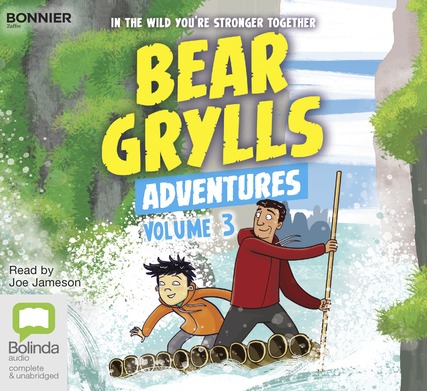 Bear Grylls Adventures: Volume 3
River Challenge & Earthquake Challenge
Read by Joe Jameson
'As well as good adventures, these are great motivational [tales] that remind children to take responsibility for their own actions, and attitudes.'  —  Reading Zone
Jack and Fatima will have to face raging rivers and terrifying earthquakes in these latest adventures from survival expert and Chief Scout Bear Grylls.
Each audiobook in this series from Bear Grylls follows a different child on the outdoor activity camp. Once they are given the magical compass, they meet the inspirational adventurer in an amazing place and learn new skills and facts they can take back with them to their real life. This volume features two exciting adventures:
The River Challenge: Jack loves all sorts of outdoor activities – but he just can't stand getting wet. Anything that means he might have to swim and Jack is the first to duck out of it. But when he falls into a small stream at Camp, he's not just embarrassed – he's been transported to a raging river where dangers lurk around every bend. Luckily, the inspirational adventurer Bear Grylls is there to guide him through the treacherous waters and give him back some of his lost confidence …
The Earthquake Challenge: Fatima's loving Camp during the daytime, but pitch-black nights in the tent are scary. Then she's transported to a deserted city by the magical compass, where the aftershocks of a huge earthquake are still being felt and all the lights are out. But soon Fatima meets up with survival expert Bear Grylls, who helps her get safely out of the danger zone. Together they discover that the city's not quite as deserted as it seemed … and Fatima learns a few things about staying calm no matter what happens.
Listen to the book here.