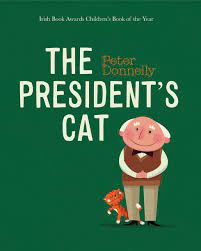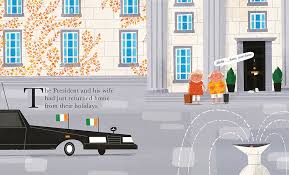 Hi Book lovers it's Kim, Bridget, Susan, Carol, Elaine, Nicola, Laoise, Martin and Kevin from the "BookTastic Book Club" and this month we are reviewing "The Presidents Cat" which was written and beautifully illustrated by award winning author Peter Donnelly. This book is dedicated to the medical staff at Beaumont Hospital.
The book starts by telling us that Michael D. Higgins and his wife Sabina have just returned home to Aras an Uachtarain following their holiday in Kerry but they have forgotten their Cat!!!
The book follows the funny adventures of the Presidents Cat as he tries to make his way back home. Along the way the Presidents cat visits many iconic Irish landmarks and he is helped along the way by some very funny characters.
Does the President's Cat find his way home – well you'll have to read the book to find out!!!
We absolutely loved this book and we highly recommend that you read it.
We hope you enjoyed our book review but before you go The "BookTastic Book Club" would like to say a huge big
"THANK YOU" TO ALL THE STAFF IN NENAGH LIBRARY.
We would just like everyone to know that the staff are fantastic and they are very nice to everyone that comes in to use the amazing facilities in the Library. The staff put on so many fun and interesting activities for the people of Nenagh to enjoy and they always make time to help us if we can't find a book that we want to read. The library is a lovely place to go as it has a really relaxing atmosphere and it always looks so bright and cheery. We would like the staff to know that we think Nenagh Library is fantastic and that we really appreciate all their hard work and the effort they make everyday to ensure the library a fabulous place to use. Thank you from all of us.