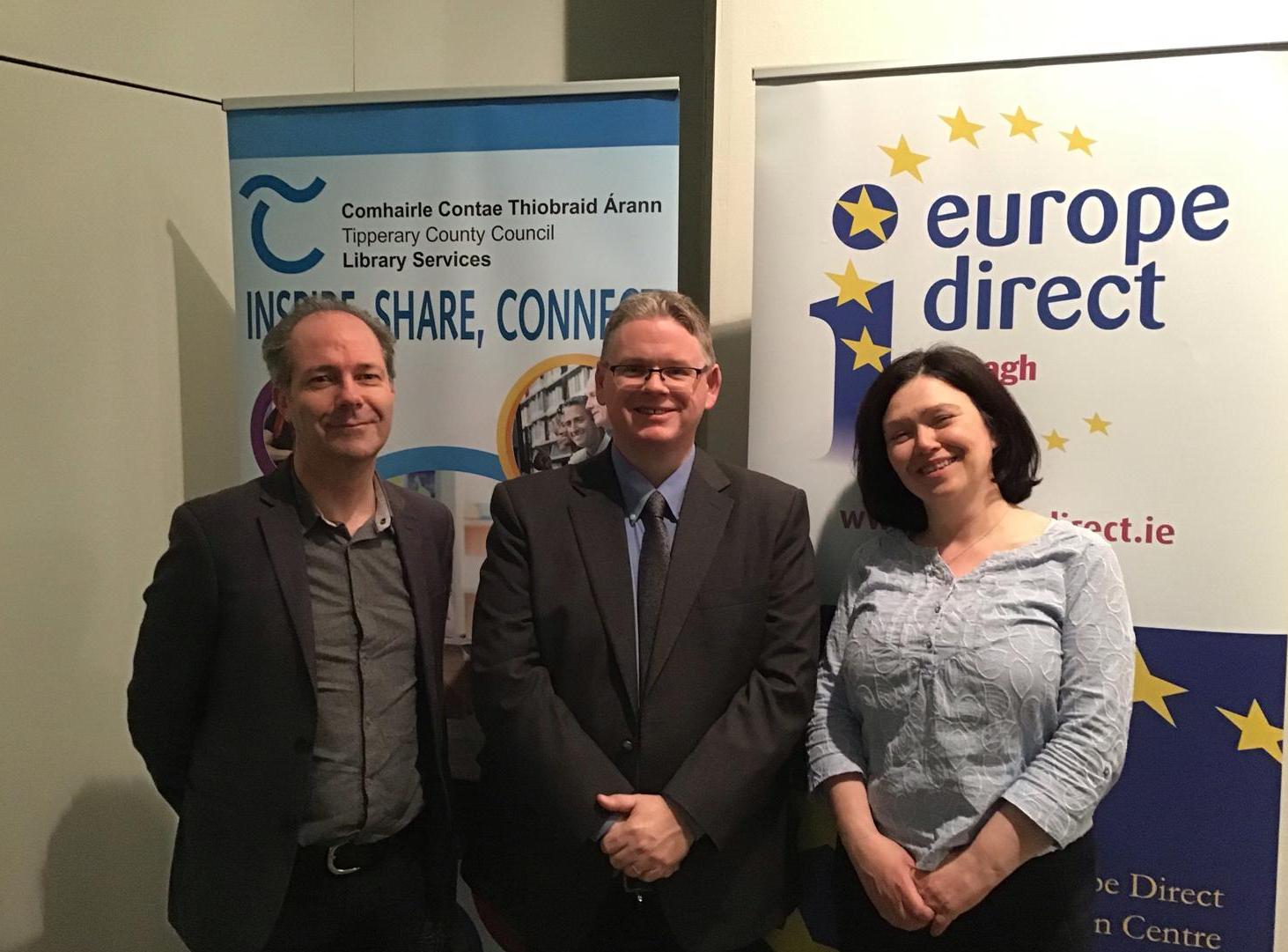 On Tuesday, 12th March, Nenagh library welcomed back Professor Brian Lucey from Trinity School of Business, this time to The Source Arts Centre in Thurles. Nenagh library is a Europe Direct Information Centre (EDIC) for counties Tipperary, Limerick, Cork and Kerry and Dr. Lucey's talk on Brexit was the latest in our Programme of Events for 2019.
'Brexit: An Analysis of a National Meltdown' simultaneously made for both fascinating and depressing listening. Starting with a short overview as to why Brexit happened and how it is perceived now amongst participants and the public, Dr. Lucey made the point that Brexiteers won by a narrow majority in June 2016, when an electorate, that had no real idea of what they were voting for or the consequences of their decisions, fell for the scaremongering tactics and populist slogans of a few charismatic politicians. Jingoistic rhetoric of taking back their borders and controlling their own destiny appealed to an electorate harking back to a time before entry to the EU when Great Britain knew and was confident of her place in the world, but ignored the fact that the world was now a vastly different place from 45 years ago and that, in this era of global trade agreements, Brexit will inevitably mean a dilution of Britain's economic power globally. And what is now certain is that no-one fully understood the ramifications of Britain leaving the EU. Certainly, Brexiteers had no real road map to their Promised Land and so now, almost three years on from that historic vote, most people see Brexit as a Black Hole, inexorably dragging everything down into it.
So, why did the UK vote to leave the European Union, albeit by such a narrow majority? What were the issues of importance to those voters who pushed for Brexit? Britain's ability to make her own laws, the number of immigrants coming to Britain, the cost of EU immigration on Britain's welfare system, the number of refugees coming to claim asylum – all of these issues loomed large in the mind of those who wished to leave the EU but shockingly, issues like Britain's ability to trade with other EU countries, regulations by the EU on British business, the ability of British citizens to live and work in other EU countries or travel within the EU as well as the impact of Brexit on the rights of British workers all rated very low on the scale of what was important to those who wished to leave. For those who voted to remain within the EU, these same issues were the main factors influencing their decision. So Britain voted to leave the EU after almost 46 years membership, by the narrowest of majorities, (52% Leave /48% Remain) in June 2016.
Moving on to Northern Ireland, where a majority voted to remain within the EU, Dr. Lucey looked at how those in the six counties perceive themselves – British or Irish, and discussed the benighted 'Backstop' and what a no-deal Brexit will mean for Northern Ireland. While almost everyone is in agreement that the prospect of Britain crashing out of the EU without a deal will be a disaster, both politically and economically, he made the point that since the formation of the 6 counties of Northern Ireland, Britain has never been able to seal the border with the Republic and so without a 'Backstop' there will have to be a hard border between Northern Ireland and the Republic. The unthinkable alternative is a border with checks between the Republic of Ireland and the rest of EU.
Turning to Europe he looked at the effect of Brexit on the EU 27 versus it's effect on the UK; the bottom line being that the UK will be worse off as Britain's economy is nearly five times more exposed to Brexit than the rest of the European Union. While they have an overall surplus in terms of exporting services, they have a deficit in terms of goods. As to Ireland's trade with Britain, Dr. Lucey referred to 'a fading relationship' and suggested that they need us more than we need them although he acknowledged that for those whose business and everyday lives are affected by Brexit, the cost will be severe indeed.
Calling Brexit a self inflicted wound and with ever more complications and defeats piling up by the day, Dr. Lucey suggested that EU member states must now be suffering 'Brextigue.' What this may mean is that there is absolutely no guarantee the EU players will agree a long, or indeed any extension to allow Britain extricate themselves from the mess that is Brexit now. We have since seen of course that Brussels has agreed a short extension and the UK's departure date, which had originally been set for 29th March, will now be extended to 22nd May if Mrs. May can get her withdrawal deal through Parliament next week to give time to pass the necessary legislation. If the prime minister cannot get the deal through, the UK will have to propose a way forward by 12 April for EU leaders to consider. Finally Professor Lucey asked, in the face of this bruising Brexit, what now for English exceptionalism and warned against the dangers of allowing a narrow minded nationalism to take root in political life.
Incisive, humorous and down to earth in his delivery, Professor Lucey's analysis of Brexit was thought provoking and timely and the vigorous question and answer session that followed showed that while Brexit engenders concern, confusion and frustration in equal measure in all of us, there is no sign of Brextigue. Nenagh EDIC was delighted to bring Professor Lucey back to Tipperary and to have the chance to co-operate with the Source Arts Centre as well as our sister library in Thurles for this event. 'Brexit: An Analysis of a National Meltdown' was recorded on the night and will, in the coming days, be uploaded to youtube.
Next on Nenagh EDIC's Programme for 2019 and timely in the run – up to the European elections in May, is a talk on 'EU and ME…What has the EU ever done for me?' On Thursday, 4th April at 7pm Dr. Stephen Kinsella, Associate Professor Economics, UL and Noel Whelan, SC and Political Analyst will speak about the European Union, the benefits to Ireland of our membership and why the upcoming European elections are so important. Journalist Iva Pocock will act as moderator for the Question and Answer session to follow. . Another date for the diary!