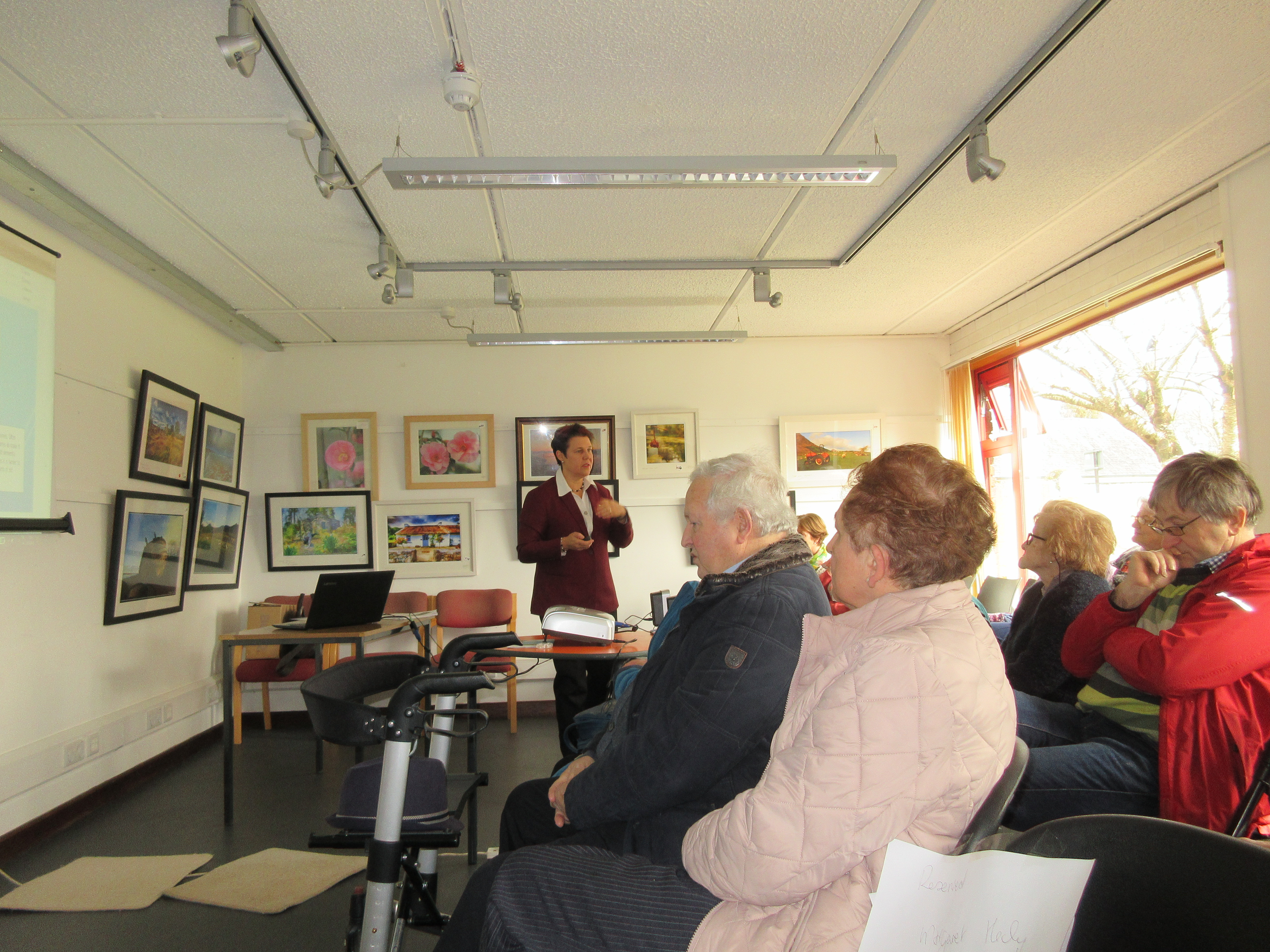 Dementia talk in Carrick-on-Suir Library attracts large attendance.
To be followed up by Alzheimer's Tea Day on May 3rd hosted by Carrick Library.
Community Pharmacist Dr Sabine Eggers, Catherine Bartels (Care Co-ordinator, South Tipperary Alzheimer's Society) and local Solicitor Michael Quirke gave a very informative talk about Dementia in Carrick-on-Suir Library on Friday the 23rd March 2018.
Dr Sabine Eggers took a look at how the brain works, the different types of dementia, symptoms, causes and current treatments available. Sabine, who is a pharmacist with Haven Pharmacy Lannens, emphasised the importance of taking measures to reduce our risk levels and of getting an early diagnosis. 
Solicitor Michael Quirk emphasised the importance of thinking about your legal affairs once a diagnosis of dementia is confirmed. Michael explained the advisability of setting up an Enduring Power of Attorney which will allows another specially appointed person (the attorney) to take actions on the donor's behalf if he or she is incapacitated by the illness. 
The final speaker was Catherine Bartels, Care Coordinator of South Tipperary Alzheimer's Society. Catherine spoke about the facilities provided by South Tipperary Alzheimer's Society at Le Cairde Day Care Centre in Clonmel. This centre, which is open Monday to Friday, caters specifically to the needs of dementia sufferers with staff specially trained in this area. The emphasis is placed on social interaction with a range of activities from memory games to discussion groups and music. 
Catherine mentioned that the Alzheimer's Tea Day, which is held on May 3rd, is the largest annual fundraising campaign in The Alzheimer Society of Ireland's (ASI) calendar. This year Carrick-on-Suir Library will be hosting a Tea Day with all donations going to the South Tipperary Alzheimer's Society which will ensure that the money is spent locally. More information on how you can support us will be available closer to the event.