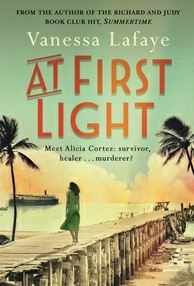 For the month of August, in the lead up to the return of our bookclubs in September, we are going to suggested a couple of books a week that you might not normally pick up while browsing our shelves.
The eleventh book we want to suggest is:
At First Light by Vanessa Lafaye
The book is inspired by real events, At First Light weaves together a decades-old grievance and the consequences of a promise made as the sun rose on a dark day in American history.
1993, Key West, Florida. When a Ku Klux Klan official is shot in broad daylight, all eyes turn to the person holding the gun: a 96-year-old Cuban woman who will say nothing except to admit her guilt.
1919. Mixed-race Alicia Cortez arrives in Key West exiled in disgrace from her family in Havana. At the same time, damaged war hero John Morales returns home on the last US troop ship from Europe. As love draws them closer in this time of racial segregation, people are watching, including Dwayne Campbell, poised on the brink of manhood and struggling to do what's right. And then the Ku Klux Klan comes to town…
If you want to read similar books, check out goodreads.com for more excellent suggestions!