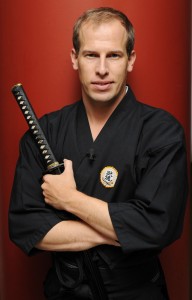 Chris Bradford is the author of the Young Samurai and BODYGUARD series.
He has  been published in more than 20 languages and nominated for over 30 book awards.
He has also written five non-fiction books on songwriting and the music business, notably the critically acclaimed Heart & Soul: Revealing The Craft Of Songwriting.
Chris says, "I write the type of books I'd want to read – books filled with relentless action, believable characters and a plot that twists and turn through the pages!"
Request Chris Bradford's books from our online catalogue or in your local branch library.
Young Samurai Series:
Bodyguard Series:
NINJA Series:
BULLETCATCHER Series: