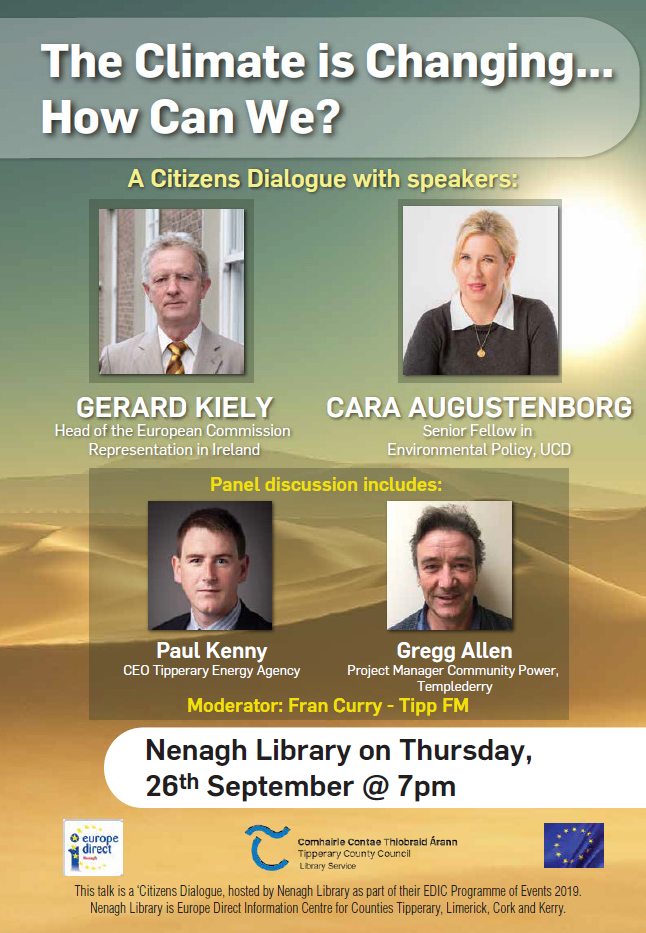 [foogallery id="57214″]
Nenagh library in its role as Europe Direct Information Centre (EDIC) for counties Tipperary, Limerick, Cork and Kerry will host a Citizens Dialogue on climate change and sustainability on September 26th. Entitled 'The Climate is Changing – How Can We?' this event not only seeks to inform about climate change but also give members of the public the opportunity to voice their opinions and ask questions of an expert panel on this, the most pressing issue of our generation. Keynote speakers on the night will be environmental scientist Cara Augustenborg and Gerry Kiely, Head of the European Commission Representation in Ireland. Fran Curry of Tipp FM's Tipp Today will moderate the panel discussion afterwards which will include Paul Kenny, Chief Executive Officer of Tipperary Energy Agency and Gregg Allen, Co–founder and manager of Sustainable Projects Ireland Ltd. This event will start at 7pm on Thursday, 26th September in Nenagh library. Admission is free, refreshments will be served and all are welcome.
Cara Augustenborg
Senior Fellow in Environmental Policy at University College Dublin and co-host of the Down to Earth slot on Newstalk FM with Ivan Yates, Dr. Cara Augustenborg is an environmental scientist by training and a media pundit by passion. Appointed in 2016 by Denis Naughten as an advisor to Ireland's Environmental Protection Agency in 2016 and to the first National Dialogue on Climate Action in 2017, Cara also serves as an advisor to Cool Planet Experience's Climate Champion programme and was the first person in Ireland to join Al Gore's Climate Reality Programme in 2013.
In 2016, the Sunday Independent named Cara as one of the 20 most influential people to lead the low carbon transition in Ireland and GreenNews.ie has named her as one of five women in Ireland making incalculable contributions to Irish environmental issues. Her blog, 'The Verdant Yank' gives her take on "green" issues from an Irish-American perspective and was awarded Ireland's best political and current affairs blog in 2016. In April 2019 she was appointed as a Member of the Council of State to President Higgins.
Gerard Kiely
Gerard Kiely has been Head of the European Commission Representation in Ireland since October 2016.
Prior to joining the European Civil Service, he worked for eight years at the Irish Farmers' Association, based first in Ireland, as an economist and Liaison Officer (1981–1984), and subsequently in Belgium as Director of the Association's Brussels office (1984–1989).
He joined the European Commission in 1989, specialising in International Relations on Agriculture.
He was the European Commission's Spokesperson for the Agriculture Commissioners from 1991 to 1999. He then served, from 2000 to 2003, as Head of the Agriculture, Food Safety, Consumer Affairs and Fisheries Section of the EU Delegation in Washington, D.C.
More recently, Mr Kiely occupied a series of managerial posts in the Directorate General for Agriculture, including over the last six years as Head of the Unit for Pre-Accession Assistance.
Mr Kiely obtained his Master's Degree in Agricultural Economics and his Degree in Agricultural Science from University College Dublin.
Paul Kenny
Chief Executive Officer of Tipperary Energy Agency – involved with both renewable energy (wind and bio-energy) and energy efficiency projects. A consultant to the Sustainable Energy Authority of Ireland, the European Commission and other utilities, he has spoken at a number of high profile conferences in Ireland and Europe on sustainable energy and was named as one of the top 20 influencers' who will shape our response to climate change. A strong advocate of greater action on the reduction in use of fossil fuels, he also authored the successful Sustainable Tipp application to the European Investment Bank's ELENA program.
Gregg Allen
Co–founder and manager of Sustainable Projects Ireland Ltd, the company behind the Cloughjordan Ecovillage project which is leading the way in building Resilient Communities through the construction of ecological and energy efficient buildings, provision of local renewable energy, local food production and conserving genetic biodiversity. He is currently Business and Project Manager for Community Power (Templederry), Irelands first Community Owned Renewable Energy Supply Company which is providing electricity to local people and businesses in Tipperary.
We are delighted that Fran Curry of Tipp FM will act as moderator on the night.