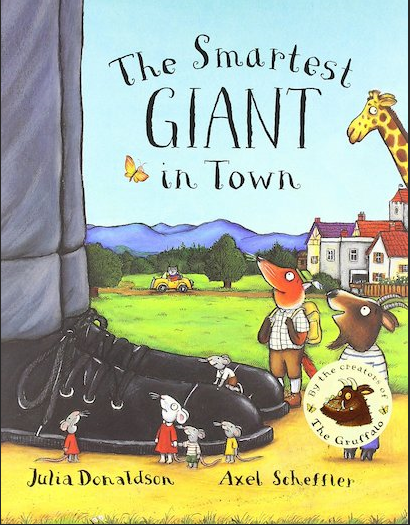 The Smartest Giant in Town – Julia Donaldson
George wished he wasn't the scruffiest giant in town
So, one day, he sees a shop selling giant-size clothes, he decides it's time for a new look. With smart trousers, a smart shirt, stripy tie and shiny shoes, George is a new giant.
But on his way home, he meets various animals who desperately need his help … and his clothes!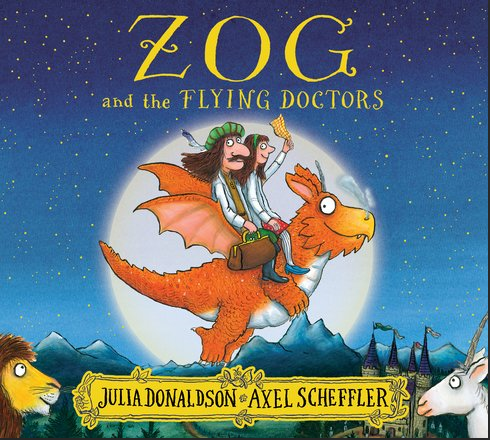 Zog and the Flying Doctors – Julia Donaldson
Julia Donaldson and Axel Scheffler are at their sparkling best in this fabulously original sequel to the bestselling ZOG. Meet the Flying Doctors: Princess Pearl, Sir Gadabout and, of course, their trusty 'air ambulance', Zog the dragon, as they fly around the country, tending to a sunburnt mermaid, a distressed unicorn, and even a sneezy lion.
The Gruffalo – Julia Donaldson
This is a rhyming story of a mouse and a monster. Little mouse goes for a walk in a dangerous forest. To scare off his enemies he invents tales of a fantastical creature called the Gruffalo. So imagine his surprise when he meets the real Gruffalo.
Six Dinner Sid – Inga Moore
Unbeknownst to each of his owners, Sid the cat lives with six different people on the same street. By doing so, he's able to get six different dinners every night! He also answers to six names, sleeps in six beds, and maintains six different personalities.
All is perfect for Sid – until the day he catches a dreadful cough. Then it is off to the vet not once, but six times!
Cinderella
A girl named Cinderella has the purest heart living in a cruel world filled with evil stepsisters and an evil stepmother out to ruin her  life. She becomes one with her pure heart when she meets the Prince and dances her way to a better life with glass shoes, and a little help from her fairy godmother, of course.
We're Going on a Bear Hunt – Michael Rosen
Come along on a bear hunt in this award-winning classic from Michael Rosen and Helen Oxenbury. We're going on a bear hunt. We're going to catch a big one.. Will you come too? For more than twenty-five years readers have been swishy swashing and splash sploshing through this award-winning favorite. Join in the fun!
Peppa Pig
Welcome to the world of Peppa Pig! Everyone's favourite pint-sized piglet, Peppa lives with her Mummy, Daddy and baby brother George and likes to have all kinds of fun adventures but most of all she loves jumping in muddy puddles.
The Highway Rat – Julia Donaldson
"Give me your pastries and puddings!
Give me your chocolate and cake!
For I am the Rat of the Highway,
and whatever I want I take."
Beware of the Highway Rat. He'll steal your food … and your heart!
Horrid Henry – Francesca Simon
Horrid Henry is rapidly establishing himself as a character children love to hear about. These four tales of a very naughty boy, his maddeningly good little brother Perfect Peter, and Moody Margaret, all show him wreaking havoc.