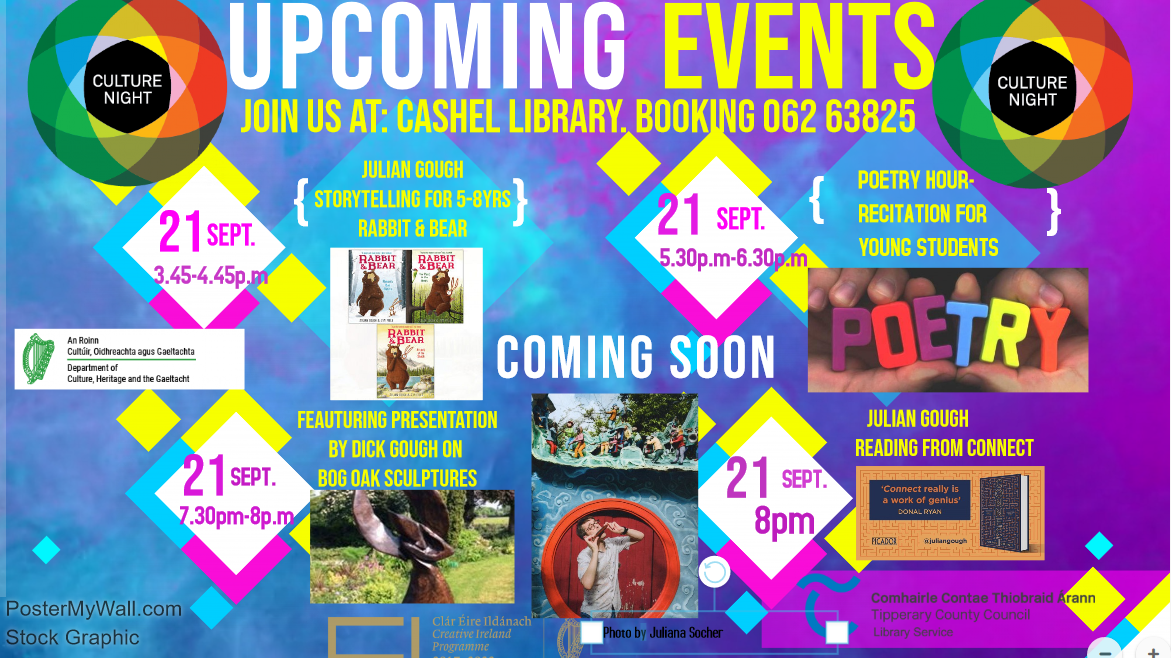 Culture Night in Cashel Library
Friday 21st of September
Storytelling with Rabbit and Bear author Julian Gough
3.45 – 4.45 pm
Suitable for 5 -8 year olds
Julian Gough will visit Cashel library as part of our Culture Night and Cashel Arts Festival celebrations. This storytelling session is suitable for 5-8 year olds and starts at 3:45pm. Julian has published four novels, three children's books, and a collection of peculiar poems. He also wrote the ending to the world's most popular computer game, Minecraft. Julian will read from his Rabbit and Bear books.
Free event  but booking essential at Cashel Library Tel: (062) 63825
Poetry Hour
 Recitation for young students as part of Cashel Arts Festival 2018
5:30pm-6:30pm
Following last year's very well received Poetry Hour for Primary School Students from 2nd to 6th class, Cashel Arts Fest will again include it in this year's programme of events. Through the art of recitation, poetry becomes a living expression of the Poet's thoughts on a wide variety of topics. Students are encouraged to reflect on and appreciate the themes, emotions, descriptions and choice of words used in their chosen poem and convey these through vocal variety. A range of poems has been made available to the students and students selected to represent their class and school.
Presentation by Dick Gough on his Bog Oak Sculptures
7.30 – 8pm
Dick is a sculptor from Ballydine and living in Nenagh. He works mainly with bog oak, and his beautiful creations are dotted around Cashel Library as part of Cashel Arts Festival. Join Dick as he gives an interactive talk on his bog oak sculptures.
Julian Gough –  A Reading from his new novel Connect
8 – 9pm
Connect is set in the near future and tells a story of family and digital life. An awkward teenage boy gains superhuman abilities while his mother, a geneticist, is discovering a potent alternative to stem cell therapies. It's been called excitable and joyous – a dazzling techno-thriller!
Booking for these events is advised, please call the library on 062 63825 to book.