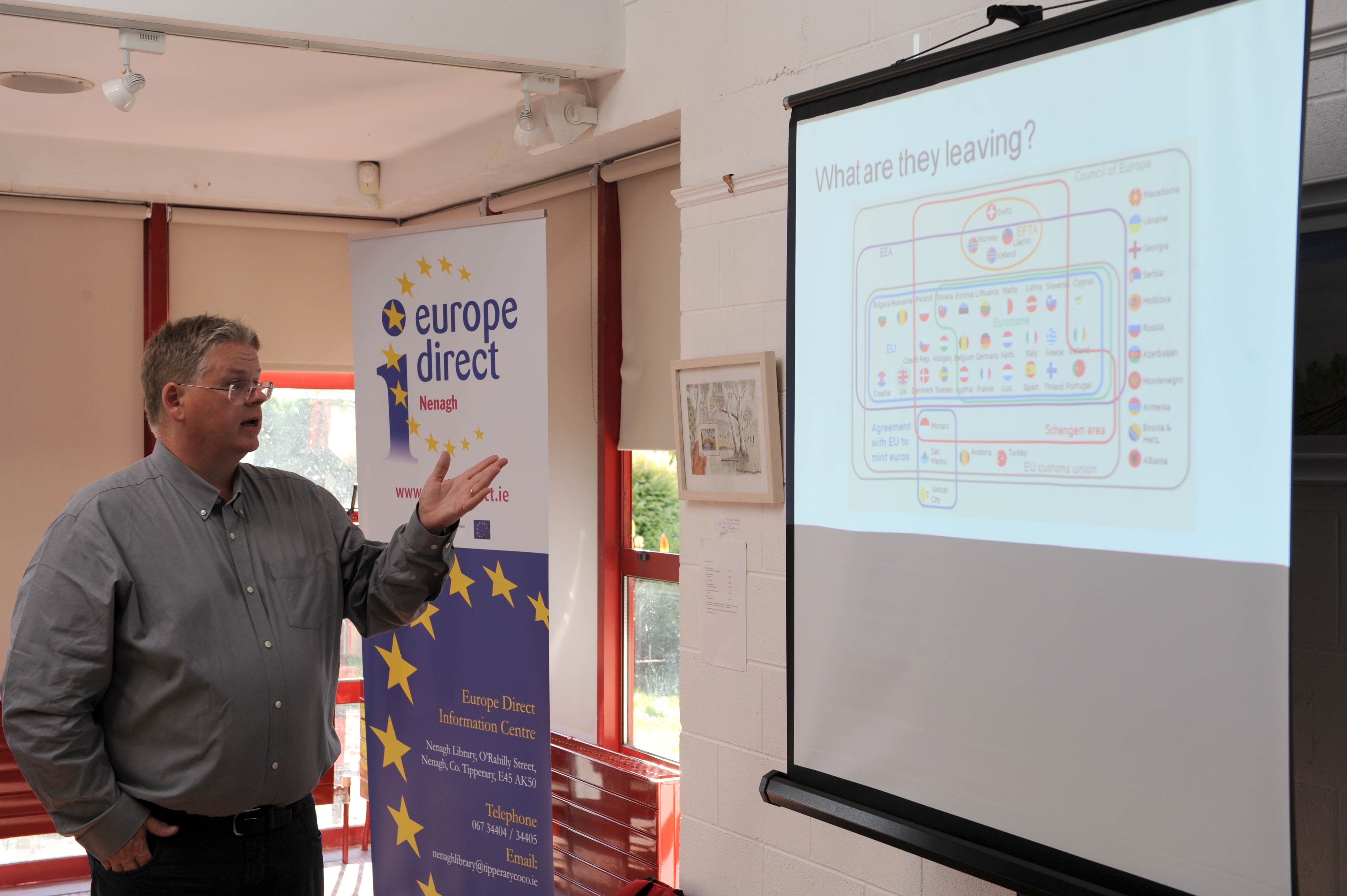 Nenagh library was delighted to welcome Dr. Brian Lucey on Thursday 28th June, the first in our series of speakers who will talk on different subjects pertaining to Ireland and the EU. Dr Lucey, Professor of International Finance at Trinity College Dublin School of Business and columnist with the 'Irish Examiner' newspaper, spoke on the subject of Brexit, giving a very interesting presentation entitled 'Brexit: Not as Bad as You Think?'
He opened with an overview of Brexit – what exactly the UK were leaving. He then asked the question why are they leaving? Why did the UK vote to leave the European Union, albeit by a narrow majority? He suggested a number of different factors contributed to the decision to leave, but concluded that there was no single major cause but several major threads including, but not limited to, fears about the pace of immigration. A campaign run by populist charismatic politicians, using easy emotive slogans in a country with a huge economic and educational divide and a young population that largely doesn't vote, all influenced the outcome of this decision. Moving on to the question of how are they leaving – ie how will they make this work and retain their position at the heart of European affairs, Dr. Lucey suggests there are a number of scenarios but the end result is the same, a decline in the importance of Britain and a shift in its
position in terms of being a global trading power. Moving on to the peculiar case of Ireland and what everyone here really wants to know – what will it cost, Brian acknowledged there will be a cost to us but it will be one we can absorb; life in Ireland will continue after Brexit. Dr. Lucey feels in conclusion that Brexit was a mistake, a mess that will have to be untangled, but it is done now and we must all move forward from it. He wishes we would stop wringing our hands over what may happen and advocates seizing the opportunity to persuade companies who wish to leave the UK to look to Ireland now as their gateway to accessing the EU.
After his talk there was a lively question and answer session and it was obvious that there was great interest and concern amongst people here in Ireland as to what the future holds as regards Brexit. As Europe Direct information contact for counties Tipperary, Limerick, Cork and Kerry part of Nenagh Library's remit is to inform citizens of current developments within the EU and in this, the first of our talks, we were delighted with the success of the event.
Photo: Tom Ryan Casey, Thurles.
Photo 1: L-R:Breffni Hannon (Library Manager), Margaret Ryan (Assistant Librarian),     Damien Dullaghan (County Librarian), Dr Brian Lucey, Mary McCormack (Senior Library Assistant)
Photo2: Dr Brian Lucey and Pat Slattery, Director of Services Tipperary County Council
Photo 3: A section of the audience
Photo 4: A Section of the audience
Photo 5 : Dr Brian Lucey