Clonmel Library presents Lorna Keegan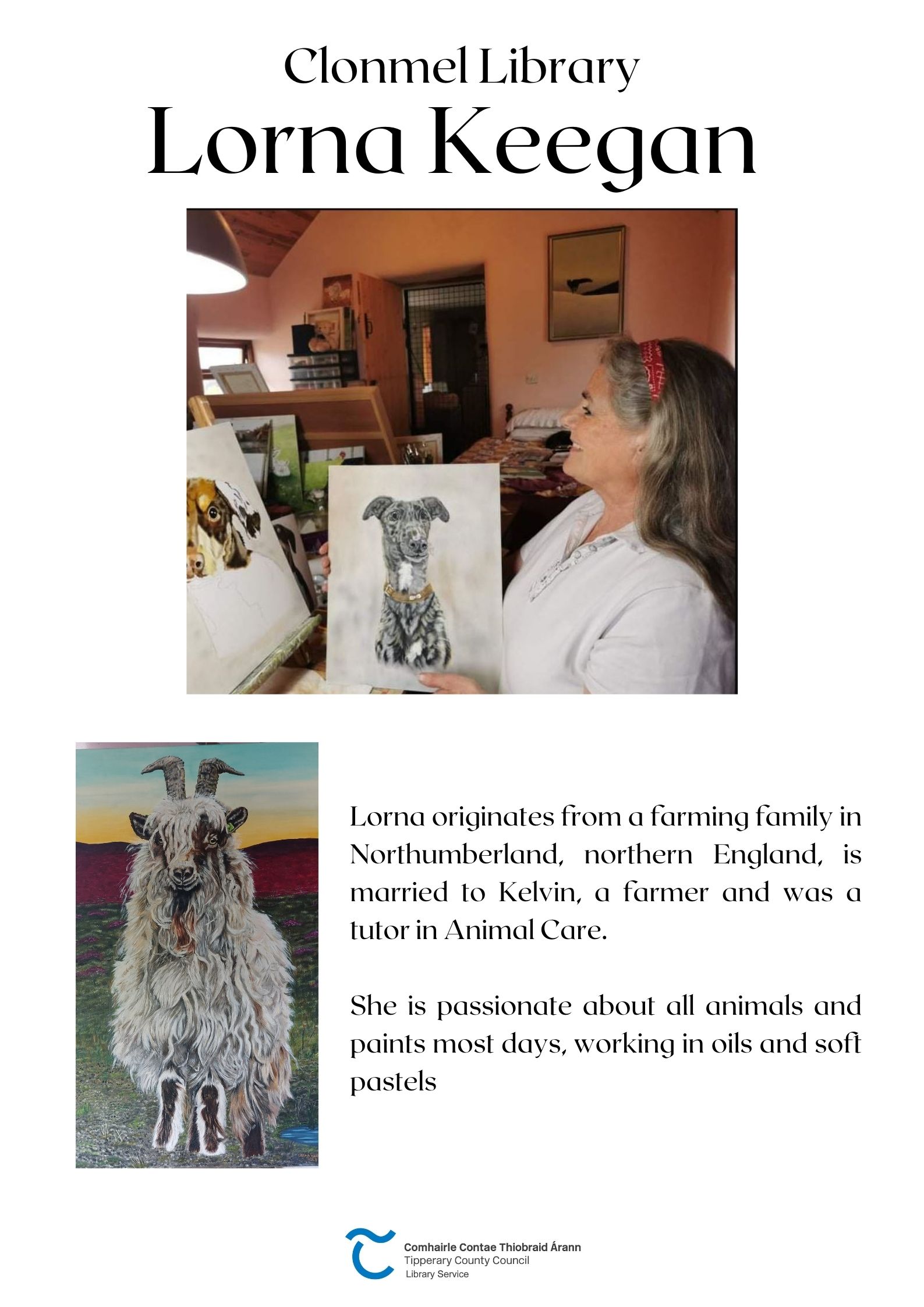 Art on the Farm
When I was a child growing up on my Dad's farm, I became drawn to all animals: farm, wild life and our many pets, so much that I wanted to draw every one of them. The drawing from life developed into painting the beautiful colours and textures of poultry, sheep, cattle, cats, dogs, wild animals and birds.
As I grew older, understanding the different lifespans of animals and the awful grief that comes from the death of a dearly loved companion, I felt compelled to paint a special image of that precious friend – a portrait – something to cherish the character and love of the bond between us.
I started painting portraits as gifts for friends and relatives, eventually attracting more and more clients at agricultural shows and local exhibitions in England, France and Ireland. At the same time I was a tutor in animal care, preparing youngsters for their careers working in all areas of animal care – farming, dog grooming, refuges, veterinary practices, pet shops, fisheries and general care at home.
Life Moves on
I married my husband, a dairy farmer, and we moved to the Auvergne in France to farm Charolais cattle, quite a change from dairying, getting up in the wee small hours to help calve a cow, often in -20℃ and making hay in the summer in 40+℃.
All animals in their environment are my inspiration to paint, for example, when a newly born calf finds the milk bar and the sight of a little lamb nose to nose with his mother for the first time, a tiny chick struggles out of its shell listening to its mother's encouraging chuckles is unforgettable.
My husband Kelvin and I live in beautiful Co. Tipperary with our Savoyard goats, Leghorn hens and eight cats. I am lucky to have a fine studio with panoramic views where I paint almost every day using best quality soft pastels, professional oils and canvases.
keegananimalfineart.ie