With Ireland Reads Day fast approaching, why don't you have a look at what our library staff from all around the county have been reading in recent weeks…
Have you taken your pledge to squeeze in a read yet? Visit www.irelandreads.ie to make your pledge to read on February 25th!
The Sunday Girl – Pips Drysdale
Valerie in Tipperary Town Library recently enjoyed 'The Sunday Girl', the debut novel by Australian/African raised writer, Pips Drysdale.
This book sees how a good girl can turn bad when pushed to far. Meet Taylor , a kind hearted, soft- spoken , timid girl who is every mother's dream daughter in law. Taylor has just broken up with her abusive boyfriend Angus and to make matters worse he has got a new girl and is taking her on their dream vacation.To add salt to the wounds he has also posted an explicit intimate video of Taylor online. Taking inspiration from Sun Tzu's "The Art of War"as her guide Taylor sets out to exact revenge but what happens when your opponent is a master of mind games and manipulation? Taylor's life starts to spiral out of control opening up new untold dangers. A gripping , intense thriller to keep you transfixed till the end.
The Nothing Man – Catherine Ryan Howard
Aoife in Thurles Library recently read 'The Nothing Man'. She says…
I read The Nothing Man by Catherine Ryan Howard. This is the story of a Cork based serial killer, and the only survivor of his last attack, Eve Black. It has been 20 years since Jim's crime spree, but he is happy to re-live all of his attacks through Eve's new book. This brilliant thriller had me hooked, wondering just how far Jim would go to protect his legacy.
Nickel & Dimed – Barbara Ehrenreich
Pat in Clonmel Library has recommended Barbara Ehrenreich's 'Nickel & Dimed' for this month's staff reads.
Pick up any of her books at random, and feel the heat of her constantly enquiring mind. This one look at the difficulties of surviving in modern America, when you are at the bottom of the social ladder. And being Ehrenreich, she doesn't just write  about it; she goes and lives it . "No one ever said that you could work..harder..than you ever thought possible-and still find yourself sinking ever deeper into poverty and debt." A powerful antidote to the "American Dream"!
Exhalation – Ted Chiang
Cathal in Thurles Library recently enjoyed 'Exhalation', a collection of short stories by Ted Chiang.
Exhalation is a collection of nine outstanding, original short stories from Ted Chiang. This book does what great Sci-Fi does best, using the fantastical to explore the big questions of the real world. What is the nature of free will? How does technology affect our relationships with each other and society at large? What does it mean to be human? In recent years dystopian fiction has been a big seller both in bookshops and in Hollywood, one tv series which epitomises this dark cynicism is "Black Mirror" which often shows a dark, twisted version of the not-to-distant future. What really sets this book apart is a thread of thoughtful optimism which is truly refreshing. Anyone looking for a good Sci-Fi read free of dystopian, Orwellian hellscapes and post-apocalyptic survival will be more than satisfied with these humane, thoughtful, skilfully assembled stories.
Thirty Two Words for Field – Manchán Magan
Donie in Tipperary Town Library has recommended 'Thirty Two Words for Field' by Manchán Magan for this month's staff reads. He says…
It may seem an odd title for a book, but Manchán in his own unique way, gives us an insight into the beauty and richness of the Irish language that has been spoken on this island for almost 3,000 years.
Geamhar-a field of corn/grass,  Tuar- a field for cattle at night, Réidhleán- a field for games or dancing, Cathairín – a field with a fairy dwelling in it. Thomas Davis wrote that " A people without a language of its own is only half a nation. A nation should guard its language more than its territories, tis a surer barrier  and more important frontier, than fortress or rivers." In its 375 pages we are brought into the Netherworld, Fairy Words, Place Names, The Cure of Words,  and Curses. Púicín means a supernatural covering that allows otherworldly beings to appear unseen in reality. The word leprechaun is derived from lúchorpán meaning a small body, the word lorgadán is more commonly used in Tipperary. Skeheenarinky translates as " the little thorn bush of dancing." Manchán spent many summers in West  Kerry where he got his love of storytelling from visiting neighbouring houses, Bothántaíocht, Cuartaíocht was a more solemn visit, Ionnasaightheach visiting in a way that feels aggressive and Táirdíol the act of visiting from house to house in a circuit. This book is a must read, not only for lovers of our native tongue, it allows readers the chance to delve deep into the landscape of this island and to go down pathways that have long been forgotten. Irish is as much a story as a language, and most stories never really die.
The End of Her – Shari Lapena
Noirín in Borrisokane Library has recently finished 'The end of her' by Shari Lapena.
I'm totally in love with this author since her debut novel 'Someone We Know', and this novel wasn't disappointing, albeit I did predict the ending but not until about the last 30 pages! It had me engaged until the end. The Authors novels are page-turners and well worth a read if suspense & crime is a must for you. This novel had a murder and had specific details really well researched I didn't question the details! I would give it a 4/5.
Stephanie in Clonmel Library has two books to recommend this month. She recently enjoyed Danya Kukafka's 'Girl in Snow' and 'The Book of Dust Vol. 2: The Secret Commonwealth' by Philip Pullman.
Girl in Snow – Danya Kukafka
A crime thriller set in small-town America, the murder of a popular teenage girl and a community in shock. The story is related through the lives of three characters, the awkward boy who loved her, the policeman investigating her murder and the girl who does not seem to care that she is dead. This is a clever story-telling and makes for a real page-turner of a novel.
The Book of Dust Vol. 2: The Secret Commonwealth – Philip Pullman
The second instalment in the Book of Dust series is as thrilling as the first, La Belle Sauvage. Lyra is now an adult and her daemon Pan has fixed as a pine-marten. Their relationship has never recovered from the trauma of their separation and they have become estranged. Soon after Pan disappears. Lyra sets out to find her daemon, her journey reuniting her with old friends like Malcolm Polstead and the gyptians and new friends who help her on her quest. The reader is constantly hoping that Lyra and Pan can reconcile their differences, but they will have to find each other first.
Mrs Fletcher – Tom Perrotta
Claire in Clonmel Library recently read 'Mrs Fletcher' by Tom Perrotta.
This New York Times bestseller from 2017 is the story of Mrs. Fletcher, a 46 year old divorcee, who has just dropped her only child, Brendan, off at college. She has the house and her spare time to herself for the first time in years, what's she going to do? Well, she takes a night class (Gender and Society: A Critical Perspective)….. and she starts watching porn. Meanwhile, high school jock Brendan is finding college life more of a challenge than he expected.
Is this a laugh out loud satire or a serious portrayal of the damage the over consumption of internet porn can do to real life relationships?
You'll have to read it to decide!
The First Mistake – Sandie Jones
Ann in Cahir Library has recently finished reading Sandie Jones' novel, The First Mistake.
Absolutely brilliant read right to the last page. Twists and turns and riveting. Sandie Jones writes a great psychological thriller.
I'm currently reading 'The Other You' by J.S.Munroe. Another great thriller.​
The Guardians – John Grisham
Adrian from Roscrea Library has recently read THE GUARDIANS by John Grisham.
I found this recent novel by John Grisham to be an enjoyable read, even though, in my opinion, I would put a lot of his previous novels ahead of it in terms of gripping storylines and really keeping the reader engaged until the very end.  The storyline is based around the mysterious circumstances surrounding the cold-blooded murder of a Florida lawyer.  The killer left no clues and in the absence of witnesses, suspects and motive, the police settled on a young black man who was supposedly seen in the vicinity of the office soon after the killing and a former client of the murdered lawyer.
Quincy Miller subsequently spends twenty-two years in prison with no lawyer before writing a letter to Guardian Ministries, a small innocence group formed by lawyer and minister, Cullen Post.  The group travels the American Deep South fighting wrongful convictions and taking cases no lawyer would touch.  However, there are extremely dangerous, ruthless people who do not want the truth to come out and Quincy Miller exonerated.  They will do whatever it takes to keep the truth buried and will kill again if necessary.
Bless Me Father – Karl Clany 
Steph in Carrick-On-Suir Library has recommended 'Bless Me Father' by Tipperary native, Karl Clany.
I read this book by Tipperary native Karl Clancy just over a year ago now and still remember it as being a great read. It is a well researched, written and paced novel.
T
he characters are cleverly put together allowing the reader to immerse themselves fully into the story. ​ It was my first time reading a murder mystery  and now that I have, a new genre has opened up for me. If you have time pick this book up you will be glad you did.
Áine in Roscrea Library has recommended two reads for this month's staff reads.
With Hope in Your Heart: The Sean Cox Story – Martina Cox
Sean Cox is a Liverpool Football supported whose life changed dramatically following an unprovoked attack out Liverpool's home ground of Anfield in April 2018.  This book, written by Sean's wife Martina, tells the story from her and her families point of view.  It is a wonderful story of love and determination and how a family and community fought hard to achieve what many thougth impossible.  It's a read for everyone, not just those who are dedicated Liverpool supporters!
The Secret Life of Mr Roos – Hakan Nesser
Ante Valdemar Roos, 59,is unhappy with his lot, but then he wins the Lottery.  He decides not to tell anyone about his win, but plans to spend half of it and keep the rest for a rainy day. As he plans his future, his paths cross with Anna, a recovering addict and things soon take a very unpredicted turn.   Soon there is murder and a pair going on the run! An interesting tale…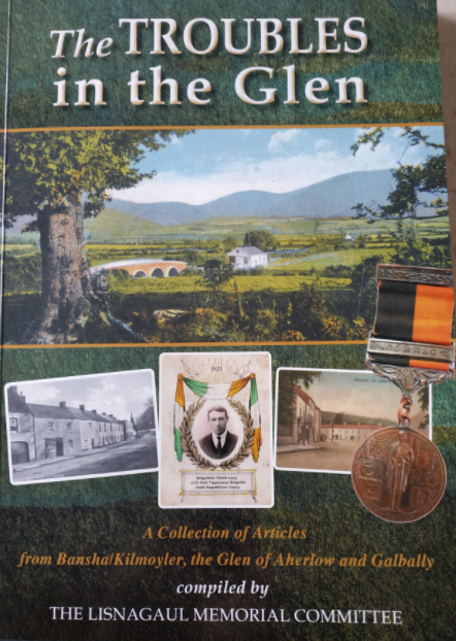 The Troubles in the Glen
Mary in Tipperary Studies has recommended 'The Troubles in the Glen' compiled by The Lisnagaul Memorial Commiteee.
Communities are presently working very hard to commemorate the efforts of their ancestors in the struggle for Independence.  Lisnagaul Memorial Committee has published The troubles in the Glen: a collection of articles from the Bansha/Kilmoyler, the Glen of Aherlow and Galbally. It is a very attractive publication complete with numerous contemporary photographs.  Several articles, all by different authors guide us through the area and the period. We learn of individuals, hide outs, ambushes, creameries, shootings, Cumann na mBan and the origins of the Black and Tans. The committee has broadened the publication to include biographical pieces on poet Darby Ryan and John Cullinan MP stating that 'while they are not strictly of the period…….they influence what came after them'.  An article on sportsmen of the area also adds to the diversity of the publication.  Overall, it is a beautiful publication which I thoroughly enjoyed.
The Death of Vivek Oji – Akwaeke Emezi
Denis in Templemore Library recently finished 'The Death of Vivek Oji' by Akwaeke Emezi.
Akwaeke Emezi is an Igbo  and Tamil writer and video artist, born in Umuahia, Nigeria. In 2019, Emezi's first auto-biographical novel, 'Freshwater', was nominated for the Women's Prize for Fiction, the first time a non-binary, transgender author has been nominated. The author's second novel 'The Death of Vivek Oji' is a beautifully written story relating the life and tragic death of a young transgender Nigerian. From the very start, the reader is completely sucked into the story. The first chapter reads as follows: 'They burned down the market on the day Vivek Oji died.' That's the whole chapter. Curiosity alone makes you want to read on. And what a read!
This is really a  love story that opens our senses to many other things- Nigerian politics, Igbo culture, being other, human decency and even death. But it is the author's beautiful language and writing that absorbs you most of all. Throughout, the book is scattered also with Igbo phrases and sayings, yet the context allows you, the reader, to understand. The relationship between Vivek and Osita is at the centre of this work, but the portrayal of other family members and the wider community is wonderful, in particular the Nigerwives, an organisation of foreign women married to Nigerian men.
The achingly beautiful prose is the real stand-out in this novel. It is often minimalist but all the more effective for that. 'I felt heavy my whole life. I always thought that death would be the heaviest thing of all, but it wasn't, it really wasn't.' It is a work that  sets you thinking, wanting to know more, yet not quite sure of anything. If it has been said that Irish writers of the nineteenth and twentieth century turned the English language into something even more beautiful, then surely the same can now be said of other British ex-colonies, as their writers set the standard for new English literature.
The Stray Cats of Homs – Eva Nour
Mary in Cashel Library recently read 'The Stray Cats of Homs' by Eva Nour.
A cat has seven souls in Arabic. In English cats have nine lives. You probably have both nine lives and seven souls, because otherwise I don't know how you've made it this far.'
This is a fictionalised account based on real events during the war in Syria. Eva Nour is a pseudonym for the Swedish Journalist who wrote this novel. She met "Sami" the main character while doing a piece on asylum seekers in France for Swedish television.
Sami grew up in Homs one of the largest cities in Syria, he had a relatively calm childhood. His life changes when he has to join the military, luckily, he starts to train as a map maker and to some degree escapes the ravages of war, later he becomes a photojournalist and social media activist. Eventually he is forced to flee Homs and makes his way to Paris where he meets Eva Nour, who decides to tell his story. Obviously, some characters and situations are fictionalised, in order to protect Sami's family.
This is a novel about friendship and loyalty in a war-torn city. while the subject matter is unsettling, events are treated as sensitively as possible.  The reader is left in no doubt about the horrors of war, but the novel proves that the human spirit is strong and can overcome the most difficult circumstances.
Chamber of Secrets of Secrets – J.K. Rowling
Miriam in Thurles Library was listening  to 'Harry Potter and the Chamber of Secrets' in audiobook format on the BorrowBox App. This is the second book in the series read by Stephen Fry.
In the Chamber of Secrets Harry returns to Hogwarts for his second year. He has had a horrible summer at home and is very keen to return to Hogwarts however someone it doing his best to prevent Harry from doing just that.  When he eventually returns in the flying car he begins to hear voices whispering in the corridors, then students are turned to stone and Ginny Weasley disappears. In the Chamber of Secrets the characters that we were introduced to in the Philosophers stone are developed and we are also introduced to some new characters such as Dobby, Lucius Malfoy and Moaning Myrtle who play a significant part in later books. Stephen once again does an excellent job of bringing the characters to life and it is a pleasure to listen to him reading the story.
Sarah in Cashel Library has recently enjoyed both 'Exciting Times', the debut novel of Irish author, Naoise Dolan, and Philipa Perry's novel 'The Book You Wish You're Parents Had Read'.
The Book You Wish You're Parents Had Read – Philipa Perry
In this gentle, empathetic book psychotherapist Philipa Perry cuts through all the unimportant things parents agonize over to highlight what's really important. She explains the real motivations behind children's behaviour and how our reactions as parents can be influenced by our own childhoods.
Exciting Times – Naoise Dolan
22 year old Ava leaves Ireland to navigate live and love in Hong Kong. Full of clever conversation and acerbic observations 'Exciting Times' is a funny and intelligent read.
This Little Dark Place – A.S. Hatch
Rachel in Clonmel Library has recommended 'This Little Dark Place', the debut novel of A.S. Hatch for this month's staff reads.
Daniel and his girlfriend, Victoria, are a young couple who have been together for 5 years. They decide to start trying for a baby but with no success a distance starts to form between them and Daniel begins to suspect Victoria is having an affair. Becoming lonely and needing someone to vent to, Daniel decides to sign up for a pen pal program with a local prison and is soon connected a female convict called Ruby. What follows next is a story of love, obsession and betrayal…
This book is divided into different parts; jumping from the past to the present. A large chunk of the story is told through letters between Daniel and Ruby, and then Daniel and Lucy. But the main question throughout this pyschological thriller is… who is Lucy? There are so many twists in this story that it becomes difficult to put it down. It is a mess of human emotions and relationships that you soon start to question everyone…