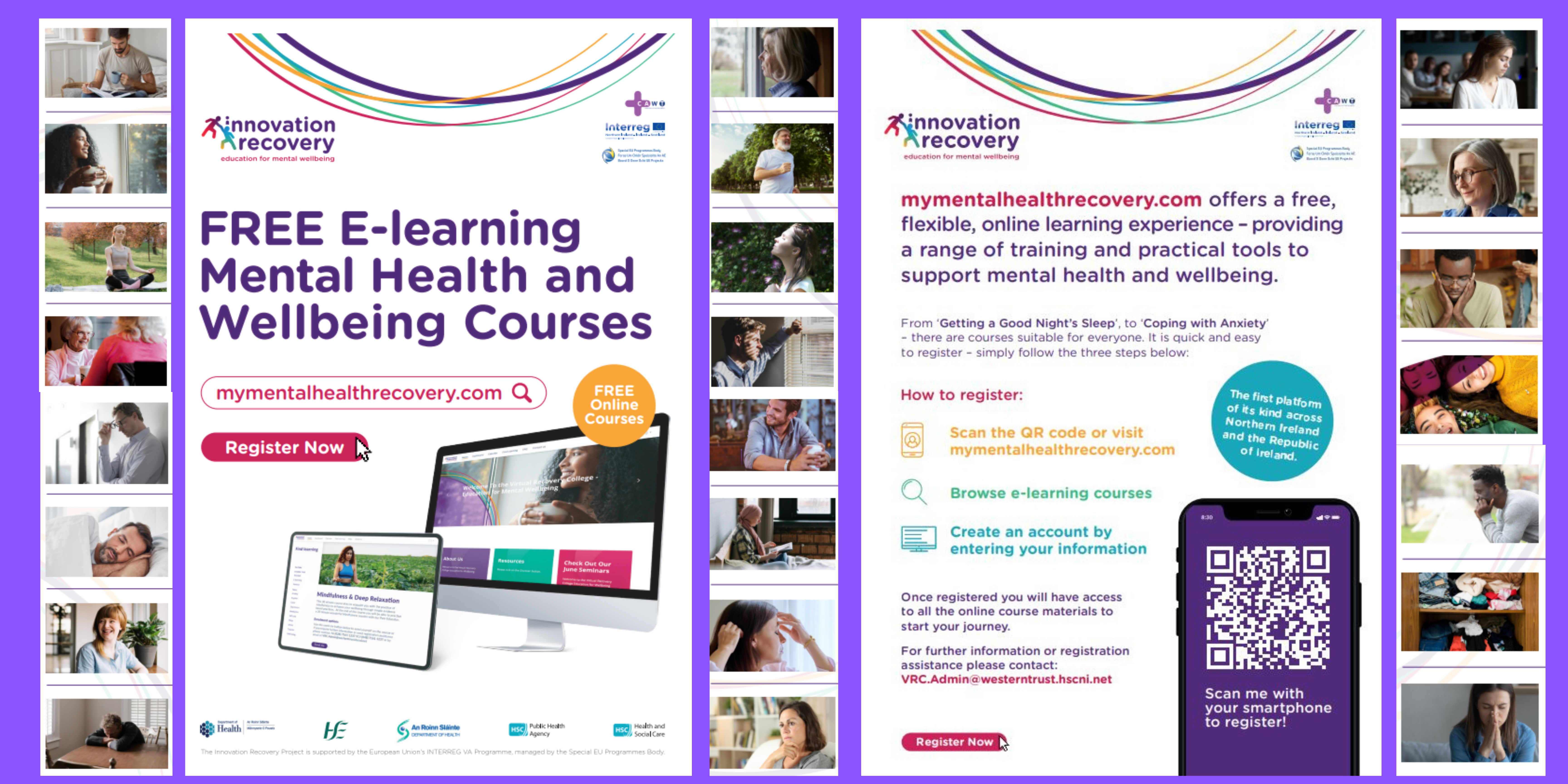 From 'Getting a Good Night's Sleep', to 'Coping with Anxiety'
– there are courses suitable for everyone. It is quick and easy to register. Once registered you will have access to all the online course materials to start your journey. For further information or registration assistance please contact: VRC.Admin@westerntrust.hscni.net
How to register: Create an account by entering your information at:
https://mymentalhealthrecovery.com/

INTRODUCTION TO TRAUMA AND HEALING

This course provides an introduction to help our understanding of how traumatic experiences can affect our emotional and physical well-being. It
examines case studies of trauma and provides helpful strategies used successfully to support people experiencing some of the distressful
symptoms associated with trauma.
PRACTISING SELF-CARE

The art of self-care can mean something different for everyone, and how we choose to look after ourselves has a huge impact on how we feel.
This course aims to create awareness of the importance of implementing a sustained self-care programme in order to maintain or enhance mental and physical wellbeing.

MINDFULNESS & DEEP RELAXATION

This course aims to acquaint you with the practice of mindfulness to enhance your wellbeing through simple, evidence-based practices. At the end of the course you will be able to practice a wonderful 20 minute Mindfulness session with our Peer Educator.

FINDING HOPE AFTER BEREAVEMENT FROM HURT TO HEALING

This course aims to help you get a better understanding of grief and bereavement, suggests ways of coping and outlines the support that is available.
Please note that this course may not be suitable for those people who are recently bereaved. If you have had a recent bereavement and would like support please contact us and we can give you information on local organisations that can help.

UNDERSTANDING & MANAGING OUR ANXIETY

Anxiety is a normal part of everyday life but it becomes a problem when it is frequent, overwhelming and stops us doing the things we would like to be able to do. The first step towards managing our anxiety is to firstly understand why we feel certain ways sometimes. We can then begin to implement techniques which help us to manage these feelings, and help improve our self-esteem.

HOW TO GET A GOOD NIGHT'S SLEEP

If you are someone who struggles to get to sleep or wakens in the middle of the night and can't get back to sleep, this course will provide you with
some useful tips to help you have a good night's sleep.

LEARNING TO LIKE YOURSELF

People who experience low self-esteem frequently view themselves in a negative way and this can have a major impact on their lives.
This course aims to explore some of the causes and underlying issues of low self-esteem. We will explore practical strategies and techniques which
can help you build and maintain a more positive view of you.

MANAGING DEPRESSION

This course will enable you to recognise that depression is not something that needs to be faced alone. There is hope for recovery and there are ways to manage depression.


UNDERSTANDING DEPRESSION

This course will explore what being depressed means, signs and symptoms of depression and help you understand how it can impact on people's lives.
Caring for someone can be a tough job. Alongside your practical duties, you may experience various emotions, and it is easy to forget about your own needs.
This course provides an awareness of the importance of implementing a sustained self-care programme in order to maintain or enhance your
mental and physical wellbeing while you are looking after someone else.


LIVING WELL WITH PAIN

Chronic pain and illness affect people's lives in many ways. This 20 minute E-learning course is not a treatment or cure for pain, but aims to increase understanding about pain and the impact it can have on mental health and
wellbeing. It also explores ways in which to manage your pain, increase your wellbeing and lessen the impact that pain has upon your life.

MANAGING SETBACKS

The expectation we have of life is that we hope it runs as smoothly as possible but the actual reality of life is very different. Every one of us comes across setbacks as we journey through life. This 15 minute E-learning
course will explore how to manage setbacks using healthy coping skills to improve overall wellness.


BUILDING A HEALTHY SELF-ESTEEM

To empower you to harness the power of your thoughts and beliefs to change how you feel about yourself. This 15 minute E-learning course will explore what self-esteem is, what affects our self-esteem and provides practical ways to build and strengthen our self-esteem.

LIVING WITH CANCER
No one needs an explanation of how their cancer journey has impacted on their mental health. Living with cancer is different for everyone, and affects each person in an individual way. This course will offer coping strategies for managing mental health at all stages of the cancer journey.

LOOKING AFTER YOUR MENTAL HEALTH AND COPING WITH CHANGE
This course explores our responses to change, and provides tips on how to develop personal coping strategies for managing change in a positive way.

LIVING WITH BIPOLAR
This course aims to increase understanding of Bipolar Disorder and offers self-help tips to help you manage bipolar disorder, cope with its symptoms and prevent relapse.

COPING WITH LONELINESS

Loneliness can be experienced by anyone/ everyone at different stages, even if they are surrounded by people and friends. It is possible to overcome loneliness but it's unique to you what works for you. The aim of this course is to increase our understanding of loneliness and its consequences, with practical tips to help you overcome feeling lonely.
INTRODUCTION TO MENOPAUSE
You will explore what menopause is, its four stages and the different symptoms that women may experience within those stages. This coursewill provide an introduction, explore and identify the symptoms, the myths and the different treatment options.

INTRODUCTION TO MANAGING STRESS

We all experience stress at some stage in our lives. There is good stress and bad stress, if stressors continue then it becomes unhealthy for us. This course aims to raise your awareness of stress and its causes, and will help you learn to take the appropriate steps towards managing your stress levels positively.

IMPROVING WELLBEING FOR YOUNG PEOPLE

This course explores how developmental changes in your brain and body can affect your reaction to stress. Within the course you will explore strategies to allow your body and brain to regain balance after facing stressful situations or big emotions.


DUAL DIAGNOSIS AND AWARENESS

Dual diagnosis can be complex and requires specific ways of working to address it. The aim of this course is to provide an awareness and sound
understanding of Dual Diagnosis, its impact on those who are diagnosed with it and outline interventions for the various Dual Diagnosis presentations.

UNDERSTANDING HOARDING
Not all clutter is hoarding, but when hoarding does become an issue, it can adversely impact a person's health and everyday life. This course aims to raise awareness of what compulsive hoarding is, when someone may require support and how to begin the process of addressing the issue.

COMPASSION FATIGUE

Compassion Fatigue is a form of burnout which often affects people in caring roles. The signs are similar to burnout, but with many more emotional and psychological problems as a result of constantly worrying about other people. The aim of this course is to create awareness of what is compassion fatigue.

All of the courses have been co-produced by individuals with lived experience and health professionals. We would like to extend our thanks to everyone involved.