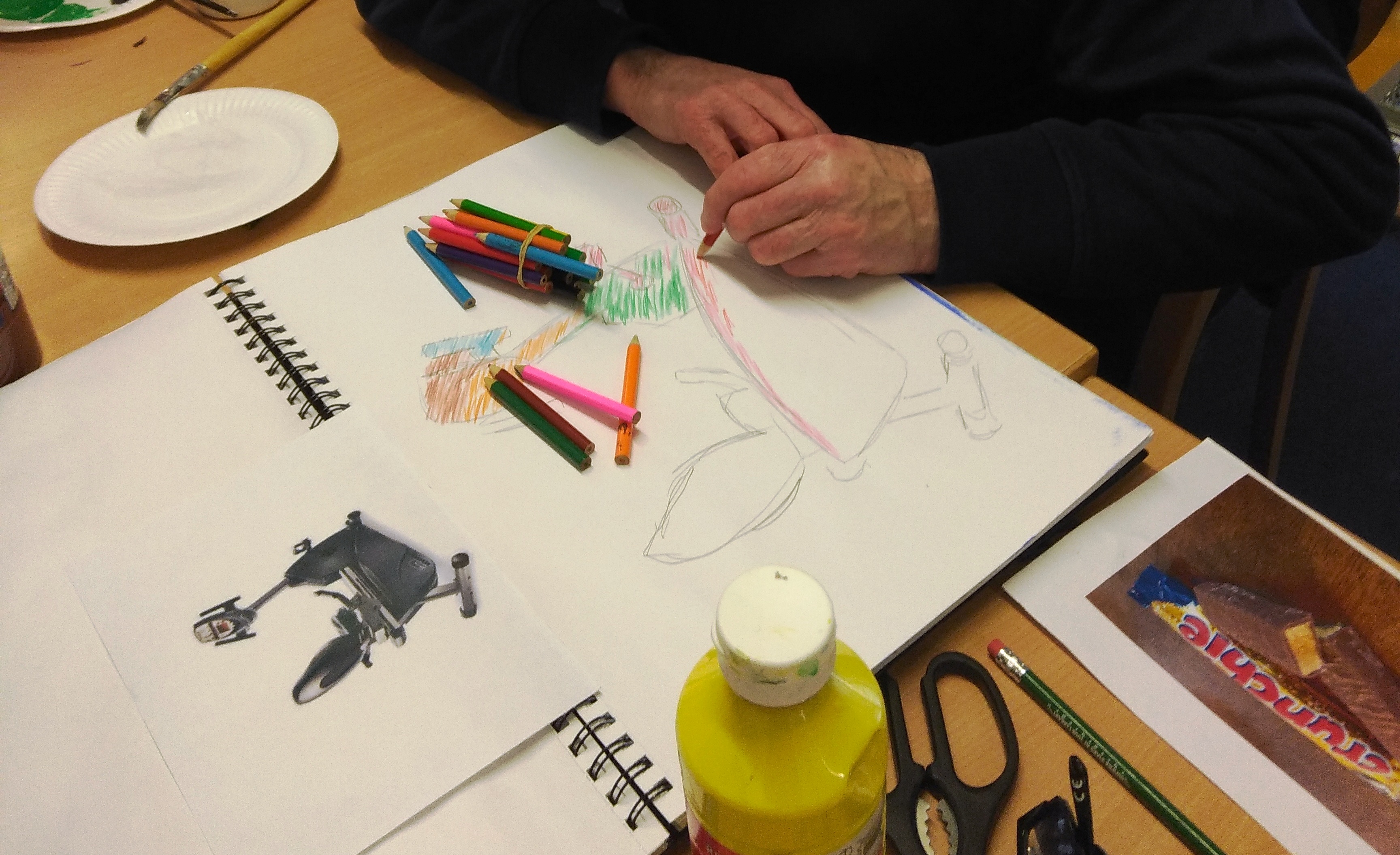 Growing Imaginations is a project that was piloted in Bishopstown in Co. Cork by Executive Librarian Breda Hassett. We were delighted to replicate the project here in Cashel Library. This would not have been possible without the support of the Tipperary Creative Ireland Programme.

Putting our own slant on the project we decided to make them life-stories rather than stories. We have had a fantastic group of 10 clients working on the project from both the Nagle Centre and Tipperary Wheelchair Association. This project gave the group an opportunity to express themselves creatively and connect with the community.
Everyone has a story. The group here who undertook this project have been very generous and courageous with their stories.  Their Art allows people in. The results of their work speak for themselves. Their books are warm, open and very moving. The image often says more than any words. So are now inviting the public to take the time to look at the books and listen to each individuals story. To each and every participant we wish to say thank you it was not only enlightening but great fun to work with them. My thanks to Kevin, Kieran, Ola, Claire, Audrey, Angelika, Lar, and Helaine .Whereas we as a society make it necessary for people like this group to use the  label disabled (due to both physical obstacles we construct and our attitudes) it is good to get an opportunity to showcase their many abilities and talents
We have a strong tradition here at Cashel Library of working together on innovative programmes with Anne Bradshaw and the Gold Star project in Cashel. It was great therefore to have the support of the HSE for this project and in particular Carol Moore, Disability Services Area Manager for her ongoing support and encouragement for community based projects with Anne Bradshaw through the HSE Disability Gold Star project in Tipperary.
Elena Sawczenko, was the facilitating artist for the project and this proved to be the making of the project. Elena is profoundly Deaf. She has a great grasp on what the participants wanted to say in their art pieces despite all communication barriers. She is extremely talented. She made the project for us here- the clients felt delighted to see a person with a disability running the course. Her own story which is here in her book is inspirational and it magical to look at. Our sincere thanks to Elena and we hope to work with you again in the near future.
The books, together with some sensory components are stored in specifically designed bags. These were produced by Cashel Craft group ( a group that meet in the library every Wednesday morning) . Thesebags are beautifully crafted.A huge thanks to Margaret O'Toole, Brenda Green and the entire group. It was fantastic to make this a community project
Thursday afternoon 16 August last marked the successful finalisation of our Growing Imaginations Project in Cashel Library. We were delighted to have our County Librarian, Damien Dullaghan and Michael Fitzgerald – Cathaoirleach Cashel/Tipperary Municipal  District among us to highlight the importance of this project. We could have chosen a more inspirational speaker to launch the project than Dr. Sinead Kane (The first legally blind lady to complete the World Marathon Challenge of seven marathons, on seven continents, in seven days.)who offered us tips and advice on how adversity and resilience can stimulate growth and potential The project was a fantastic one – enjoyed thoroughly by all who took  part. I would definitely recommend it as project for the future