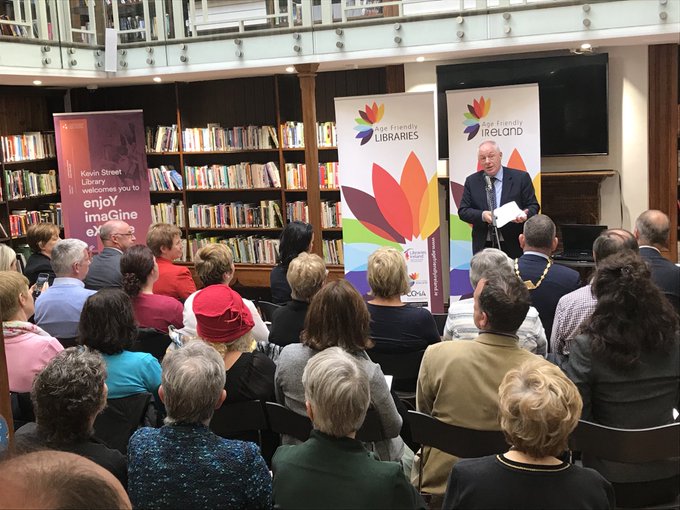 The proportion of older people is increasing in almost every country of the world and as life expectancy increases, the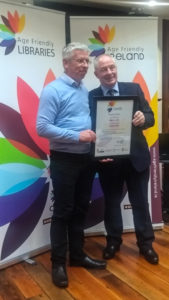 need to ensure that Ireland becomes a great country in which to grow old is increasing too.
In 2016 data from the Healthy and Positive Ageing Initiative (HaPAI) survey showed that many older people were not using their public libraries, many reported finding them difficult to access. On foot of these findings, Age Friendly Ireland initiated a process with the Libraries Development Committee and the CCMA to encourage libraries to develop in a more age friendly way. Each local authority nominated one library to become their Age Friendly Library and in January this year, Age Friendly Ireland provided training in age friendly principles to 48 libraries nationally.
Yesterday in Kevin Street Library, Dublin, Minister Michael Ring, Department of Rural and Community Development officially launched the National Age Friendly Libraries Recognition Programme and will present all 48 participating libraries with their Age Friendly Charter.
Working with the libraries to develop them in a more Age Friendly way very much ties in with the policy of the Department of Rural and Community Development. The Public Library Strategy 2018-2022 which was published this year builds on recent technological and service developments to focus on improving access, use and the position and status of public libraries in the community. The strategy seeks to develop the libraries as the 'go-to' places for a range of sustainable, integrated public services. There have been huge advances in library programming, with Healthy Ireland, digital skills training, business supports and a national public library catalogue as well as online resources and e-learning courses. Making libraries more Age Friendly is another layer of evolution that contributes to the overall strategy for libraries and embeds them more deeply in the communities they serve.
Tom Enright, Chief Executive of Wexford County Council and Chair of the Libraries Development Committee said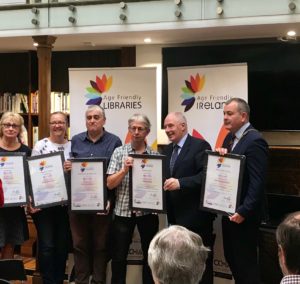 "Becoming Age Friendly will help build sustainability into the library service, because it will increase the ease with which older people engage with our services and help us to grow our customer numbers – it is very much aligned with the ethos of the 'Our Public Libraries' strategy."
Jackie Maguire, Chief Executive of Meath County Council, host to Age Friendly Ireland, a shared service function of Local Government said "Libraries have always been a core part of our work in local authorities, providing essential services on a universal basis to everyone in the community. In more recent years, through the work of the Libraries Development Committee and the Public Library Strategy, even greater efforts have been made to transform libraries and to bolster their positioning in the community. In hosting the Age Friendly Shared Service, we are facilitating the local implementation of the World Health Organisation's programme for Age Friendly Cities and Communities. We are part of a global network that is responding to identified demographic trends".
Minister Michael Ring, Minister for Rural and Community Development said, "The public library strategy, Our Public Libraries 2022 – Inspiring, Connecting and Empowering Communities focuses on removing barriers to access, improving accessibility, and providing a welcoming and inclusive space for all. Age Friendly Libraries are enhancing the services and facilities and making sure that we are meeting the needs of older people in our communities. We want to make Ireland a great place for people to live and grow old in and I'm delighted to say that our libraries are here to help this. They are providing digital skills classes, health and wellbeing classes, hosting intergenerational activities and providing supports for people with dementia such as the 'magic tables' and I am delighted to launch the National Age Friendly Libraries Recognition Programme. "
Chief Officer of Age Friendly Ireland, Catherine McGuigan said "Making the built environment and public spaces age friendly for people of all ages to enjoy is a key objective of the Age Friendly Ireland Programme and the local government sector. Libraries are viewed by older people as a central hub for people to engage in their local communities. Social participation is critical to health and wellbeing. We are delighted today that our libraries are being recognised for their participation and commitment to making their libraries age friendly and celebrating the great work that is rolling out across Ireland"
Attending the launch, Vice Chair of the National Network of Older People's Councils, Kitty Hughes said "There is so much more to a Library than borrowing a book. The efficient and ever helpful Library staff are the catalysts for access to so many activities and services provided by our local library. Our libraries, in partnership with many key service providers have hosted Information talks on a myriad of subjects, for example, promoting positive mental health in the community, focussing on prevention and coping with ageing and providing a healthy reading booklist. Talks on how to be safe and secure at home and in public are given in co-operation with Community Gardai. Today's libraries have changed and evolved as a service from being repositories of printed books and materials to hubs of everchanging technologies, community meeting places for creativity and culture, they are providing services that are helping to develop fully inclusive and Age Friendly communities."
While yesterdays event is an acknowledgement of the remarkable work the libraries are undertaking, it should also be viewed as the start of a process, as it is planned to expand this initiative to other libraries across the country