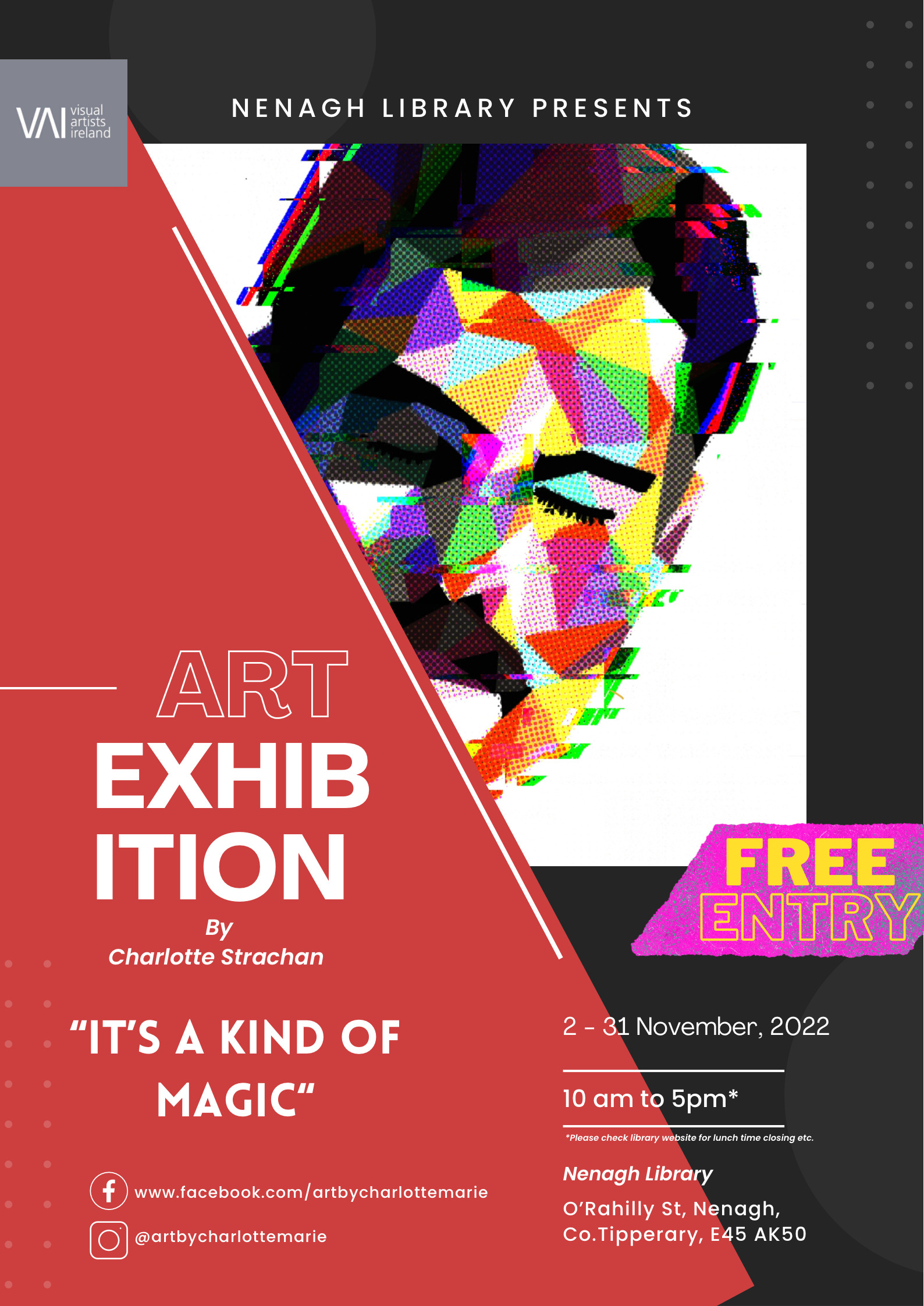 Nenagh library has a special treat for fans of the unforgettable Freddie Mercury and Queen this month. We are delighted to welcome back artist Charlotte Strachan, to our exhibition space, this time showing a mixed media collection which includes digital prints and paintings. Using digital brushes as well as acrylic on canvas, she shows us Freddie and various members of Queen, highlighting the energy and excitement they brought to each performance.
Explaining how Freddie and his 'can't please everyone so I'm just going to please myself' attitude affected the artist's way of thinking, in terms of nonconformity, being bold and seeking to push the boundaries of her art, Charlotte credits the music of Queen and the outlook of Freddie Mercury for spurring her on each day. Strangely, she admits that although she was aware of the music of Queen growing up and occasionally listened to their more popular songs, she had never really paid attention to the individual members of Queen. But a 2022 documentary, 'Inside the Mind of Freddie Mercury.' changed completely her outlook on the band and especially it's mesmerising lead singer. Watching the 2018 biopic Bohemian Rhapsody, Charlotte felt a connection with Freddie Mercury and was captivated by the singer's indomitable will. Scouring the internet, consuming every morsel of information pertaining to Freddie Mercury and Queen – interviews, articles, behind the scenes footage, music videos, the more she learned about the man behind the music the more she was blown away by his attitude towards life and the fearlessness he showed in transforming from Farrokh to Freddie. But what struck her most vividly was how he created his music for himself, genuinely not seeming to care what society wanted from him. Comparing it to her own life, it was a wakeup call, with Charlotte eventually acknowledging that as an individual she had always conformed, eschewing her artistic side to concentrate instead on college and an Undergraduate degree in psychology and a Masters in older adult education and wellbeing, areas that, looking back, were far removed from her creative self.
Having sublimated that artistic aspect of her personality for so long, for Charlotte 'It's a Kind of Magic', represents the miracle that she finally found her way back to the creative arts after so many years and is a way to acknowledge the inspiration that was Freddie Mercury and Queen in the process.
Speaking of her newfound refusal to conform, Charlotte says that 'If the exhibition appears disjointed with no definitive style, that's because it's actually me just making art and having fun while doing it. Before this year I had never painted a portrait in my life! To be honest I always stayed away from paint because I didn't understand it. So, the canvas was where I learned that it's ok to be messy in art, to paint outside of the lines. Understanding that there is no right or wrong in art as long as each piece is honest was a huge breakthrough for me. Some of my pieces have hidden layers and multiple meanings but I'll leave those for you to decipher.'
Musing on her own favourite piece Charlotte confessed, it's the image of the cat behind Freddie. Freddie and his beloved cats; frankly my dears they really didn't give a damn. Perfect pairing really.