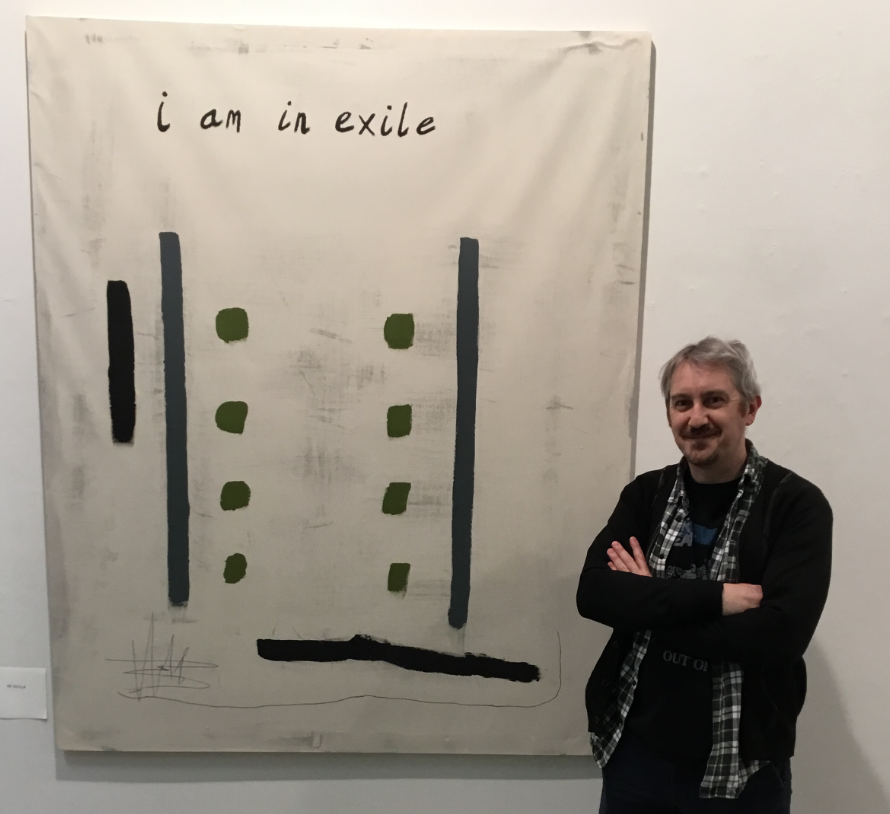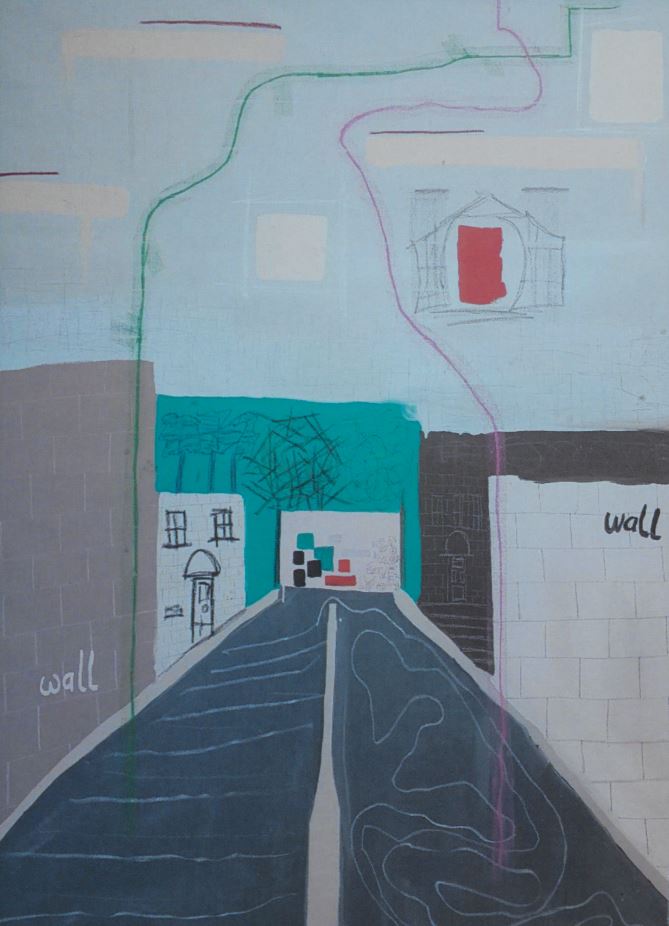 On Tuesday 28 January Thurles Library was proud to launch its February exhibition entitled "In Exile", the work of artist John McNamara.
Artist: John McNamara
John McNamara, from Clonmel, has acted as a part time self-inflicted poet during his working life across the Irish industrial engineering landscape. McNamara draws inspiration from modernist and populist poets to establish a conversationalist style based on imagery and emotion all set to an internal musical tempo. He is twice self-published; 'The Age of Industrial Fallout' in 2007 and 'Red Paint, Green Eyes, Blue Fools and Black Commerce' in 2018. The 2007 work saw him attempt to find an artistic pathway while immersed in a modern industrial environment and the early years of parenthood. The follow up in 2018 further developed an immediate style, mixed with personal reflection influenced by oncoming middle age and the effect of 21st century modernism.
Having been tasked with presenting his written craft in visual form, for the John Kennedy curated group show 'Remnants', displayed in the South Tipperary Arts Centre in December 2018, McNamara brought the decision to bear to further represent his writings through the medium of paint. This venture has been informed not only by current writings in progress for his third poetic instalment but also through examination of art and its various forms that influence and shape his viewpoint.
 
Without any formal artistic education McNamara's limited skill set has been utilised to its maximum. Working without limitation with regards to palette, form or thematic context allows McNamara freedom to express his thoughts, personal characteristics and vagaries through the various materials employed. Working within the perceived construct of contemporary abstract expressionism McNamara hopes to give the viewer an insight into the anger and humour contained within his written works while objectifying them with a near juvenile profligacy.
Show Title: In Exile
During the second half of 2016 McNamara, through work, was based in Southern Germany. At this time, he began his third book of poetry, with the working title 'In Exile', which was inspired not only by his surroundings in the state of Baden-Württemberg but also the self-imposed state of displacement from family and accustomed routines. This deracination would force an introspective review of past events and persons and their ever-present influence.
 
The paintings act as a counterpoint to the near dreamlike scenarios of the writing. Their purpose to serve as a solidifying force – a construct for the words to exist within whether that be through definitive imagery or a manipulation on the themes on the page which allows the viewer to embark with him on his exiled journey.  
 
The work is displayed on various forms; raw calico, primed canvas and wood panels. McNamara utilises a selection of oil, water colour and builders paint (found materials) to build the main body of each painting, the idea or thought pattern to be expressed. Where needed the paintings are then customised with pencil, ink or crayon markings, flailing but considered idiosyncratic scrawls and pathways that surround the main theme of the painting in a crowded conversation. McNamara hopes to encourage the viewer to accompany him on his journey of internal dialogue and imagery that deals with the isolation within a foreign land and the escaping years of youth. He hopes that the work allows the viewer to observe patterns, a comfort zone of familiarity within the abstract, that rather than confuse will bring clarity to the concepts on display.