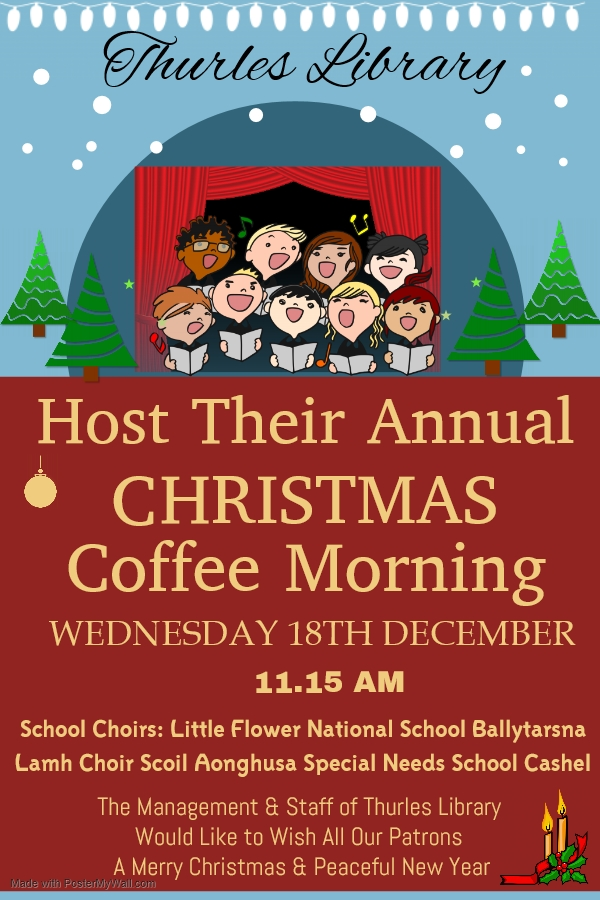 The last of our Christmas events are taking place this week here in Thurles library! If you haven't called to book then there is still some time left ! The final Christmas story-time will take place tomorrow Tuesday 17th December at 6.30pm. We have some lovely Christmas stories and songs to get us into the Christmas spirit!
Our annual Christmas Coffee Morning will take place on Wednesday 18th at 11.15am. Join us for a cuppa, mince pie and listen to the wonderful children of The Little Flower National School as they entertain us with their array of Christmas music. We would also like to welcome to Thurles library the Lámh Choir from Scoil Aonghusa Cashel as they join us on this special morning to sing some of their favourite Christmas songs. All are welcome!
Finally we will show our Christmas movie " The Muppets Christmas Carol" on Friday afternoon at 2.30pm.
All the events are part of family time at your library. Please note there is no charge for any of our events in the library but booking is necessary for our story-time and film afternoon!