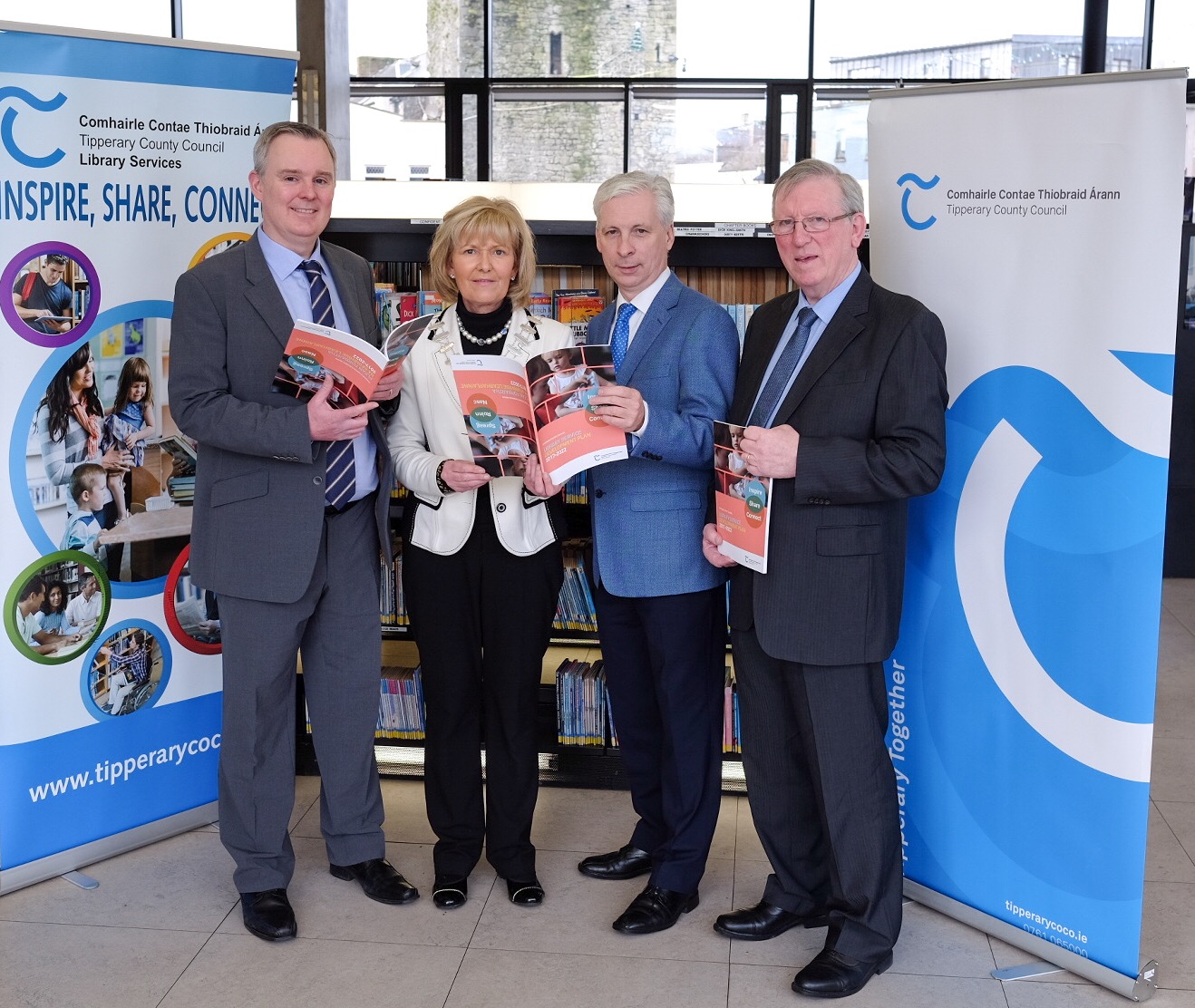 INSPIRE – SHARE – CONNECT
Tipperary County Council Library Service: Development Plan 2017-2022
It's always beneficial sometimes to stand back, take a good look at your services, evaluate how they are performing and discover where improvements can be made… an exercise required to instigate and publish a strategic development plan.
Cllr. Phyll Bugler, Cathaoirleach, Tipperary County Council, launched Tipperary County Council Library Service Development Plan on Friday, a document outlining the vision for the library service in Tipperary over the next 5 years. Entitled 
Inspire, Share, Connect
, the document reviews current library services and presents a strategy for the future under the key headings of 
Our Libraries, Our Virtual Libraries, Our Readers, Our Staff, Our Communities
and 
Our Brand
.
The plan aims to provide strategic direction in relation to long-term infrastructure and service delivery needs, taking into account the changing trends in provision of public library services – and is a framework to guide the future development of library services through to 2022. The plan is based on extensive public consultation and reference to numerous national and local plans and policies that influence and drive public services in Tipperary and emulates the Mission Statement of Tipperary County Council "
Tipperary Together – Ambitious for our communities, demanding of ourselves and working to a shared purpose to deliver prosperity across the county
".
Cllr. Bugler, who had been a member of County Tipperary Joint Libraries Committee for many years before its dissolution,  acknowledged the new Development Plan, saying "
We are proud of the strong tradition of our  Library Service in Tipperary. I am delighted to launch the Library Development plan and I welcome the ambitious plans outlined  for the service in Tipperary over the next few years
". The Chief Executive of Tipperary County Council, Joe MacGrath also welcomed the plan stating 
"I would like to thank all involved in the publication of our new Library Development  plan. I believe it illustrates  the scope of the progress achieved in the library service for  the people of Tipperary since the merger of both County Councils and the Library Committee. Tipperary County Council will continue to provide a high quality Library Service for the whole of Tipperary".
The plan details the library service's aim of expanding minds, building communities and inspiring curiosity; the promotion of a lifelong love of reading, learning, and literacy. And it details the future provision of quality resources, programs, assistance, and space to seek, discover, relax, contemplate, discuss, plan, and interact. The future starts here…