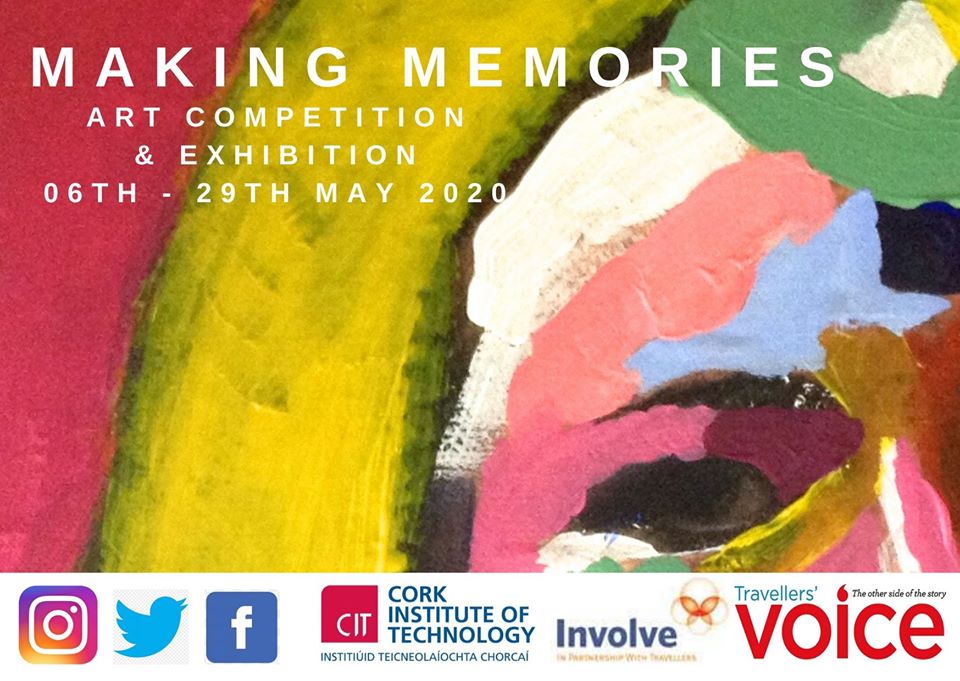 Making Memories Competition & Exhibition
An art competition and exhibition called Making Memories is currently online, which showcases the creative talent of young Travellers.    Making Memories is a project in response to the Covid-19 crisis to encourage creativity to help during this difficult time.  It also provides a platform for young talented artists in the Travelling community to exhibit their artistic ability.   Participants create a piece of art which captures the memories they are making during this Covid-19 crisis.   The Closing Date is this Friday the 29th May at 5pm.
This project is a collaboration between Involve, The Traveller Voice Magazine, the Cork Institute of Technology and artists Leanne McDonagh and Marie Lee.   Leanne is the Traveller Education Coordinator at Cork Institute of Technology but is also a practising artist from within the community.   Marie is an artist from Kilkenny and is currently studying an MA in Art + Research Collaboration (ARC) with the Institute of Art, Design + Technology (IADT).  
Leanne says that "From working as an artist and a teacher for the past number of years, I can say without a doubt that I know there is immense talent in the community and I hope by running this competition will encourage the younger generation to get involved and showcase some of that talent".    CEO of Involve James O'Leary says "On behalf of Involve Youth Service and my colleagues in Travellers' Voice Magazine, we are delighted to have an opportunity to support this competition alongside Leanne and Marie.  We look forward to shining a spotlight on the tremendous artistic talent that has always been evident within the Traveller community."  Marie says "I am delighted to be part of this collaboration and am really looking forward to seeing the entries".
Those entering the competition will message the Making Memories Facebook page https://www.facebook.com/Making-Memories-106910087682326  with a photo of the artwork, and also their name, a contact number, location and someone to tag on Facebook.
The closing date is the 29th of May, 2020 at 5pm and the winners will be announced on the 10th of June, 2020 on the Facebook page.  The winners will also have their work featured in The Traveller Voice magazine.   There are 6 prizes, 4 prizes of £100 for age categories : Under 6,  7-11, 12-16 and 17-21 years old with 2 prizes of €50 for technical ability and most creative.  The prizes are provided by Involve and CIT.
Please see the Facebook page Making Memories   https://www.facebook.com/Making-Memories-106910087682326
Instagram @MakingMemories0520 and Twitter account @makingmem0520
For information please email Leanne McDonagh:  leannemcdonaghart@gmail.com or  Marie Lee marielee2011@gmail.com .