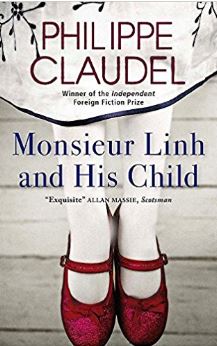 Monsieur Linh and His Child is a perfect little book.  It's only 130 pages long, but it's exquisitely formed and obviously translated with great care so as to preserve the compassionate tone of the original.
Monsieur Linh is an elderly refugee from Vietnam.  His son and daughter-in-law have died in the war.
The story begins with M. Linh's journey by sea to France, where, still traumatised by the tragedy, he will not let the child out of his sight.  He stays in a reception centre for while, too terrified by the strangeness of everything  to set foot outside until he is persuaded that some fresh air would be good for the child.
And so it is that he meets Monsieur Bark, a gentle giant of a man, who breaks through the old man's reserve and becomes his friend.  Neither of them understand a word the other says, but each recognises that they share a common bond of loss.  There is a sense that some sort of healing has begun when M. Linh is told that he must leave the reception centre for permanent accommodation.  This separation is almost unbearably poignant and it is a measure of the author and translator's skill that the story  does not become sentimental or maudlin.   Instead it becomes an inspiring story of friendship, courage and generosity of spirit.