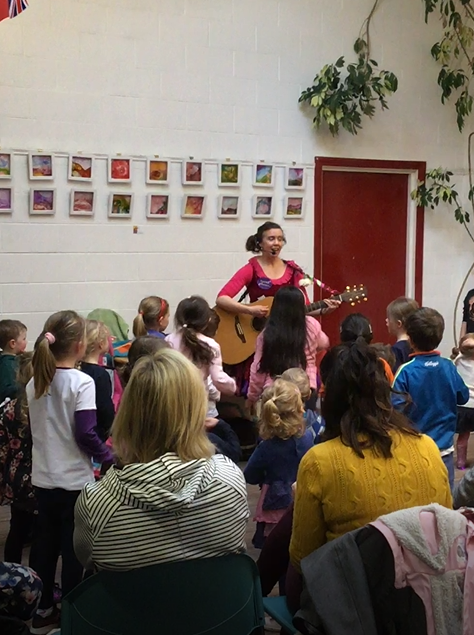 Storm Jorge battered Ireland over the weekend but did not take into account the determination of the Irish Mammy (and Daddy, Grandad and Granny) who, when faced with the option of telling their little ones that visiting Nenagh library to meet Sarah Sparkle was a no-go, decided that storm or no storm, if Sarah Tully, storyteller extraordinaire, could sparkle amidst the driving rain and howling winds on Leap Day, 29th February, then by gosh, so would they.
They started arriving at 2.45pm and by 3pm Sarah had a full house and boy, did she sparkle. Dressed in fairy fuschia, with matching makeup, she led the children on a colourful ride to put the magic back into library books, using song, dance and of course her BIG BOOK of stories. The children loved it, their parents were charmed and delighted and were in no hurry to leave afterwards, heading back to the juvenile library for colouring and the choosing of books. Just as it should be!
Early morning was a different story with our library dressed in all her finery for this, Ireland's first National Open Day for Libraries. The shelves were all tidy,  information on activities, events, clubs, EU Direct etc was prominently displayed around the library, brochures were handed out at the desk and in the kids area tables were set up for colouring… just waiting for the fun to begin. Feeling a tad forlorn that morning as, apart from a few hardy souls who braved the weather, she was ''all dressed up and no-where  to go.'' We hoped for a break in the afternoon…
Playing all day on our big screen TV was a slideshow of what exactly Nenagh library has to offer in terms of services, what initiatives we take part in – from Healthy Ireland, Bealtaine, Seachtain na Gaeilge, AONTAS Adult Learning Festival, Libraries Ireland Day, Spring Into Storytime, Children's Book Festival, Science Week, Summer Stars Reading Programme as well as seasonal events for all ages at Christmas and Halloween, all accompanied by photographs from our different events throughout the year and of course news of our clubs and groups that meet in Nenagh library.
We were delighted to sign up new members on the day with one mother signing first her 5 year old then coming back later to ask if the library had an age limit on joining new members?  NO! So she joined her 3 year old as well!
Job done and staff tentatively agreed that Nenagh library's inaugural #LeapIntoLibraries day was a success.