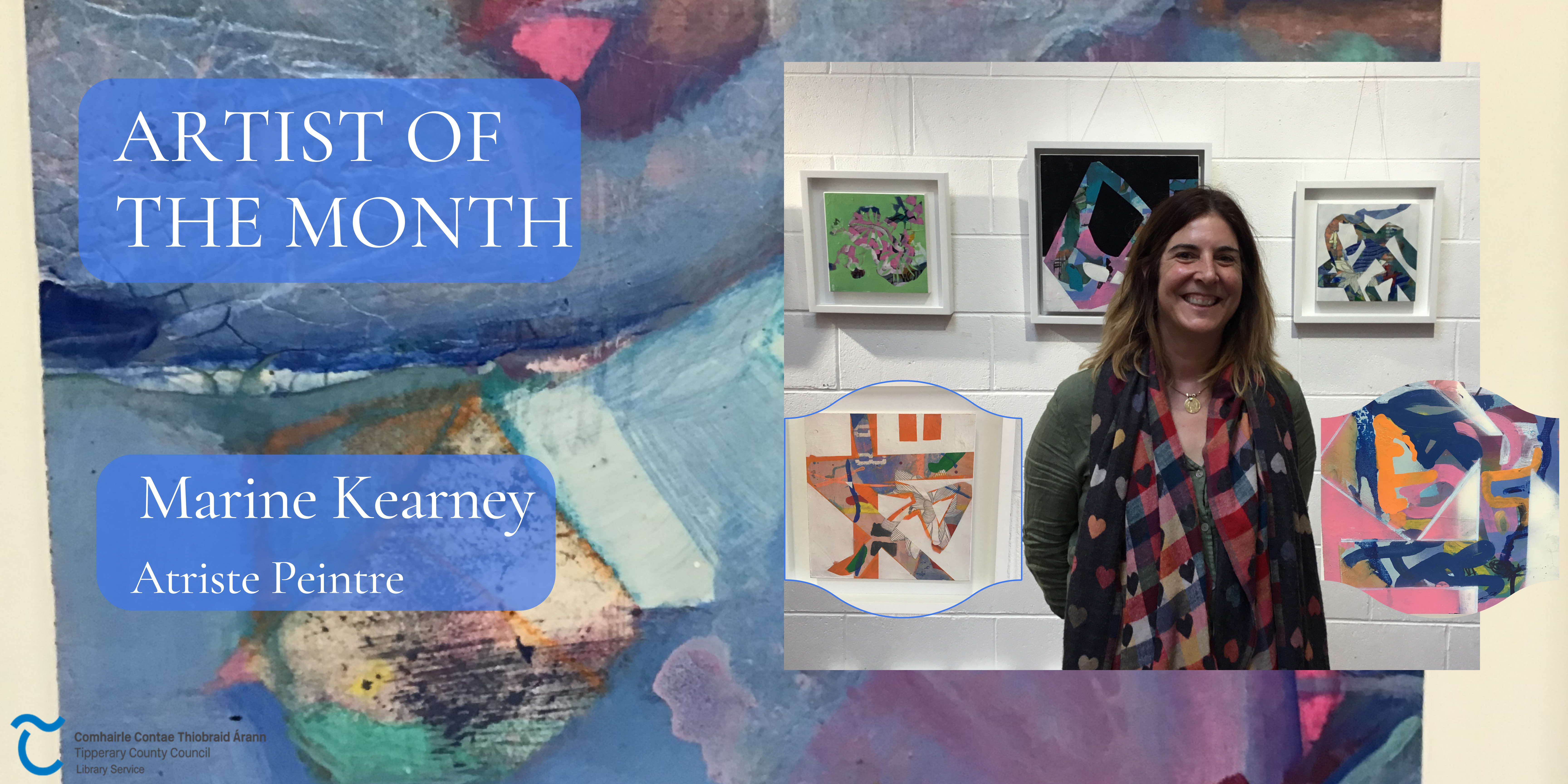 Marine Kearney will be exhibiting in Nenagh library during the month of April. A French native, she grew up in Paris, and naturally gravitated towards visual art, surrounded as she was by the contrasting artistic temples of both museums and street art. Today, she lives in Tipperary, by the shores of the river Suir, surrounded by nature,
Painting and creating original artworks Marine works mainly with Acrylic on wood board, this medium allowing her to use charcoal, pencil, stencil, or even wax or collage.She describes her work as a mixture of the urban and the natural. Living in Knocklofty, where it is possible to experience 3 or 4 seasons in the one day, her paintings draw on this constantly evolving and changing landscape and how it affects her. 'I create work which resonates with me; the essence of my painting, what comes through it and what is reflected in it, is my story. At the end of the painting I have arrived into an exotic place where my childhood memories came back to me, it has created a moment of joy and a dancing mood.'
This exhibition, entitled 'The conversation – Comhrá' is composed of square paintings representing geometric shapes. Marine describes the process as being based on layers of paint, starting by creating a background where her feelings overflow onto the canvas. It could be words, colours, sea or urban landscapes. Then through the knowledge of layers she can hide the omnipresent and choose which part of the painting she will modify to create a sense of purity or breathing space. Her paintings are created with the intention of taking the viewer on their own journey, where from afar they will see a simple form, a crisp shape but when they approach, will discover another world, an imaginary scene composed of different moments in time, free of boundaries. 'I hope my work moves the eyes of the viewers through the painting; and lets their own imaginations wander. I choose to work in this format to involve the viewer in the journey, so that all the artworks can be displayed in whichever orientation best suits their own interpretation or preference.'Marine's exhibition will be on display in Nenagh library from Tuesday 4th April. Why not come along and see for yourself it's many layers. On Saturday, 15th April we invite anyone who is interested in meeting Marine in a special 'Meet the Artist' morning from 10.30am to 12 noon.