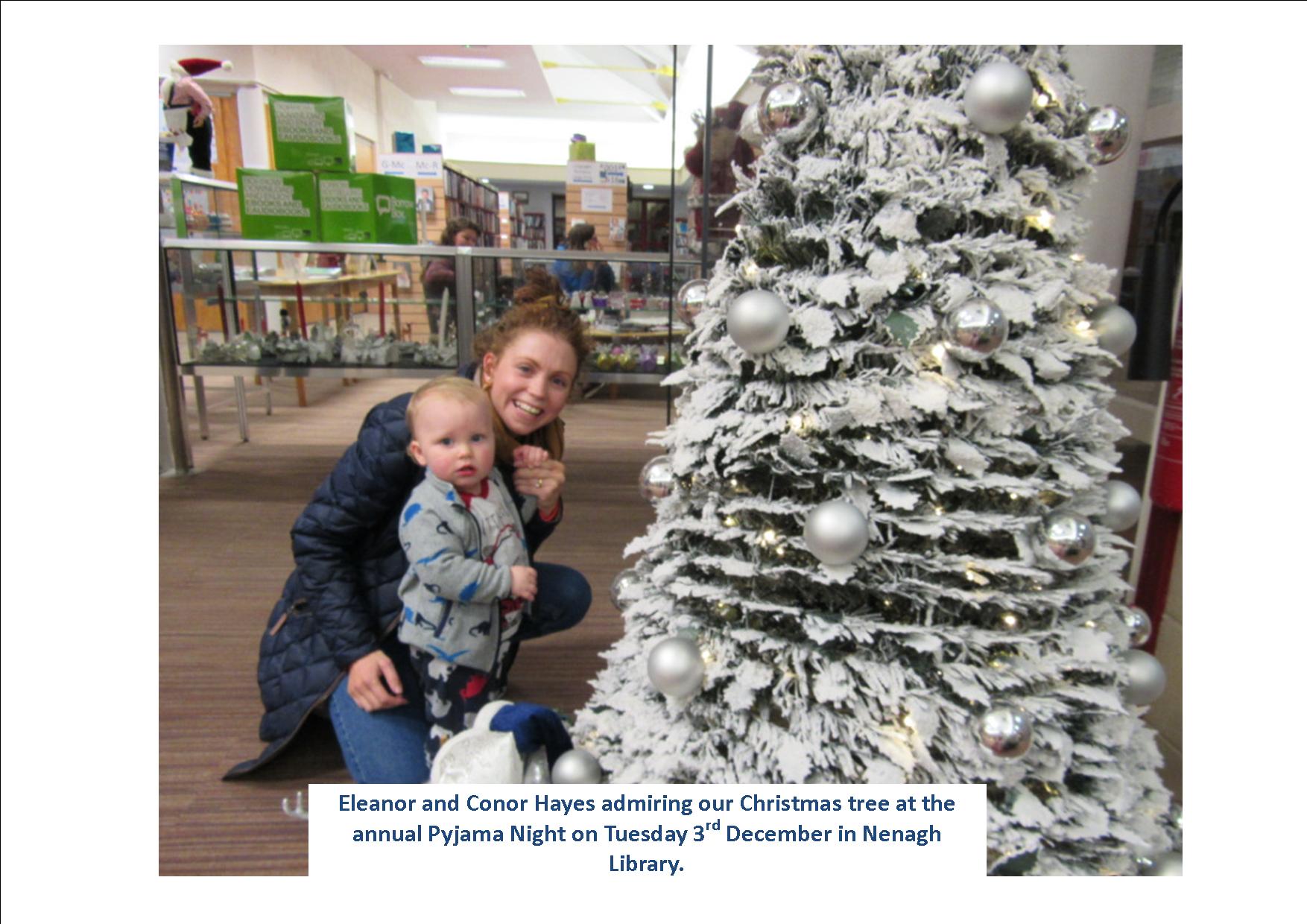 [foogallery id="58730″]
Christmas in Nenagh Library started earlier than usual this year with our annual Pyjama Night for the little ones on Tuesday last, 3rd December. Clutching their precious gold ticket they handed it to staff at the door and headed straight for the library's exhibition room. Bedecked with twinkling lights, our magical snow covered Christmas tree was guarded by two nutcracker soldiers and everywhere you looked in the library, the man of the moment, Santa Claus himself, smiled down at you. Our small visitors were very young and it was a good thing that they were already dressed for bed as the sheer excitement of coming to the library in their jammies for a very special Christmas story time meant that it could easily have become all too much for them. Fortified with our truly scrumptious hot chocolate (John's super-secret recipe) and the obligatory chocolate chip biccies, they threw themselves down on the floor in front of a blazing fire (yes, dear reader, we had a fire, albeit a virtual one thanks to the wonder of our 65 inch interactive TV) and prepared to listen to their stories.
Alan Durant's Dear Father Christmas is a perennial favourite and tells the story of Holly who, much to the dismay of Errol the Grumpy elf, won't write her Christmas wish list to Santa and instead sends letter after letter to him, asking all sorts of questions about himself, his reindeer and the elves. It turns out that Holly's wish is a very special one and she is simply too scared to ask for it. However, this is Santa after all and of course he guesses what Holly wants most –to ride with him in his sleigh and help him deliver his presents to all the boys and girls around the world.
The children loved this story and so we chanced a second one, This Special Night. With the most stunningly realistic pictures, it tell the story of the First Christmas from the point of view of the animals who crowd into the stable to witness the birth of a very special child. It's a beautiful story, told from the point of view of a very curious kitten and mother cat who are wondering about all the excitement on this night but really, this is a book to be pored over at bedtime. Guaranteed to send them off to sleep with a smile on their face.
Stories over it was over to staff member Mary McCormack to lead the little ones in song. Jingle Bells, Frosty the Snowman, Santa Claus is Coming to Town…all the old favourites and an especially beautiful rendition of Silent Night before finally finishing off with a rousing version of 'We Wish You a Merry Christmas.' A little goodie bag on the way out brought down the curtain on Pyjama Night for another year. Happy Christmas to everyone!
This is one of  the Family Time at your Library events we are running this December.