The 5 Steps to Living Well with Dementia in South Tipperary Project Team have identified public libraries as having an important role in assisting dementia prevention and support.
All libraries have regular free events and programmes open to all, like book clubs, scrabble clubs, card clubs, knitting circles, craft circles writers groups etc. You are always welcome to visit your local library and browse the internet, sit and read a book, newspaper or magazine, attend an event or join any of the groups.
You can  also borrow books on CD, Large Print books and Quick Reads.
Libraries can also provide information about dementia for those with a diagnosis or for their families and carers. All library members have access to a wide range of information and support books (approved by Occupational Therapist, Simone McGoldrick)
Support Materials are available from Tipperary County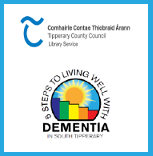 Library Service. We have recently added a number of dementia related books to our eBook service. This service is available free of charge to all library members.
Call in to your library and the staff will assist you to locate and borrow any of the titles.
Check out this leaflet for more details on what your library can offer.