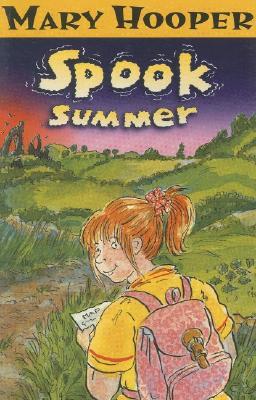 Hi everyone and welcome to the "BookTastic Book Club" review on our latest book. As it is almost Halloween we read a book called "Spook Summer" which was written by Mary Hooper and illustrated by Susan Hellard.
The book is about a group of friends who go on a camping trip in the English countryside. It's supposed to be a nature trip but Amy is on the lookout for spooks and aliens. There are lots of surprises in store and everything is not as it seems. There are crop circles, rare birds and a very bad-tempered farmer!  We loved this book and we hope you do to. Please read our reviews below. Happy Halloween from all of us in St.Cronans.
Nicola's Review: There were some very funny parts in this book especially when Amy and her mother are arguing over the rucksack. Amy's Mother wants her to iron and fold all her clothes but Amy explains there are no cupboards in a tent! I would recommend this book for people who like scary books. But don't worry its not to scary to read at night!!!
Kim's Review: In this book Amy is very naughty because she tricks her friends when they are in their tent. They get an awful fright but Amy's trickbackfires and when her teacher finds out. But this doesn't stop Amy from looking for spooks and aliens. I though this book was great because I found it really interesting to read about crop circles and how they are made.
Denise's review: I loved this book. Amy was sure there were spooks in the old Abbey but I knew this was just her imagination. The Abbey in the story reminded me of walking through the old Abbey in Nenagh. I liked the parts in the book about the different types of birds that Amy's friend saw on her nature walk.