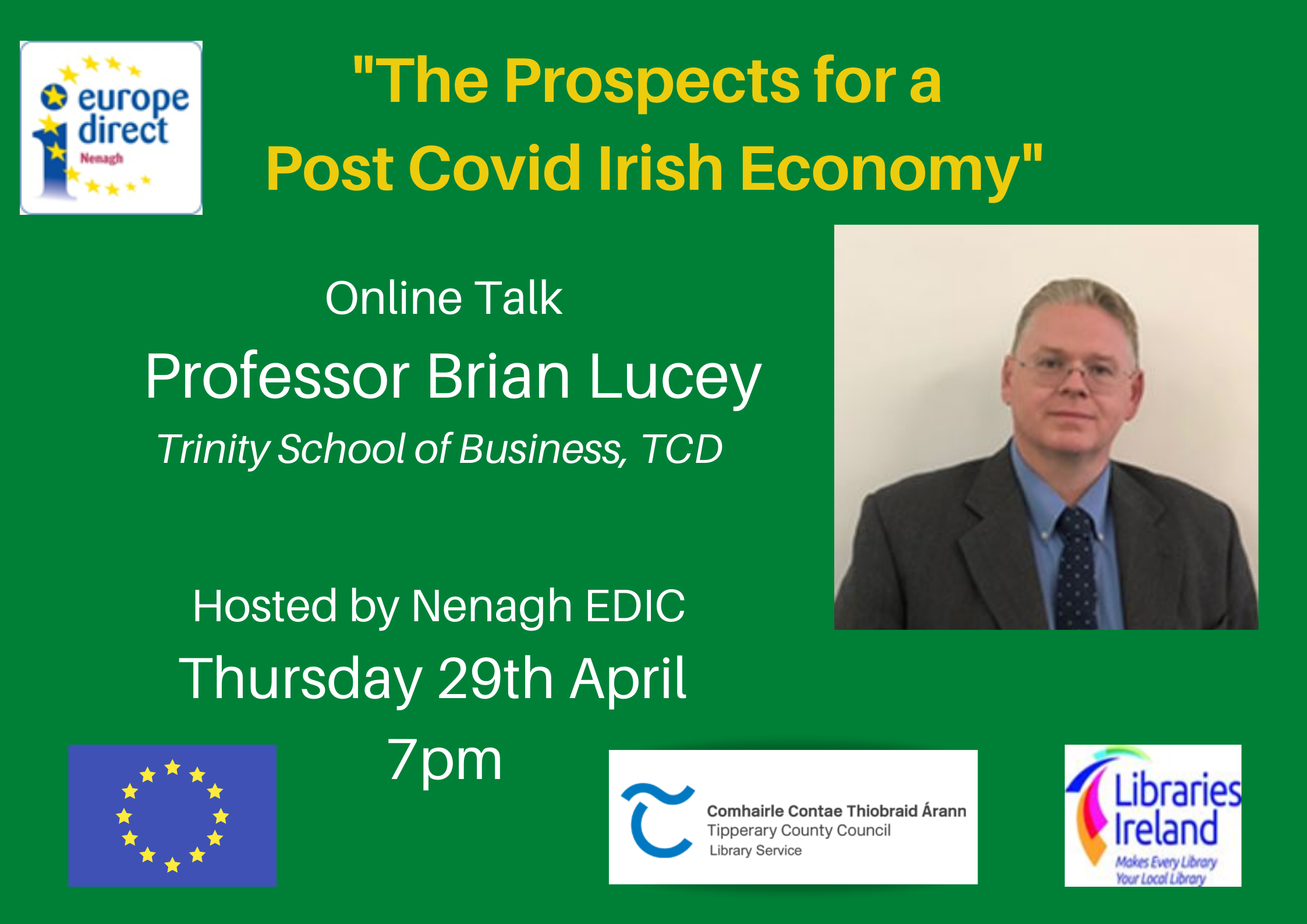 Nenagh EDIC Online Talk
 "The Prospects for a Post Covid Irish Economy"
Professor Brian Lucey, Trinity School of Business, TCD
Thursday the 29th of April at 7pm
Click below to go to the talk. Will be available on our Facebook, YouTube Channel and a link to it on Twitter.
Brian Lucey is Professor of Finance at the Trinity School of Business, having previously worked as a analyst in the Department of Health and as an economist in the Central Bank.
Having graduated TCD with a First Class degree in Economics, he has since studied at graduate level in Canada, Ireland and Scotland, and holds a PhD from University of Stirling.
Researching mainly in the areas of the financial economics of precious metals he has attracted significant funding from industry over the years on this area. He also researches international finance, with an emphasis on financial integration, chairing the annual INFINITI Conference on International Financial Integration.
Brian edits two academic journals and is editor in chief of International Review of Financial Analysis, and co-editor in chief of Finance Research Letters. He has published over 100 refereed papers in international finance, commodities, behavioural finance and financial management.
A fellow of the University, Professor Lucey has been recognized as a Conference Ambassador by Fáilte Ireland, for his work in development of the INFINITI conference on International Finance.
This event is presented by Nenagh Library which is the Europe Direct Information Centre (EDIC) for counties Tipperary, Limerick, Cork and Kerry. This major event is part of our 2021 EDIC Programme of Events.