Tipperary Day, 16 August
Well what a week it was for all Tipperary hurling folk. We landed All Ireland Senior Hurling Title #28 on 18 August and All Ireland u20/21 Hurling Title #11 six days later, and to get everyone in the mood prior to the All Irelands Tipperary County Council celebrated "Tipperary Day" on Friday 16 August. The idea was simple: blue and gold. And lots of it! It's fair to say that Thurles Library weighed in behind the initiative…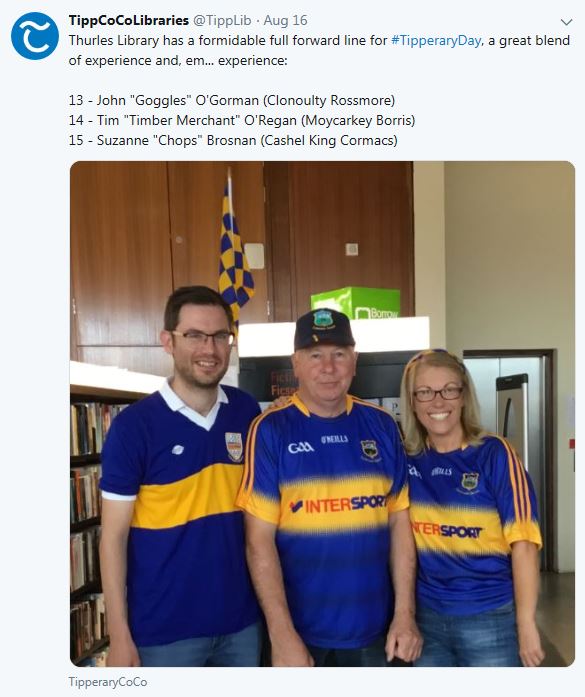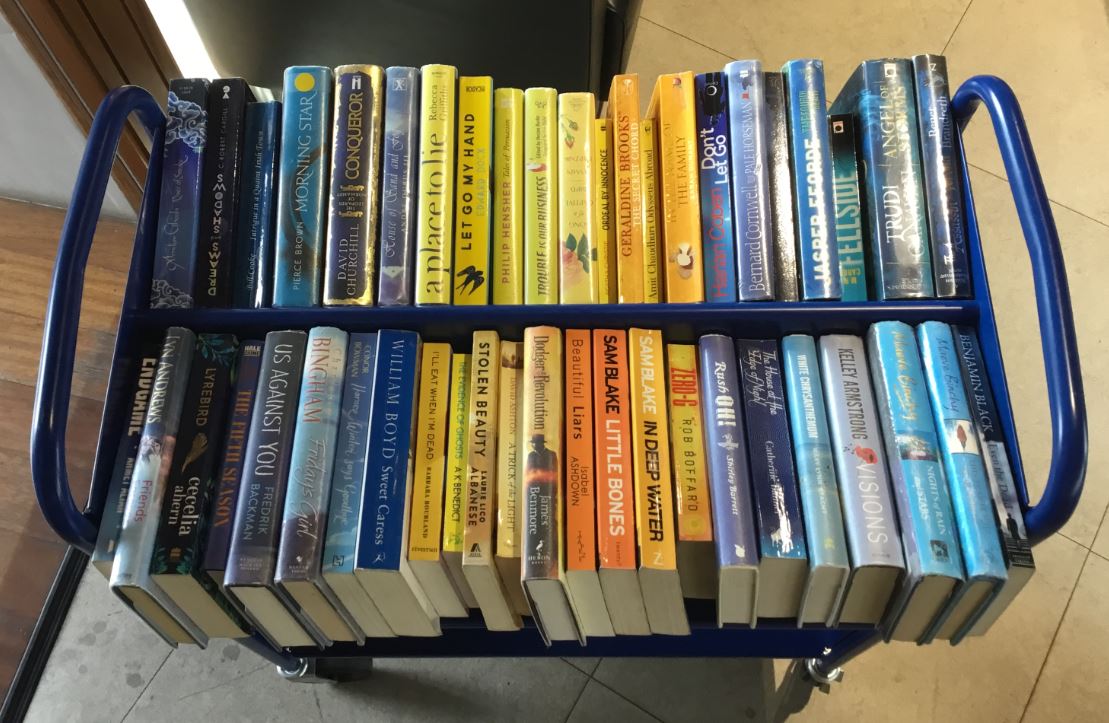 Littleton Crochet Display
Thanks to the Littleton Needlework Group for displaying some of their beautiful crafts in the Library during August. They gave us some wonderful colour for the month, and if you are interested in joining the group please contact the MBL Centre in Littleton on 0504 33629.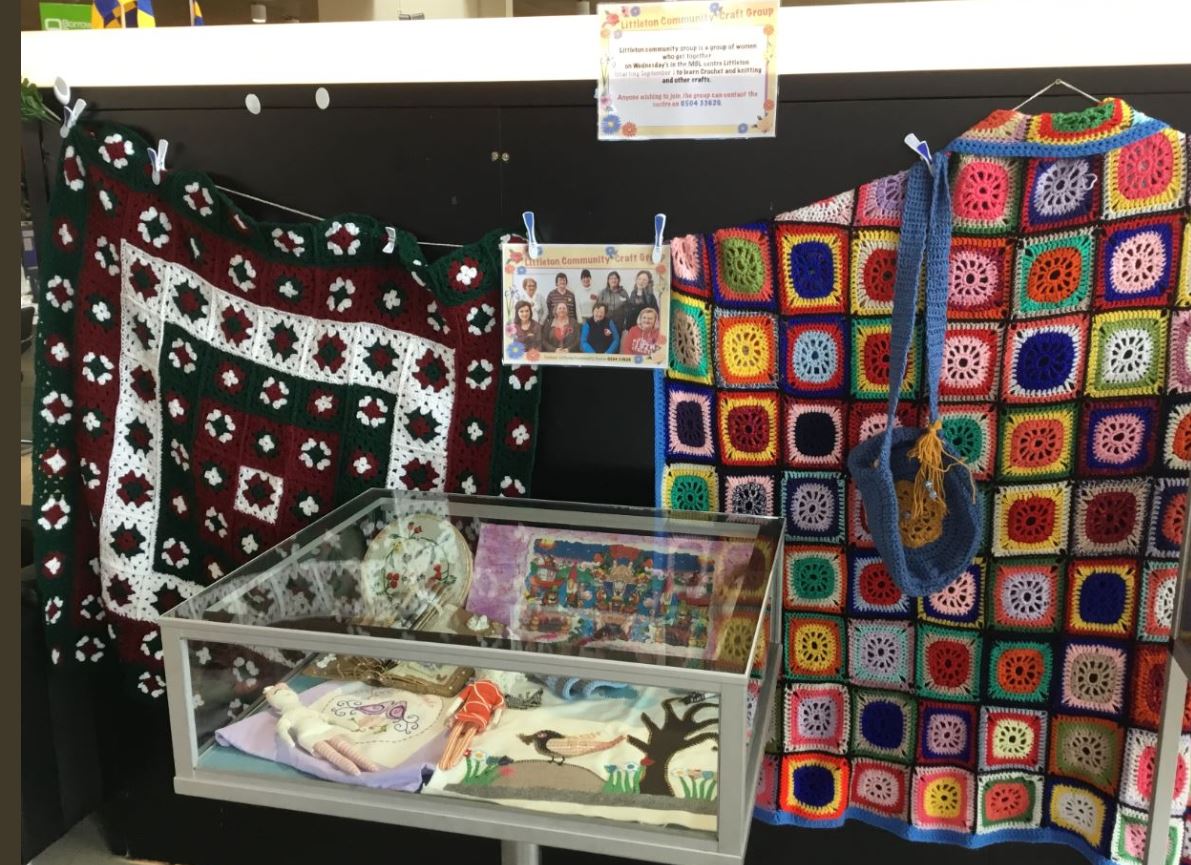 24 August Launch of "Tipperary 1917-1921: a history in 80 documents"
On Saturday 24 August Leas Chathaoirleach Councillor Seamus Hanafin launched
Tipperary 1917-1921: a history in 80 documents
by Denis G. Marnane & Mary Guinan Darmody. The booklet examines the tumultuous years of the War of Independence in Co. Tipperary, and is available now, free of charge, from all of our 13 library branches throughout the county.
Our picture below shows, left to right;
Dr. Denis G. Marnane; Dr. Martin Mansergh; Mary Guinan Darmody; Councillor Seamus Hanafin.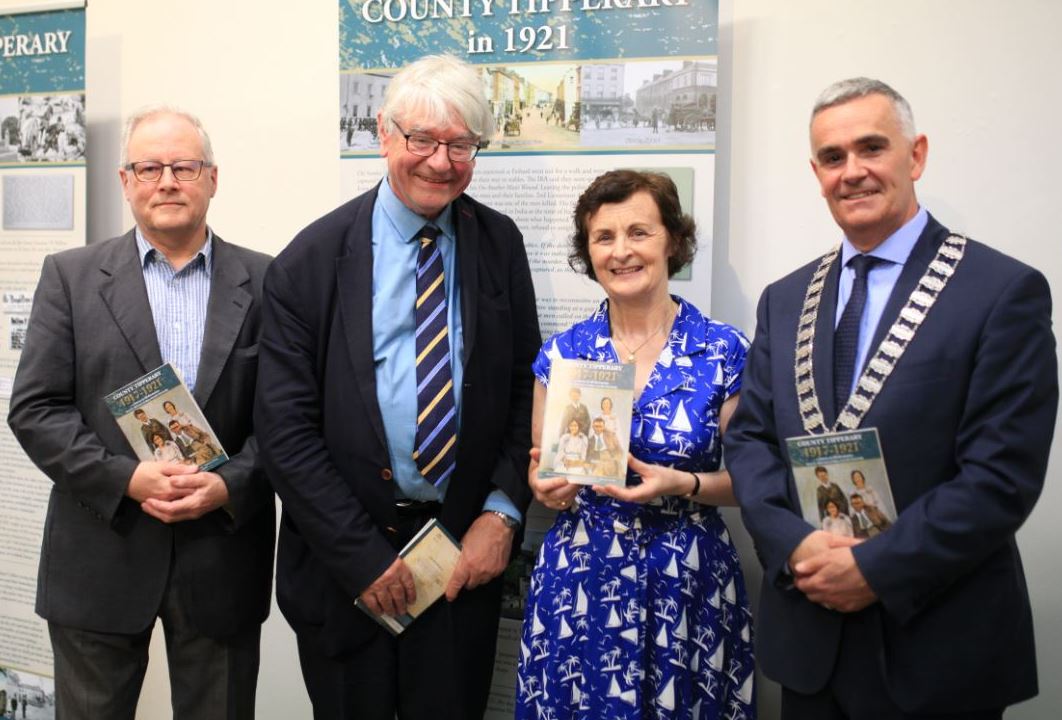 Back to School – Class Novels
Now that the schools are back for the 2019/20 year teachers' thoughts may be turning to what they're going to give their pupils to read. Tipperary CoCo Library Service has an excellent Schools' Department which will prove to be of great assistance, especially in the provision of multi-copy class novels. Give us a call at 0761 06 6131 for more information.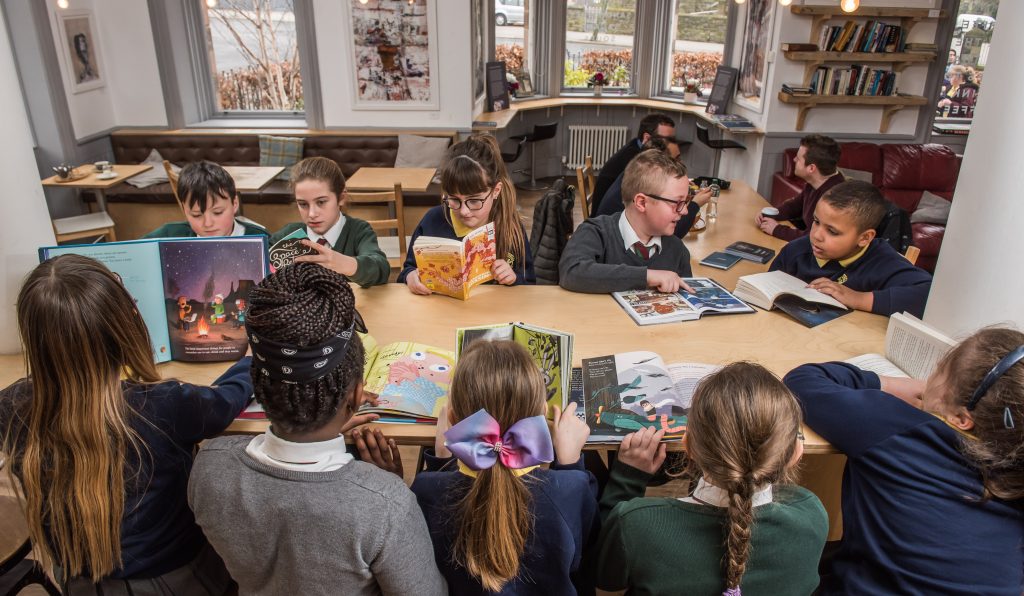 Tipperary ETB Information Technology Course (Level 4)
Tipperary ETB are running an evening time Information Technology (Level 4) programme in September. Throughout this programme students will learn word processing and internet skills in a relaxed, positive environment. These classes will take place in Coláiste Éile, Thurles every Tuesday and Wednesday evening for 12 weeks.
This programme is free to social welfare recipients, early school leavers, medical card holders and those taking part in Community Employment Schemes. For more information call Bernie on 0504-21166 or Eveleen on 052-6125880.
Saturday 14 September – Summer Stars Presentation
The Summer Stars Reading Challenge has drawn to a close for 2019 in Thurles Library. Please return your reading cards to the library staff to be included in the medal presentation. This year the presentation will take place on Saturday 14th September at 2.30pm. We will also host a magic show from 3.00pm with magician Graham Horgan! All children who have returned cards will receive a reminder text before the event. We look forward to meeting all of our Thurles Summer Stars!

Mary Finn's Greeting Cards Class, Mon. 30 September, 10am-12.30pm
Positive Ageing Week 2019 takes place from 30 September to 6 October, and we are delighted to be able to host an event again this year with the wonderfully talented Mary Finn. This year Mary will be giving a class on how to make your own greeting cards. The class is absolutely FREE but places are limited, and as Mary's classes are always so well enjoyed and attended you are advised to book your place as soon as possible on 0761 06 6131.