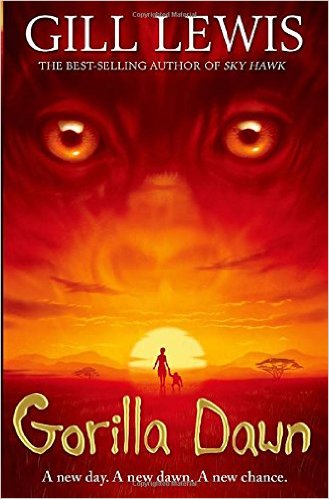 Thurles 10-12 book club read Gorilla Dawn over Christmas.  This could be Lewis's best novel for young readers so far and is a thoroughly compelling read.  Once again it reflects her great passion for animals and their rights.  Set deep in the jungle of The Democratic Republic of the Congo, home to the bonobos, the eastern lowland gorillas and other great apes.  Sadly they are now facing probable extinction as a result of deforestation, bush meat trade and pollution.
Although fiction, the author manages to write in keeping with issues that continue to sweep through this part of Africa.  The main protagonist Imara, a young teenage girl, thinks that she is possessed by the devil.  She has been held captive for years by a group of rebel soldiers.  The leader is convinced that she is a 'spirit child' and has the ability to surround them with protection and so far this has kept her alive.  But she is becoming emotionally conflicted between anger, despair and the protective love stirring within her for a young gorilla wrenched from its mother.  Soon more young captives are added to the rebel camp and again she is filled with turmoil as she struggles to remain aloof from their friendship and plights.
This novel is suited to good readers from age 9 upwards, also teenage and adult.  Not only does Lewis write beautifully, bringing every character and their surrounds to life but she has also produced a book steeped in information about a country hugely wealthy in natural resources, while its people suffer from terrible poverty as a result of greed and corruption.  Highly recommended and thought provoking read.