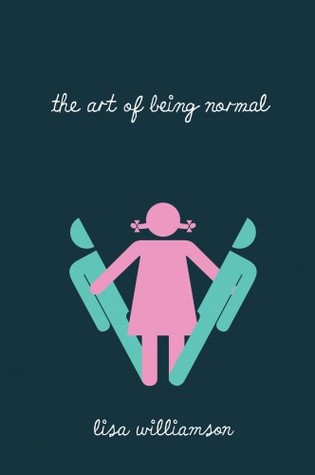 'Two Boys. Two Secrets. David Piper has always been an outsider. His parents think he's gay. the school bully thinks he's a freak.  Only his two best friends know the real truth – David wants to be a girl'
This is a incredibly well written book, which I would definitely describe as a crossover teen/adult read.  The author Lisa Williamson worked in England's national health services in a department dedicated to helping teens who struggle with gender identity issues and out of that came this brilliant beautiful book.  To say this thoroughly original read is one all teenagers should read is an understatement.  It highlights the bigotry and ignorance that teenagers with gender identity issues come across every day, from their peers and in society in general, together with the incredible support families and friends can give to them.   Williamson writes in a completely realistic way, drawing on her own experiences.   The entire book poses the question, what is normal, can a label be put on it, and that is down to every reader to decide for themselves.  David struggles with his identity especially as it is outside of the norm of his peers.  He juggles in his head, constantly, how he is going to tell his parents, what their reaction might be and will they feel let down by him.
Far from being a dark read, it is hugely uplifting and humorous with two protagonists who are incredibly easy to warm and relate to as their personalities and lives unfold before you.  David has two best friends who are aware of his secret, that David knows he is a girl and has wanted to be one for years.  His entire school has recognised that he is different from them and so he is bullied repeatedly.  Then along comes the mysterious Leo surrounded by rumours of violent behaviour at his previous school.  Leo's aloofness intrigues David, and when Leo defends him against a bully, David is determined to get to know him better.
This book was voted the book of the year by Thurles Teen book club.  They unanimously loved it and felt that all teenagers should read it.  They commented that here was a book that all teenagers could relate to in some way and that the storyline was very exciting.  If you get the opportunity please read this incredibly accomplished debut novel.  What a brilliant insightful read.