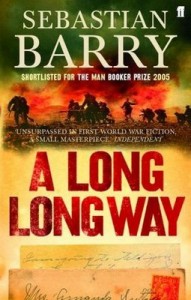 On Tuesday 12th July well known radio and television personality Myles Dungan launched the fourth Tipperary Reads Festival.  A large crowd gathered to listen to Myles speaking about the focus novel of this year's festival, 'A Long Long Way' by Sebastian Barry.  This book tells the story of a young Irishman Willie Dunne, who joins the Royal Dublin Fusiliers to fight for his country in World War One.
Myles has a huge knowledge of this period and has written several historical books relevant to the theme.  He praised how Sebastian Barry dealt with the subject throughout the novel, together with the use of wonderfully poetic language.  He recommended that anybody who had not already read the novel should do so.  Each branch library in Tipperary Libraries has multiple copies of the novel.  You are invited to drop in and pick up your copy today.
Tom Burke from the Royal Dublin Fusiliers Association delivered a fascinating lecture on the individual Irish soldiers who fought in World War One Saturday 10th September .
On Saturday 19th November Sebastian Barry thrilled readers in Thurles Library with a highly animated reading from his Booker nominated novel 'A Long Long Way'. Readers had commented that they felt that they knew the main character Willie Dunne and on Saturday night Sebastian gave Willie and the other characters a voice. It was clear to all that Sebastian had inherited his late mother's acting skills (the actress Joan O'Hara) .
Afterwards Sebastian spent time answering questions and chatting to readers.There was a real buzz in the Library that evening and I'm sure that Sebastian has added to his legion of fans.