January 10th 2015
Sophie Hannah visited the Source Library, Thurles, on Saturday 10th January for a belated Tipperary Reads Festival. She also visited Clonmel Library and both sessions were well attended.
Readers came away with new insight into the writing process and found Sophie a wonderfully engaging speaker.
---
---
---
Winner of Premier Short Stories writing competition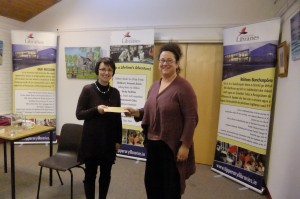 Tipperary County Council Library Service is pleased to announce the winner of the 2014 Premier Short Stories writing competition; Fiona Whyte from Crosshaven, Co. Cork.
This year's competition entries came from all across County Tipperary as well as from Kildare, Cork and as far away as Australia. The competition was judged by author and playwright John McKenna who was greatly impressed by the quality of the writing. We would like to thank everyone who submitted a story for the competition and look forward to reading your work again in the future. Author Sophie Hannah presented Fiona with the €200 prize money which was kindly sponsored by County Tipperary Arts Office. You can read Fiona's entry 'Joe' here.
---
PRESS RELEASE August 6th Bestselling crime writer announced for Tipperary Reads 2014 Sophie Hannah is this year's author and the novel is 'Kind of Cruel'. Internationally renowned psychological crime writer Sophie Hannah has been announced for this year's Tipperary Reads literary Festival. Cllr. Michael Fitzgerald, the recently elected Cathaoirleach of Tipperary County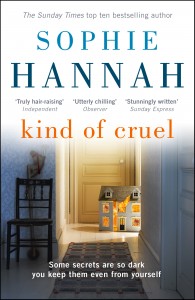 Council, launched the Festival in Thurles Library on Wednesday 13th August. Events for this year's Festival include a crime writing workshop for adults with Irish author Alex Barclay; an illustrated talk o n the life & work of Agatha Christie by Christie expert John Curran; as well as several reading & discussion sessions of this year's focus novel 'Kind of Cruel' with Sophie Hannah. Sophie's work has been published in 27 countries. In 2013, her latest novel, The Carrier, won the Crime Thriller of the Year Award at the Specsavers National Book Awards. Two of Sophie's crime novels, The Point of Rescue and The Other Half Lives, have been adapted for television and appeared on ITV1 under the series title Case Sensitive in 2011 and 2012. Sophie has also published five collections of poetry. Her fifth, Pessimism for Beginners, was shortlisted for the 2007 T S Eliot Award. Her poetry is studied at GCSE, A-level and degree level across the UK. Most recently she has been commissioned by the Christie family to write the first new Hercule Poirot mystery 'The Monogram Mystery' which will be published on 9th September.