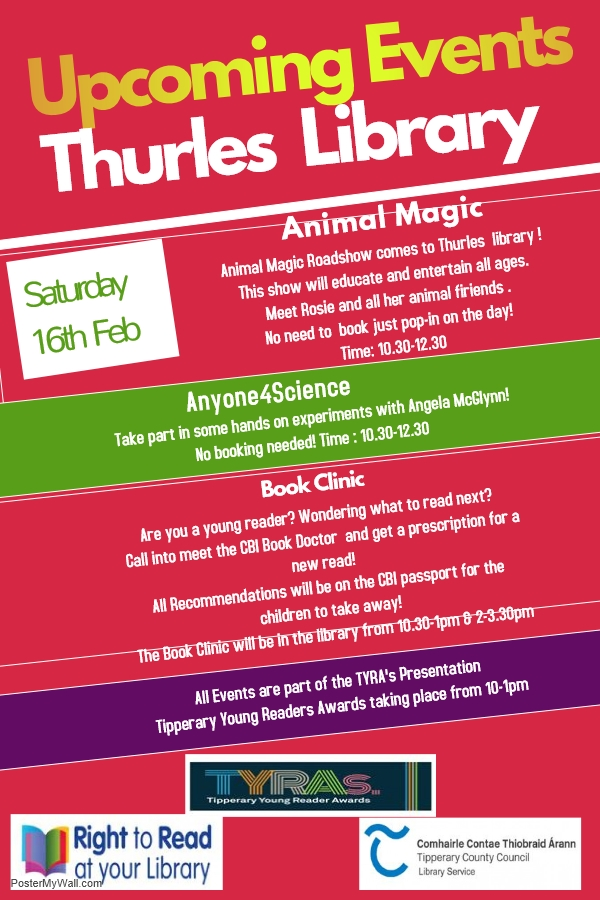 On Saturday 16th February the students who took part in the TYRA's will receive their awards in Thurles library from 10-1pm. The library will host many events that day which will include Animal Magic with Rosie Campbell from 10.30-12.30pm, Anyone4Science with Angela McGlynn also from 10.30-12.30pm. Feel free to drop in and meet Rosie with her animal friends and when finished why not try your hand at some science experiments!
Are you a reader who is looking for a new series to delve into?  Do you need a prescription for a new read? Then pop along to the Book Clinic here in Thurles library 10.30-1pm & 2-3.30pm. Parents and children are invited to drop in for an informal consultation with one of Children's Books Ireland's friendly panel of Book Doctors, who are ready to offer advice to the young readers in the family. Every patient and their family leave with a Reading Passport containing a book prescription to take to their local library or bookshop to have it filled! A visit to the Book Clinic is free of charge!
All events are free to attend and are on a drop in basis so call in and enjoy a little family time in Thurles Library!
Contact us if you have any questions on the events listed on 0761-06-6131