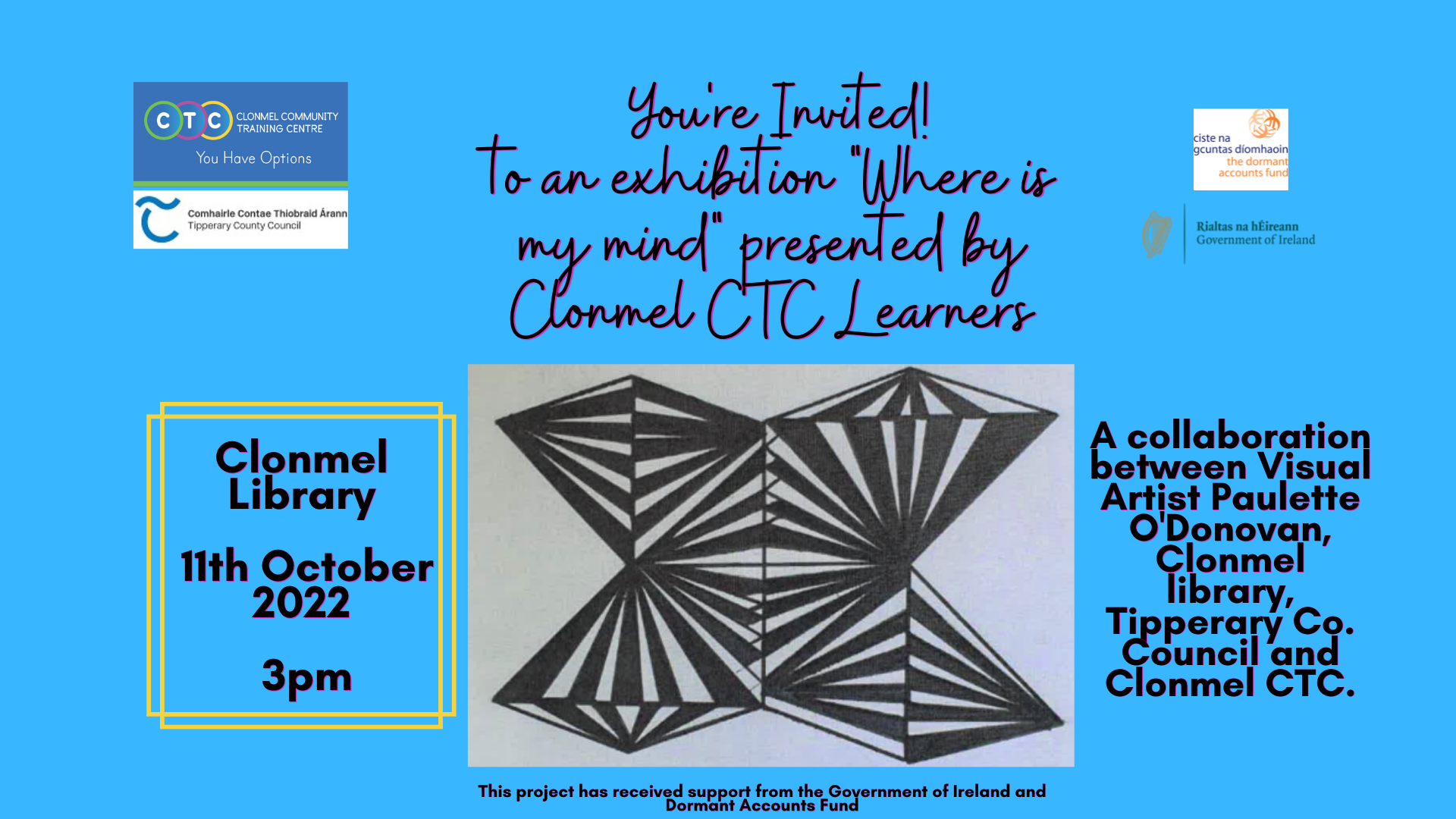 ARTIST STATEMENT – WHERE IS MY MIND?

This exhibition is a collaboration between myself, local Visual Artist Paulette O' Donovan, Clonmel Library, Tipperary County Council and the Pathways students that attend Clonmel CTC. This project was completed with the trainees over six days of workshops that took place here in the library. Each participant worked on a piece of Op Art and a colourful self portrait based on their character. Op Art is a form of visual art that uses optical illusions. It also explores optical sensations giving the viewer an impression of movement and/or a feeling of warped shapes that meld into/burst forth from the background. The two artists that were the inspiration for this project are English artist Bridget Riley and Italian artist Marina Apollonino.

Being between the ages of 17 and 21 can be tough. The person is no longer a child and have yet to take those first steps into adulthood. They begin considering the when's and how's to move out or starting their first job. It is exciting but also scary. The Op Art part of this project reflects the twists and turns that this age group undertakes take as they go through this transformative time. The self portraits begun with the idea of Victorian silhouettes/profiles; these were the first versions of portable portrait art. The idea for this part of the project was for the trainees to show a simple but contemporary version themselves with a colourful twist based on their characters. They started by taking a photo and using Snapchat filters to animate their features. They then built up the image, using layers of different coloured card to make the image three dimensional.

This has been a lovely project to work on with the Pathways students and they now have the
opportunity to proudly showcase their pieces to their families and friends.
The exhibition runs until 22nd of October.