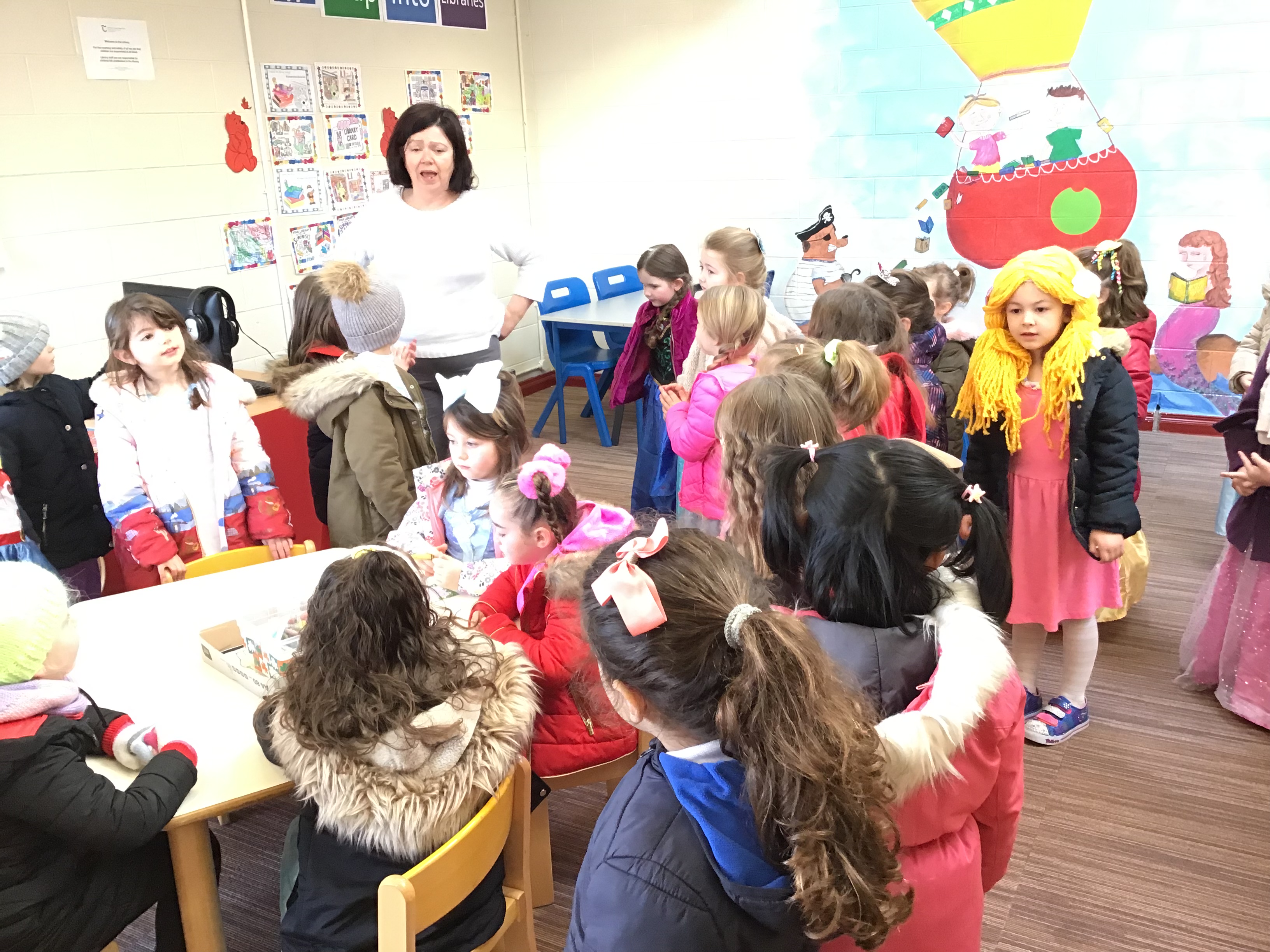 World Book Day and Nenagh Library staff were delighted to welcome múinteoir Majella Gaynor and her senior infant classes from St. Mary's convent primary school to Nenagh library. Dressed in costume of their favourite character from their favourite books (Elsa & Anna featured prominently!) 45 little ones visited us and listened to stories by three of our favourite authors – Babette Cole's 'Dr. Dog' wherein poor Dr. Dog has to help the pretty useless Gumboyle family who make themselves ill with their disgusting habits. (Euugh!)
Lauren Child's 'Beware the Storybook Wolves'' is a real thrill and will scare your socks off…and tell you exactly what to do if the Big Bad wolf or even the Little Fierce Wolf ever escape from your storybook!
And finally! Everyone's favourite, Julia Donaldson's 'The Scarecrow's Wedding' wherein Betty O' Barley and Harry O' Hay invite you to …'the best wedding ever, the best wedding yet, the wedding that no-one will ever forget.' But will wicked scarecrow Reginald Rake spoil their special day?
No sooner had Elsa, Ana, Snow White, Little Red Riding Hood et al exited the library when it was time for our regular Thursday morning storytime with toddlers and pre-schoolers. And this bunch know exactly what they want read to them…. so starting with Nicola O'Byrne's wonderful 'Where's Home Daddy Bear' which sees Evie Bear worrying 'what if I don't like my new home? Where am I from now and how will I make new friends?' Question by question Evie and Daddy bear drive farther away from their old home and closer to their new one…
Next up is 'Itchy, Scritchy, Scratchy Pants', a rollicking rhyming tale of five nippy Vikings who set off on an adventure to find themselves some Yeti fluff…for what, you may ask? Well, to knit some knickers of course…Written by Steve Smallman, with fantastically funny illustrations by Elina Ellis, it's a hoot! Finally, the brilliant Babette Cole's story of Demetrius and Paula Ogglebutt, two perfectly beautiful and well behaved children, which is more than can be said for their problem parents. So with drastic measures called for, a plan is hatched to have 'an un-wedding', which leads to 'Two of Everything