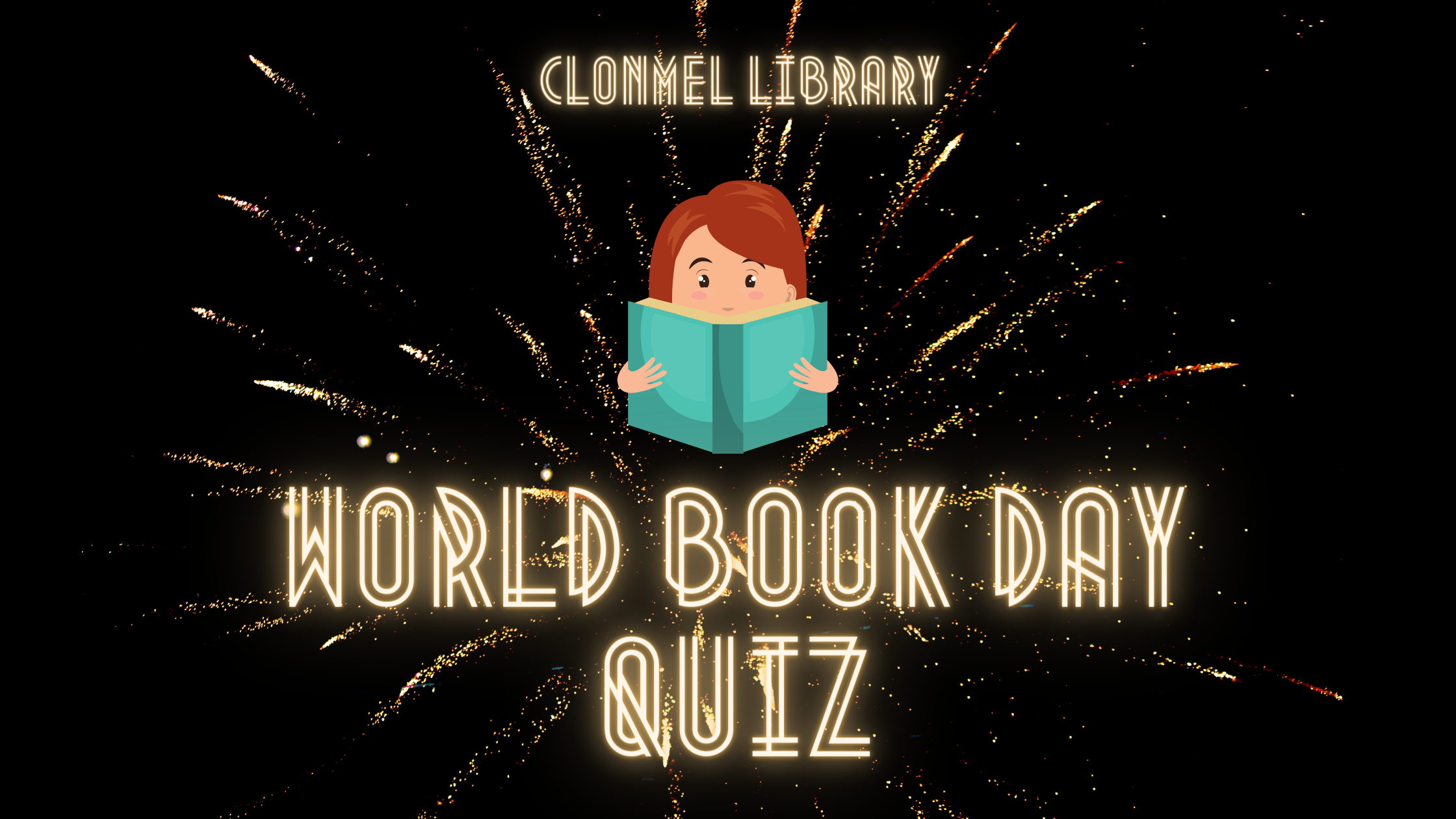 Thursday, 4th of March is World Book Day, and to celebrate we're having a quiz! There are 15 book themed questions to challenge readers of all ages. Complete the quiz on your own or with your family and email your answers (simply type the question number with the answer beside it) with your name and address and "World Book Day Quiz" in the subject bar to: clonmellibrary@tipperarycoco.ie by Thursday 11th of March to be in with a chance to win a book themed prize! Good luck!!
Question 1. This year's pick for "One Dublin One Book" is the fab first novel by Rónán Hession, but what is it called? Is it:
Leonard and Angry Paul
Leonard and Thirsty Paul
Leonard and Hungry Paul
Question 2. There's a new beast in every "Beast Quest" book by Adam Blade, but there are also a few "beasts" that are in nearly every story, like Elenna's pet wolf. What is his name?
Question 3. Rachel read "Fidget the Naughty Puppy Dog" by Susie Linn and Lizzie Walkley during our online story time on January 14th. Can you remember what Fidget did on his first day of training, instead of learning to walk to heel?
(You can watch story time again here https://youtu.be/h9fFbA-sSzs if you're stuck!)
Question 4. Can you name the author of the popular young adult novels "Paper Towns", "The Fault in Our Stars" and "Turtles All the Way Down"?
Question 5. In episode 17 of the Clonmel Library Book Review Podcast, Claire reviews "The Long Dry" by Cynan Jones. What type of novels does this Welsh writer like to write?
(If you haven't listened to the podcast yet, you can do so here: https://soundcloud.com/tipperary-libraries/clonmel-library-book-review-podcast-17)
Question 6. In "The 13 Storey Treehouse", by Andy Griffiths, what colour does Terry paint the cat to turn it into a "catnary"?
Question 7. The witch and her cat make room on their broom for three other animals in Julia Donaldson's rhyming tale "Room on the Broom". Are these three other animals:
A dog, a giraffe and an elephant
A dog, a bird and a frog
A horse, a bird and a sheep
Question 8. Louise O'Neill's "After the Silence" was the winner of the Irish Independent Crime Fiction Book of the year at the 2020 An Post Irish Book Awards. In 2015, the same author won the An Post Irish Book of the Year, but for what book?
Question 9. Covid-19 expert Professor Luke O'Neill also writes books on science for a general audience. What is the title of his latest offering?
Question 10. Tom, from the "Tom Gates" series by Liz Pichon, has an "annoying" older sister, can you tell us her name?
Question 11. While on his journey back to Dublin, where does the cat in Peter Donnelly's book "The President's Cat" meet a group of hippies dancing?
(Watch this short video https://youtu.be/AkPnzVA3hGA if you're not sure!)
Question 12. Two "Christmassy" books were reviewed in episode 7 of The Clonmel Library Book Review Podcast, what two books were they?
(Listen here:  https://soundcloud.com/tipperary-libraries/clonmel-library-book-review-podcast-7 if you don't know!)
Question 13. "Little Women" by American novelist Louisa May Alcott is the ever-popular tale of the four March sisters as they go from childhood to adulthood. But what are the names of the four sisters? Are they:
Mary, Helen, Margaret and Claire
Meg, Jo, Beth and Amy
Jo, Jan, Jill and Geraldine
Question 14. Stephanie read "The Bears in the Bed and the Great Big Storm" by Paul Bright & Jane Chapman during our online story time on February 4th. At the end of the story, what animal did Bear mistake for a monster?
(Watch back here: https://youtu.be/z3NePIidiE4 to check your answer).
Question 15. Bonus Question. There's no right or wrong answer to this one! What is the best book you've read so far this year?