The original 'Directory of Sources for Irish Women's History' was made available on CD-Rom in 1999. With the advances made in technology the CD has now become obsolete and can no longer be read on more recent computers.
With the support of the Irish Manuscripts Commission and the Mná 100 unit of the Department of Tourism, Culture, Arts, Gaeltacht, Sport and Media the contents have been transferred to a freely and publicly available website. The aim of this update was to enable the database to be searched by topic, archival institution, region, date and key words.
This website also provides useful guidance to researchers of collections that have been listed in detail since the original Directory was created and enables users to identify the existence of multiple collections on similar themes or individuals.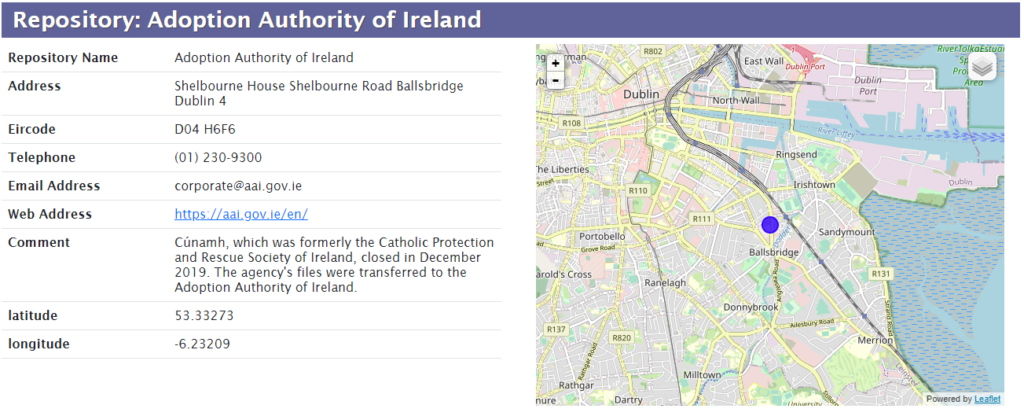 There is considerable information available on this website relating to archives in the county of Tipperary. For instance, a search of Clonmel turns up 195 individual records which include a number of documents relating to the employment of a resident physician in the Clonmel Lunatic Asylum in 1867. There are also numerous collections of letters from and to individuals in the Quaker community in the town dating from the eighteenth century.
This website remains the only detailed all-island listing of archival-based documents relating to the history of women in Ireland. It has not been superseded by any online or hard copy catalogue of sources; web-based guides to sources for women's history on an all-Ireland basis do not exist. The range of material listed demonstrates that all archival repositories have documents of relevance for women's history even if they were not recognised as such.
The update has resulted in this website which contains 20,790 records and 2,413 collections from 221 repositories around the country.
To view the website click HERE.